Taxis in Samos
Getting a taxi in Samos, Greece, is a comfortable and easy option to either explore the beautiful island or move fast from A to B if you are short on time. In addition, in the last few years, the competition between the drivers has resulted in affordable fares whilst pricing is being regulated throughout the island. So, if you aim to explore the stunning beaches of Samos or visit its mythical and historical sites, getting a taxi is a great option for you. You can easily hail a taxi in the street, call a radio taxi, or simply walk to one of the main taxi ranks, at the airport or near major touristic spots. 
Nonetheless, if you want to benefit from on-time pickups, 24/7 personalised door-to-door service and friendly, English-speaking local drivers, you can pre-book your transfers with Welcome Pickups.
TRAINED DRIVERS
Hand picked & english speaking drivers
LOW PRICES
Same price as a regular Taxi from the line
FLIGHT MONITORING
Drivers are always on time
QUALITY SUPPORT
24/7 Email & Phone support
How much does a taxi cost?
Night time


(00:00 - 05:00)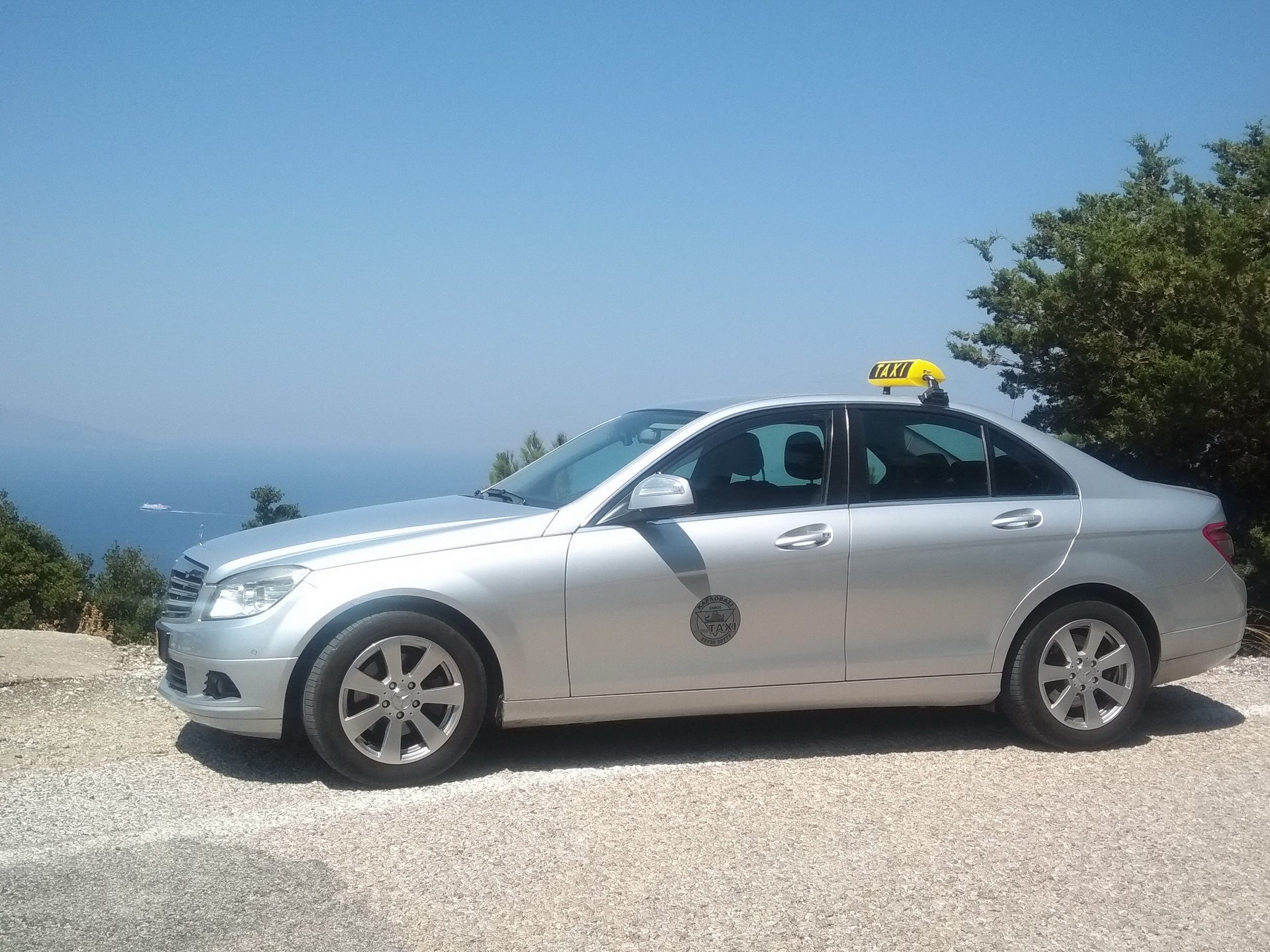 Samos Taxi Prices
Samos taxi fares are reasonably priced and regulated throughout the city, making taxi transfers easily accessible to all travellers. The actual cost of your ride is calculated by a taximeter based on the distance travelled. However, other factors may affect the final cost of your ride, such as the time of day, the traffic conditions, and the number of heavy luggage items. In general, you can expect to pay around €10.00 for any trip within Samos city centre.
Taxis in Samos calculate their fares as follows:
Base Fare – €2.90
Additional price/km – €1.80
Waiting time per hour – €8.00
Between 00:00 and 05:00, the Samos taxi base fare doubles.
What our customers say about Welcome
How to get a Taxi in Samos
Locating your taxi in Samos, Greece isn't challenging since taxi services are organised to suit your needs 24/7. You can either call a radio taxi, wave a cab down the street or find one at the main taxi ranks, i.e. at the airport, the Karlovasi taxi rank and outside major touristic spots in the city (Chora) of Samos. In any case, you shouldn't wait more than 10 minutes for your driver to arrive and get you to your desired location. All you need to do is look for the silver taxis with their roof light on, hold out your hand and wait for your driver to pull over to the side of the road to let you in.
If it's getting late or is too hot during the summer and you prefer to stay cool and comfortable whilst waiting for your taxi, you can just call one of the many radio taxi companies in Samos, give your location and wait for a driver to pick you up.
Even though many radio taxi companies are operating on the island, a few reliable and well-known ones are Radiotaxi Samos which can be contacted at +30 22730 28404 and Radio Taxi Karlovasi, reachable via +30 22730 30777.
Book your Samos Transfer in advance with Welcome
Staying within budget during your holiday is vital for your peace of mind. Knowing your expenses in advance, can help you enjoy your time away without unnecessary stress. In addition, regular taxis in Samos, calculate their fares based on many factors such as the time and distance travelled, the traffic conditions and the number of heavy luggage.
If you'd rather secure a ride with a competitive set-rate fare and a professional, English-speaking local driver guiding you, you can pre-book your Samos taxi with Welcome Pickups.
Samos Taxi Tips
Taxis in Samos don't accept card payments yet. For your convenience, it's recommended to have some cash with you to pay for your ride or to book online and pre-pay.
Bear in mind that if you carry heavy luggage over 10kg, you might get charged extra for your ride. It's best to ask your driver before entering the taxi to get an estimate.
Tipping your taxi driver isn't necessary. However, if you received a satisfying service, you can tip your driver any amount you wish or simply round up your fare.
All taxis should follow the hygiene and safety regulations. If your taxi isn't clean and tidy when you enter it, you may report it.
Before beginning your journey, make sure your taxi driver sets the taximeter to the correct base fare.
Samos taxis don't provide baby seats. However, there is space to fit your own at no extra cost.
Keep in mind that between 00:00 and 05:00 a double charge applies to all trips throughout the island of Samos.
Wheelchair Accessible Taxis in Samos
Unfortunately, regular taxis in Samos aren't spacious enough to fit wheelchairs or electric scooters yet. However, Nikos Menegas Union provides the community with a 9-seats minivan specifically designed for wheelchair users making wheelchair transfers easily accessible. If you wish to book a spacious minivan with access ramps and large walkways, you can call on +30 6909 677 900 (ideally a couple of days in advance) to ensure your transfer.
Samos Taxi Safety and Complaints
Samos taxi transfers offer convenient and safe services whilst treating all travellers with respect. However, the quality of the service may vary depending on the company or the driver. If you feel unsafe or uncomfortable during your trip or think you might have been overcharged, you can hold on to your driver's name and registration number to call their company at your convenience and discuss your experience.