Auckland Taxi Service
Auckland has recently been named one of the best cities in the world to visit by Lonely Planet, and with its stunning Viaduct Harbour, amazing bars and cafes and exciting Volcanic park, there's no surprise why. To see Auckland in all its glory, you need a quick and efficient way to travel, that's why we recommend using an Auckland taxi or private car. There are over 40 different taxi companies operating in Auckland that run 24/7 and are available to call direct, hail from the street or pick up at a tax rank. 
TRAINED DRIVERS
Hand picked & english speaking drivers
LOW PRICES
Same price as a regular Taxi from the line
FLIGHT MONITORING
Drivers are always on time
QUALITY SUPPORT
24/7 Email & Phone support
How much does a taxi cost?
Night time


(00:00 - 05:00)
FROM AUCKLAND AIRPORT TO THE CITY CENTRE
FROM THE HARBOUR TO SPARK ARENA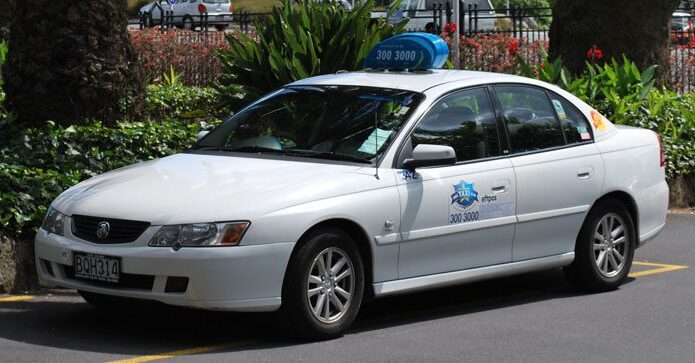 Auckland taxi fare
Unlike most other major cities, Auckland taxis aren't fully regulated, so not all taxis cost the same. Local taxi companies usually charge using a taximeter, but the amount they charge per km changes. Private hire companies aren't allowed to use a taximeter and must set their price at the time the journey is booked. All local Auckland taxi drivers must have their maximum fares and price per km displayed clearly on the outside of the car door. There's usually a base fare of around €2 ($3.50 NZD) and then the price per km for the major companies are as follows:
Cheap Cabs: €1.32 ($2.15 NZD)
Alert Taxis: €1.52 ($2.47 NZD)
Auckland Co-op Taxis: €1.52 ($2.47 NZD)
Auckland Taxi Service: €1.54 ($2.50 NZD)
Corporate Cabs: €1.66 ($2.70 NZD)
There may be additional charges for things such as keeping your driver waiting for an hour €31 ($50 NZD), Pickup from Auckland Airport €3 ($5 NZD) and drop off at the airport €2 ($3 NZD).
What our customers say about Welcome
How to get a taxi in Auckland
Getting a taxi in Auckland couldn't be easier as there are over 40 different taxi companies operating throughout the city. You can choose to hail an Auckland taxi in the street, call one of the local companies or walk to a designated taxi rank. The AT (Auckland Transport) has provided designated parking spaces for taxis all over the city, which serve as taxi ranks. The location of these taxi ranks varies during the day and night, but can commonly be found at Lower Hobson Street, Queens Wharf, the Maritime Museum, Town Hall, the main bus station, the viaduct car park, and outside the Victoria Park markets.
If you're travelling late at night or during bad weather, a great option is to call one of the local taxi companies and have them pick you up. However, it's worth noting that there may be an additional fee for this service. There are many to choose from, but the following are some of the most trusted and popular:
Auckland Co-op Taxis: +64 9 300 3000
Corporate Cabs: +64 9 377 0773
Alert Taxis: +64 9 309 2000
Cheap Cabs: +64 9 621 0505
Auckland Taxi Service: +64 9 845 4666
Book your Auckland taxi service in advance
One of the most stressful aspects of travelling in a new city is transportation. Waiting around on the street for a taxi to pass or dealing with long wait times when calling for a cab can be very disheartening. That's why we recommend booking your Auckland taxi service in advance with Welcome Pickups. We offer our customers unbeatable prices, guaranteed on-time pickups, 24/7 customer support and exceptionally friendly drivers. Take the stress out of your transfers by booking with Welcome, so you can enjoy every second of your vacation in Auckland. 
Auckland taxi tips
Ensure your driver resets the taximeter to the base fare before you begin your journey.
If you don't like the price, you don't have to take the first taxi in line at the taxi ranks.
Taxis are not required to accept card payments and may charge an extra fee if you choose this method of payment.
You can legally travel with a guide dog or service dog and an Auckland taxi driver can't refuse to drive you.
Auckland taxis don't have a baby seat as standard but you're welcome to bring and fit your own for free.
Wheelchair accessible taxis in Auckland
There are Total Mobility taxi operators in Auckland that have had their regulations and fares set by AT as of May 12, 2020. To request a Total Mobility taxi that is fully wheelchair accessible, you simply need to call the Auckland taxi company directly and request this service. There are 23 different wheelchair accessible taxi companies available, you can find all their names and numbers here.
Auckland taxi safety and complaints
Taxis in New Zealand are usually quite safe and well regulated. However, there can be cases when you have a rude driver or someone that tries to overcharge you. If you have a bad experience using an Auckland taxi service or if you feel threatened at any time, you can make an official complaint to the Waka Kotahi NZ Transport Agency by filling out this online form. Be sure to note the taxi company you used, your driver's ID number or the taxi number before filling in the form.