Vancouver Cab Services
Vancouver, Canada's third-largest city boasts friendly locals, a clean downtown area, luscious nature and breathtaking mountains. The popularity of the city of Vancouver amongst travellers, has resulted in a bustling taxi industry, with 26 different taxi companies roaming the streets. Thanks to this, it is very easy to find a taxi, making it the most comfortable and reliable way to travel. Taxis are not only a fast way to travel, but they also provide 24/7 door-to-door services.
TRAINED DRIVERS
Hand picked & english speaking drivers
LOW PRICES
Same price as a regular Taxi from the line
FLIGHT MONITORING
Drivers are always on time
QUALITY SUPPORT
24/7 Email & Phone support
How much does a taxi cost?
Night time


(00:00 - 05:00)
FROM YVR TO FERRY TERMINAL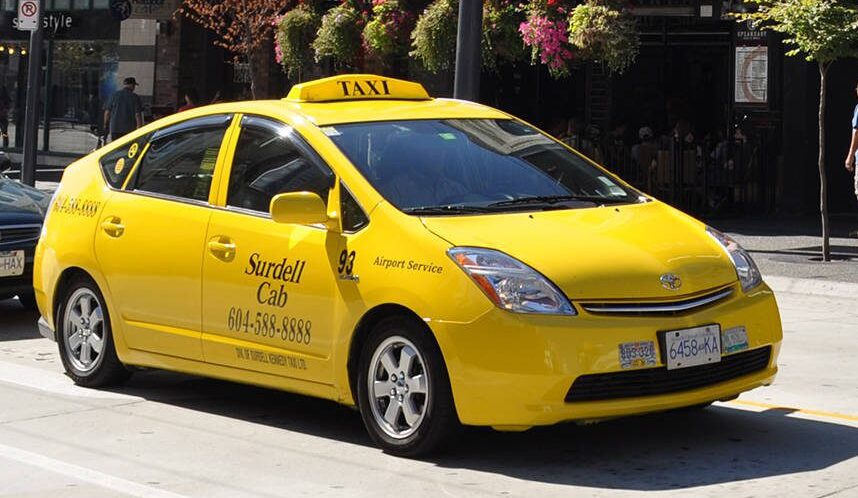 Vancouver Taxi Prices
Vancouver taxis are required by law to use a taximeter to calculate their fares, which means no negotiations are possible. Moreover, only one tariff is available as there is no weekend or night fare; however, if you are travelling from the airport, you will be subjected to an airport toll fee of CA$3 (€2), payable by the passenger.
Initial fee: CA$3.35 (€2.30)
Each Additional km: CA$1.93 (€1.33)
Waiting time per hour: CA$34.46 (€23.70)
It is worth knowing that if you are travelling from the airport, Vancouver taxi cabs offer fixed rates to some areas such as downtown.
What our customers say about Welcome
Where to get a Taxi in Vancouver
Although many taxi companies operate in and around the city of Vancouver, there is only 1 taxi for every 4000 residents, making hailing a taxi straight from the city streets challenging. Thus, if you can't find a taxi free to hail, you can head over to popular spots in downtown Vancouver, such as Granville Street, Gastown, Chinatown or at any major hotel with taxi stands; here you will more likely find a free Vancouver cab. However, you can also call ahead and book a taxi through a company's website, or you can use the "eCab" mobile application.
Nevertheless, if you prefer travelling at a fixed rate fare with a local driver at no extra costs, you can always pre-book your Vancouver airport transfer with Welcome Pickups, and avoid any hidden fees. In this case, your Vancouver transfer driver will be waiting for you at the exact location you indicated during the booking process.
The Benefits of Booking a Vancouver Transfer in Advance
Arriving in a new city and having to find your way around town can be daunting, especially if you are travelling with children. Knowing that your private taxi cab is waiting for you at a set time, in a set location, and at a fixed price, with no hidden fees is a great feeling.
Going further, Vancouver taxis are known to be hard to find as there are only few in town. That is why it is highly recommended to book a Vancouver private transfer in advance. Not only will you be avoiding surcharges, high fees, and long waits, you will have a friendly, local and highly trained driver waiting for you at the location of your choice if you book your Vancouver transfer with Welcome Pickups.
Vancouver Taxi Tips
All taxis in Vancouver have card machines but it is advised to inform your driver that you wish to pay by card before starting your ride.
It is expected to give your cab driver a 10 to 20% tip. However, if the service was below average, you can simply round up the price to the nearest dollar or ask them to keep the change.
There is an airport toll of CA$3 (€2) when leaving Vancouver International Airport, payable by the passenger.
Vancouver taxi fares are metered; it is important that your taxi driver resets their taximeter and that it is turned on before starting your journey.
Wheelchair Accessible Taxis in Vancouver
Unfortunately, regular Vancouver taxis cannot facilitate wheelchairs nor mobile scooters; for that reason, you will need to call a private company in advance and book a specialised vehicle.
Vancouver Taxi Safety and Complaints
Regrettably, if your Vancouver taxi service wasn't as you expected and your experience was bad, you can ask your driver for a receipt in order to get their taxi number and contact the service provider (cab company).
Alternatively, you can also phone the agency at 1-888-564-9963. Consumer Protection BC will then review the complaint, respond to you, and refer the case to the appropriate body to address it. Or, you can directly email the Passenger Transportation Branch at [email protected]