Leeds Taxi Service
Nestled in the valley of the River Aire, Leeds is one of the country's most popular cultural centres. Thought of as the foodie capital of the North, Leeds has much to offer travellers looking for culture, architecture and entertainment, and is home to many cultural institutions and historic buildings.
From fashion-filled Victorian arcades to year-round vibrant festivals, there really is a lot to see and do in Leeds, which is why you need a reliable and comfortable way to get around the city quickly, such as a Leeds taxi. There are many taxis in Leeds but it's best to only use a licensed one or a pre-booked private transfer. For peace of mind, you can always book a taxi or private transfer in advance for a safe and comfortable ride at a guaranteed set fare.
TRAINED DRIVERS
Hand picked & english speaking drivers
LOW PRICES
Same price as a regular Taxi from the line
FLIGHT MONITORING
Drivers are always on time
QUALITY SUPPORT
24/7 Email & Phone support
How much does a taxi cost?
Night time


(00:00 - 05:00)
LEEDS RAILWAY STATION TO KIRKSTALL ABBEY
LEEDS CITY CENTRE TO ELLAND ROAD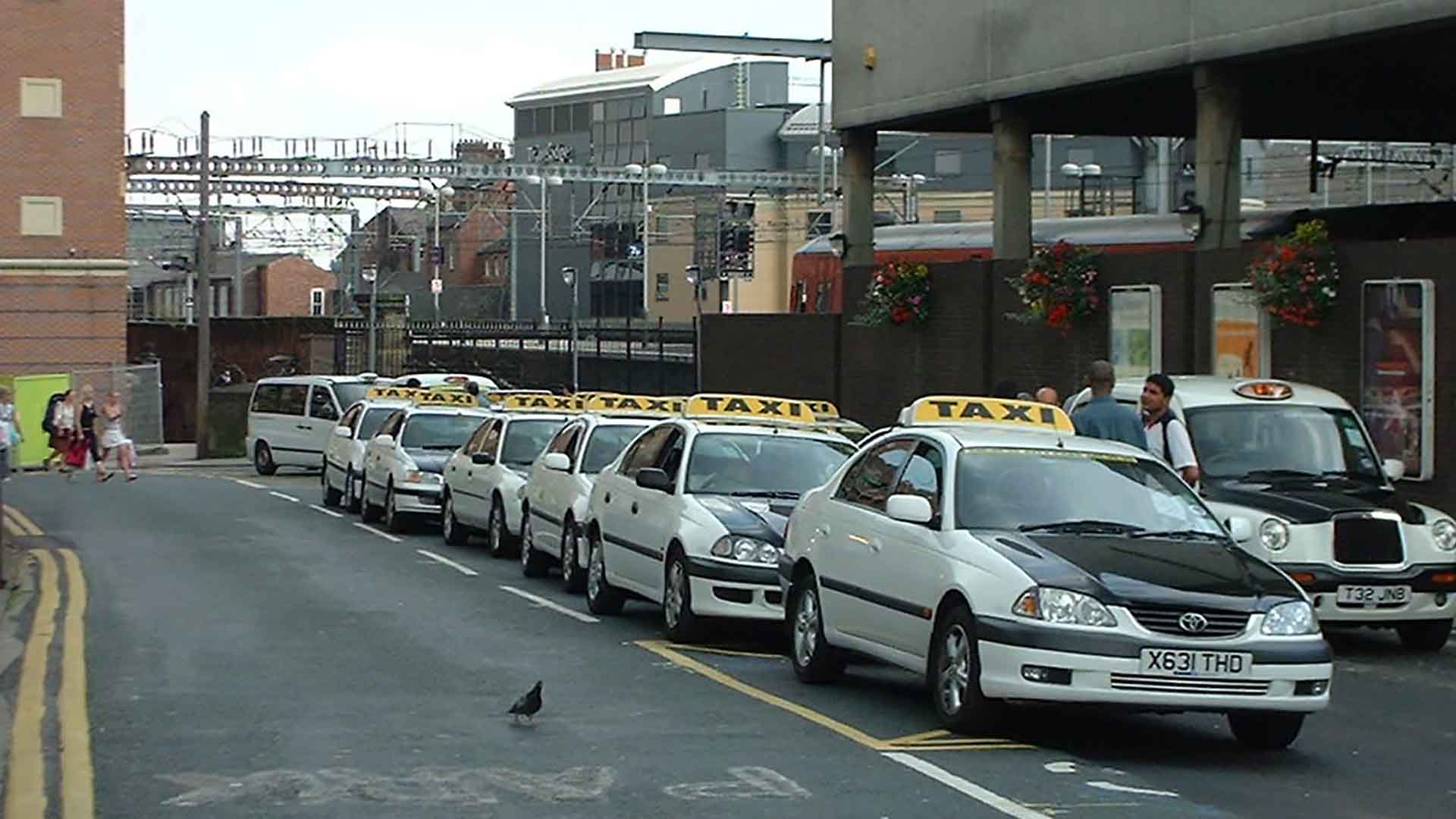 Leeds taxi prices
Local taxis in Leeds are reliable, well regulated, and easy to find. Hackney carriages are required by law to be fitted with an officially calibrated taximeter which needs to be visible in the cab of the vehicle alongside a price table.
Day prices (06:00 to 17:59)
Initial fare — £2.60 (€3.06)
Next 176 yds/48" (until meter reaches £6.60) — £0.20 (€0.24)
Next 195 yds/48" (until meter reaches £10.20) — £0.20 (€0.24)
Every 176 yds/48" — £0.20 (€0.24)
Night prices (18:00 to 05:59)
*These fares also include weekends and most bank holidays.
Initial fare — £3 (€3.53)
Next 176 yds/48" (until meter reaches £7) — £0.20 (€0.24)
Next 195 yds/48" (until meter reaches £10.60) — £0.20 (€0.24)
Every 176 yds/48" — £0.20 (€0.24)
Please note that these rates are subject to change and that there could be surcharges for airport transfers, routes with tolls, or transfers on Christmas and New Year's Eve/Day. The maximum extra charge for fouling is £50 (€58,88).
What our customers say about Welcome
How to get a taxi in Leeds
Getting a Leeds cab is easy as there are plenty of official and private taxis. By law, the official white and black taxis, known as Hackney carriages, are the only ones that are allowed to pick up passengers from the street or wait at the taxi ranks that can be found throughout the city. But there are also lots of companies you can use for a private taxi transfer by calling the following numbers – just keep in mind that an extra fee may apply for this service.
Amber Cars: +44 113 202 2112
Central Cars Leeds: +44 113 270 0700
Zoyp Leeds: +44 113 234 5345
Pre-book your Leeds taxi service
The fastest and most comfortable way to get around a new city is to book your Leeds taxi transfers in advance with Welcome. We offer guaranteed on-time pickups, personalised transfers, 24/7 customer support and, above all, the level of trust and quality service needed for you to relax and enjoy your time in the exciting city of Leeds, all at a competitive set-rate fare with no hidden fees.
Leeds taxi tips
Travellers are advised to only use a licensed taxi from the street, or a trusted, pre-booked private vehicle.
Before you begin your journey, make sure the meter has been reset to the initial fare.
If you are going to hail a taxi in the street or get one from a taxi rank, it is recommended that you only get into a licensed Hackney cab.
In the UK, it is customary to tip your driver by adding 10-15% or by rounding up the fare to the nearest pound.
Private hire companies are not subject to the Hackney carriage rates, so you should agree on the fare with the operator or driver before getting in the Leeds taxi vehicle to avoid surprises.
Wheelchair-accessible taxis in Leeds
Almost all of the official Leeds taxis, or Hackney carriages, that can accommodate up to 6 people are wheelchair-accessible. You can also book in advance with a private Leeds taxi company as most have wheelchair-accessible vehicles that they can provide on demand. Make sure to ask if this will cost you extra, as the policy may differ between companies.
Leeds taxi safety and complaints
Although taxis in Leeds are well regulated and considered safe, you should only get into a vehicle that is an official black and white Hackney carriage or a trusted private transfer that you have called for or booked online in advance. Once in the car, make sure to check that your driver has a badge and that they are licensed. Should you have a negative experience to report, you can contact the Taxi and Private Hire Licensing office of the Leeds City Council at +44 113 378 1570. Try to provide as much information as possible in order to help them identify the driver, vehicle and operator.