Taxis in Toronto
Toronto is the largest city in Canada, and it is one of the most multicultural cities in the world. During your stay, you can immerse yourself in the city's renowned arts, sporting events, restaurants, and nightlife.
When getting around the city, you can readily take a licensed Toronto taxi; services are provided by numerous companies, with drivers and vehicles regulated by the government. Toronto cabs can be hailed from the street or found near major hotels and tourist destinations, or you can also call to request a ride. The taxi fare is based on a metered rate, unless travelling from the airport, in which case, there are set flat rates to various destinations in and around the city.
TRAINED DRIVERS
Hand picked & english speaking drivers
LOW PRICES
Same price as a regular Taxi from the line
FLIGHT MONITORING
Drivers are always on time
QUALITY SUPPORT
24/7 Email & Phone support
How much does a taxi cost?
Night time


(00:00 - 05:00)
TORONTO AIRPORT TO DOWNTOWN TORONTO
DOWNTOWN TORONTO TO TORONTO ZOO
DOWNTOWN TORONTO TO DISTILLERY DISTRICT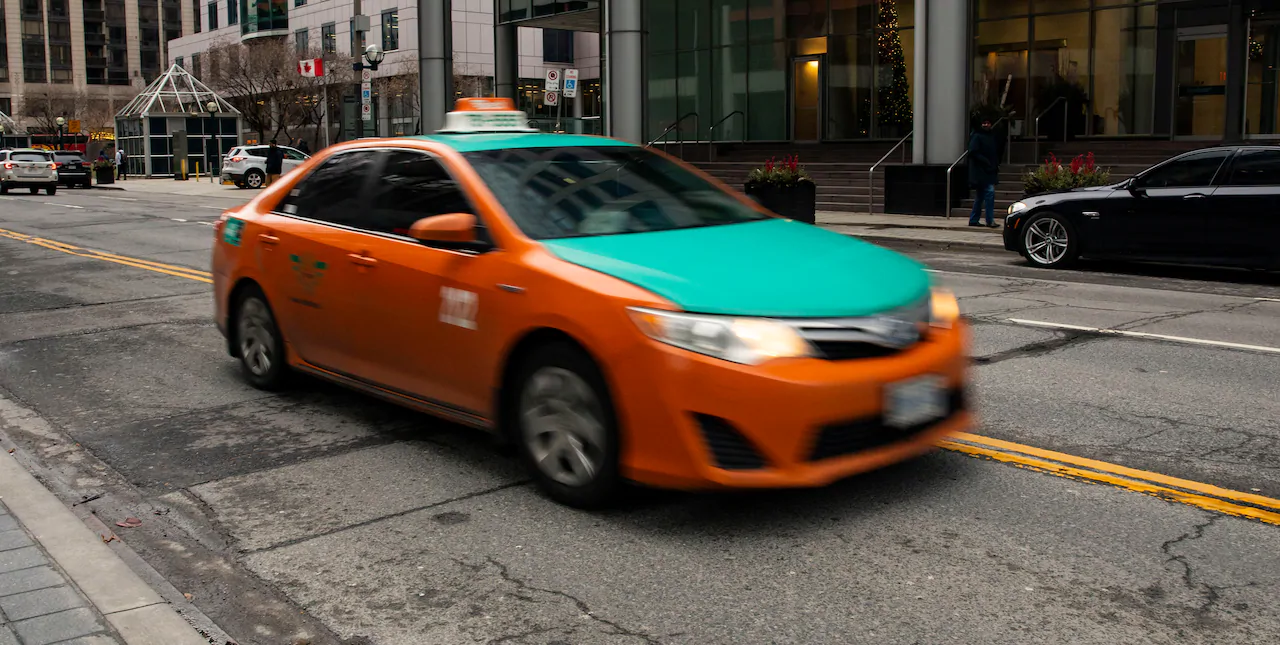 Toronto Taxi Prices
Taxis in Toronto are metered and rates are regulated by the government. Fares are determined by a base rate and the number of kilometres travelled, plus, there are surcharges for additional standing or waiting times, excess luggage or if your group has more than 4 people. There are no surcharges for late-night rides. Fares can be calculated based on the following:
Base fare: €2.39 (CAD 3.25)
Price per kilometre: €1.29 (CAD 1.75)
Hourly rate for standing or waiting: €22.80 (CAD 31.00)
Surcharge for each passenger over 4 people or excess luggage: €1.47 (CAD 2.00)
Rates from Toronto airport to Toronto and other various destinations are set at a flat rate, for example, to get to downtown Toronto from the airport you should pay €45 (CAD 61). If you are heading somewhere else from the airport, you can use the Get-an-Estimate Toronto Pearson Airport function or view the listed tariffs to find the cost of your specific journey. Also, if you pre-book a ride with Welcome Pickups, you can expect a competitive flat-rate fare and no hidden fees.
What our customers say about Welcome
How to get a Taxi in Toronto
Toronto cabs can be flagged down from the street or found waiting at major hotels and tourist spots in the city. You can also call one of the Toronto taxi companies directly or dial 416-TAXICAB to request that a local driver picks you up. Alternatively, you can, of course, pre-book your ride through the website of a Toronto taxi company, or choose a reliable, top-rated transfer provider like Welcome Pickups.
Book your Toronto Taxi Transfer in Advance with Welcome
By booking your Toronto taxi transfer in advance, you can sit back and relax knowing that your driver will show up at the arranged time and place. You can save money, time and stress by not having to navigate public transportation or wander around looking for a cab to flag down or a taxi queue. Plus, you will get a flat rate for your ride, so you can better budget for your stay in Toronto. To ensure you have a comfortable transfer with a professional driver at a competitive rate, consider pre-booking your ride with Welcome Pickups.
Tips for your taxi in Toronto
Licensed Toronto taxis will accept payment with all major credit cards.
If you are hailing a taxi off the street, check if the taxi light on the roof is on – if it is on, that indicates the taxi is available, if it is off, it is unavailable.
Tipping your driver 10 to 15% for good service is common courtesy in Toronto.
Wheelchair Accessible Taxis in Toronto
Toronto has over 600 wheelchair accessible taxis that are available through standard licensed taxi companies as well as companies dedicated to accessibility. It is suggested that you book your transfer at least a day in advance to ensure vehicle and driver availability, though if you need a last-minute ride, the companies will still accommodate if they can. A couple of popular transfer companies dedicated to accessibility are  GTA Accessible Transportation and Wheelchair Taxi Toronto.
Toronto Taxi Safety and Complaints
Licensed taxis in Toronto are the safest option for transportation. Drivers must meet the government's regulations including a background check and go through an approved training program. When taking a taxi, make sure the meter is reset to the correct fare, so you won't be overcharged and exercise the normal amount of caution you would in any cab. If an issue does arise, be sure to record the details of your ride including the taxi plate number, the driver's name (licensed drivers should have a photo card displayed on the dashboard), and the time and location of your journey. You can then either report the issue to the taxi company you used, or you can call 311 (or dial 416-392-CITY (2489) if outside of Toronto) or email [email protected] to report the issue to the city.