Ajaccio Taxi Service
Ajaccio is a beautiful port city and the capital of Corsica, a French island in the Mediterranean Sea. Combining history, rich culture, and sandy beaches, Ajaccio is a destination worth exploring. To get around quickly and reach your next exciting destination in comfort, pre-booking an Ajaccio taxi is a very convenient and reliable transportation option. As opposed to public transport, taxis in Ajaccio are available 24/7 and there are numerous companies to choose from. You can find taxis around the city near popular or busy locations, like the airport or the main bus station, or you can order one by calling a radio taxi or a taxi operator of your choice.
TRAINED DRIVERS
Hand picked & english speaking drivers
LOW PRICES
Same price as a regular Taxi from the line
FLIGHT MONITORING
Drivers are always on time
QUALITY SUPPORT
24/7 Email & Phone support
How much does a taxi cost?
Night time


(00:00 - 05:00)
AJACCIO CITY CENTRE ➙ PLACE D'AUSTERLITZ
AJACCIO CITY CENTRE ➙ PLAGE DU RICANTO
AJACCIO CITY CENTRE ➙ POINTE DE LA PARATA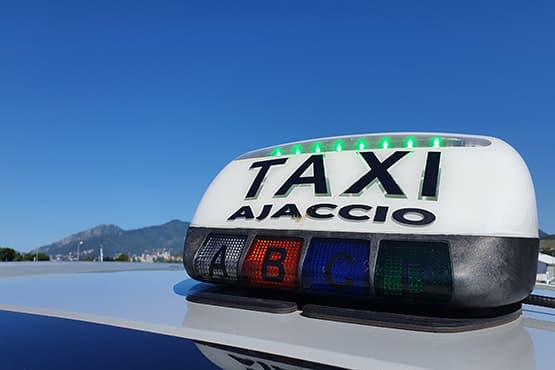 Ajaccio Taxi Fare
Ajaccio taxi fares are regulated by the state and revisited every year. All taxis must be equipped with a taximeter which records the total fare based on the distance covered. There are different tariffs depending on whether it's a round trip or a one-way trip, the time of day and the day of the week.
Base fare – €1.95
Round trip 
Tarif A (Monday-Saturday 07:00-19:00)
Rate/km – €1.05
Tarif B (Monday-Saturday 19:00-07:00, Sunday)
Rate/km – €1.58
One-way trip
Tarif C (Monday-Saturday 07:00-19:00)
Rate/km – €2.10
Tarif D (Monday-Saturday 19:00-07:00, Sunday)
Rate/km – €3.15
Keep in mind that besides the per kilometre rate, there can be additional charges; the waiting-time fee is €30.65 per hour, the baggage fee is €0.65, and there is an extra charge of €1.50 for more than 4 passengers. Also, animals may be subject to a supplement of €0.85.
What our customers say about Welcome
How to Get a Taxi in Ajaccio
Ajaccio taxis are the most convenient transportation option to explore the city and reach your next destination quickly. You will find taxis available 24/7 outside Ajaccio Airport and other busy locations, or you can pre-book your Ajaccio taxi to ensure a fixed rate. Multiple taxi companies operate in the city, so if you can't locate the nearest taxi rank, you can order an official taxi over the phone. Some of the popular ones taking taxi orders over the phone are:
Ajaccio Radio Taxi: +33 495 101 901
Allo Claude Taxi: +33 611 605 332
Book your Ajaccio Taxi Service in Advance
During summer, it tends to get very sunny in Ajaccio so walking around or waiting for the bus can get uncomfortable. Moving around by taxi is much faster and more convenient, especially if you choose to book your Ajaccio taxi in advance with Welcome Pickups. With Welcome, you get competitive, fixed rates and you prepay your transfer so that you won't have to worry about cash and currency exchange. Opt for a professional, English-speaking driver who will take you directly to your next exciting destination in the comfort of your private vehicle and get an enhanced, stress-free travel experience with Welcome.
Ajaccio Taxi Tips
Not all taxi drivers in Ajaccio speak English so make sure to write down your address or any other important information in French.
Once you enter the taxi, make sure that the taximeter is set to the base fare of €1.95 and that it stays on for the whole ride.
There is a lower rate/km if you take a round trip instead of a one-way trip.
At the end of the ride, ask the driver for the receipt in case you leave any personal items behind or face any issues.
Tipping the taxi driver is entirely up to your discretion but is highly appreciated.
Wheelchair Accessible Taxis in Ajaccio
Ajaccio and Corsica in general aren't among the most wheelchair-friendly destinations. Standard taxis can fit a foldable wheelchair in the trunk but aren't equipped with ramps for wheelchair users to board the vehicle. To move around the city in comfort, you can book your taxi in advance by calling Taxis de Porticcio at +33 980 800 333 and requesting a fully accessible vehicle.
Ajaccio Taxi Safety and Complaints
The Ajaccio taxi service is, in general, safe and reliable. The state regulates the taxi fares, which are reviewed annually, so issues aren't a frequent occurrence. If you think that you have been overcharged or you need to file a complaint for unprofessional behaviour, make sure to write down the driver's name, registration number, and license plate and ask for your receipt. You can then address the Tourist Office by calling +33 495 515 303 or, by sending an email; they will be able to guide you further on what steps to take next.