Your Taxi in Asheville, NC
Asheville, in western North Carolina, is known for its vibrant arts scene, historic architecture, and stunning mountain views. The city is home to the iconic Biltmore Estate, the largest privately-owned house in the United States, as well as numerous museums and galleries, such as the Asheville Art Museum and the Black Mountain College Museum. Outdoor enthusiasts can also enjoy hiking, cycling, and rafting in the nearby Blue Ridge Mountains.
To get around the city and the surrounding areas, taking a taxi is a convenient option. Several Asheville taxi companies operate in the city, offering reliable and efficient service. You can book a ride by calling a local taxi or booking your transfer in advance with Welcome Pickups.
Taxi fares may vary between companies; to go from the Asheville Regional Airport to downtown Asheville, you can expect to pay around $48 (€44.30), depending on traffic conditions, as well as provider surcharges and booking fees. Alternatively, you can pre-book a ride with a Welcome Pickups driver for a flat, competitive rate.
TRAINED DRIVERS
Hand picked & english speaking drivers
LOW PRICES
Same price as a regular Taxi from the line
FLIGHT MONITORING
Drivers are always on time
QUALITY SUPPORT
24/7 Email & Phone support
How much does a taxi cost?
Night time


(00:00 - 05:00)
ASHEVILLE AIRPORT TO DOWNTOWN
ASHEVILLE TO THE BILTMORE ESTATE
ASHEVILLE TO THE RIVER ARTS DISTRICT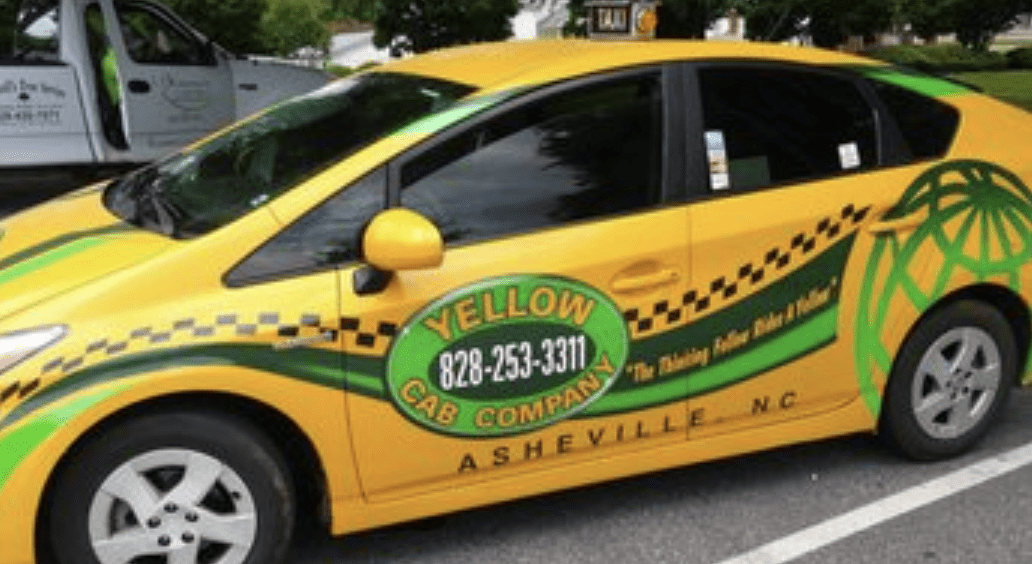 Asheville Taxi Prices
Typically, the fare for a taxi in Asheville, NC, is calculated based on a metered rate. The total cost can be estimated by a base rate of $2.50 (€2.30) plus an additional charge of $3 (€2.80) per mile. Extra surcharges may apply as well, depending on your chosen provider. If you're travelling from the airport to Asheville, the estimated cost of a taxi ride would be around $48 (€44.30) but this is a cost that may fluctuate considerably based on the traffic conditions. If you prefer a more transparent and hassle-free transport solution, you can book a ride with Welcome Pickups in advance at a competitive, fixed-rate fare, so you won't have to worry about any surprises or hidden fees. With Welcome Pickups, you'll know the exact cost of your ride at the time of booking, which can provide peace of mind and make trip planning simpler.
What our customers say about Welcome
How to Get a Taxi in Asheville, NC
There are several Asheville taxi services to choose from, making it easy to get around the city. To hail a taxi, you can either call for a driver to pick you up, or use an on-demand mobile taxi app to book your ride. Two popular taxi companies in Asheville are AVL Taxi, which can be reached at +1 (828) 333 1976, and Asheville Hopper, which can be contacted at +1 (828) 620 5300. For another convenient option, you can also consider booking your Asheville transfer in advance with Welcome Pickups. With Welcome Pickups, you'll have a timely pickup and door-to-door transfer whilst knowing the exact cost of your ride at the time of booking, providing complete peace of mind and making transportation planning easier.
Book your Asheville Taxi Transfer in Advance
Planning ahead for your transportation needs in Asheville can save you both time and stress. If you know your schedule and where you need to go, consider booking your taxi in advance with Welcome Pickups. By doing so, you can ensure that your driver will be ready and waiting for you as soon as you need to be picked up, avoiding any wait times or delays. Additionally, booking your Asheville taxi cabs in advance with Welcome Pickups means you'll be charged a competitive flat rate, eliminating any uncertainty or surprise charges. With this service, you can enjoy a hassle-free and transparent experience, giving you more time and energy to enjoy all that Asheville has to offer.
Tips for Asheville Taxi Services
Tipping taxi drivers 20% for good service is standard practice all throughout the US.
Most Asheville taxi services accept payment by card.
Most of the local taxi companies offer taxi hailing apps that you can download to your smartphone.
Wheelchair-accessible Taxi in Asheville, NC
There are several taxi companies in Asheville that provide wheelchair-accessible taxis. If you need a fully accessible ride, you can call Loyal Lifts at +1 (828) 674 6471 or Ilderton Conversion at +1 (888) 432 9950. Both companies offer wheelchair-accessible vehicles with ramps or lifts to accommodate passengers with limited mobility. It's always recommended to contact your chosen taxi company in advance to confirm availability and make any necessary arrangements.
Asheville Taxi Cabs - Safety and Complaints
Asheville taxi cabs are required to comply with safety regulations set by the North Carolina Department of Transportation. This includes regular vehicle inspections, driver background checks, and insurance coverage. However, passengers should still take normal precautions when taking a taxi in Asheville, such as checking that the taxi has a visible identification number, ensuring that the meter is working properly and at the correct fare, and confirming the estimated fare with the driver before starting the ride. In the event of any safety concerns or complaints, passengers can report the issue to the taxi company or the Asheville Police Department.