Taxis in Burlington
Burlington, Vermont is renowned for its lively arts community, historic buildings, and stunning views of the Green Mountains. The city is home to many attractions, including the Shelburne Museum, the University of Vermont's Fleming Museum of Art, and the Flynn Centre for Performing Arts. Outdoor enthusiasts can also take advantage of the nearby mountains and lakes for activities such as hiking, skiing, and boating.
When exploring the city and its surroundings, a Burlington taxi is a convenient transportation option if you want to get around at your own pace and with privacy. Various taxi companies operate in the city, providing dependable and efficient service. To secure a ride, you can contact a local taxi company or make a reservation in advance with Welcome Pickups.
TRAINED DRIVERS
Hand picked & english speaking drivers
LOW PRICES
Same price as a regular Taxi from the line
FLIGHT MONITORING
Drivers are always on time
QUALITY SUPPORT
24/7 Email & Phone support
How much does a taxi cost?
Night time


(00:00 - 05:00)
BURLINGTON AIRPORT TO DOWNTOWN
BURLINGTON TO CHURCHSTREET MARKETPLACE
BURLINGTON TO ETHAN ALLEN HOMESTEAD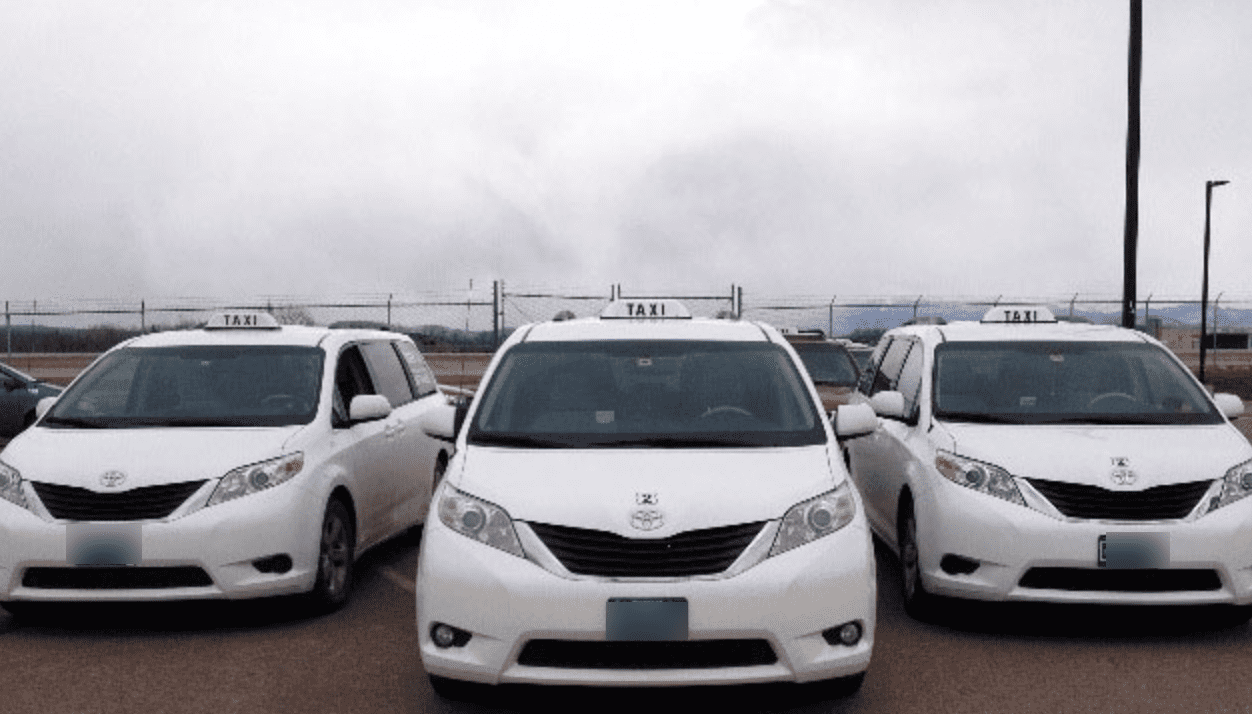 Burlington Taxi Prices
Taxi cabs in Burlington, VT, utilise a metered system to calculate their fares, with a starting fare of $2.50 (€2.30) and an additional $2.50 (€2.30) charged per mile. For most providers, each extra passenger incurs an added fee of $1.00 (€0.90), whilst a $4.00 (€3.60) airport surcharge applies to taxis taken from the airport queue. A taxi ride from the airport to downtown Burlington, and vice versa, typically costs a minimum of $15 (€13.60).
As that cost isn't guaranteed and depends on traffic, among other things, if you like the peace of mind an all-inclusive, flat rate provides, you can secure your Burlington taxi rides in advance with Welcome for a competitive price and no hidden fees.
What our customers say about Welcome
How to Get a Taxi in Burlington
There are several Burlington taxi services offering rides in the city and the surrounding area. To hail a taxi, you can either call a driver or use a mobile app to book your ride. A couple of Burlington taxi companies that you can contact include Burlington Taxi Service, which can be reached at +1 (802) 448 2038 and 89 Taxi, which can be reached at +1 (802) 383 8294. You can also consider booking your Burlington transfer in advance with Welcome Pickups; that way, you'll know the exact cost of your ride at the time of booking, providing peace of mind and making transportation planning simpler.
Booking your Burlington Taxi Transfers in Advance
To avoid any last-minute delays or stress while getting around Burlington, planning ahead for your transportation needs is advisable. If you have a predetermined schedule and destination, it's recommended to pre-book your taxi cabs in Burlington, VT. You can schedule your rides with Welcome Pickups so that your driver will be ready and waiting to pick you up at your desired time, eliminating wait times or inconveniences. Furthermore, booking with Welcome guarantees a competitive and all-inclusive flat rate, leaving no room for unexpected or hidden charges. This hassle-free and transparent service will allow you to spend more time exploring, and enjoying all that the city has to offer.
Burlington Taxi Service Tips
Tipping great taxi drivers 20% is standard practice throughout the US.
Most Burlington taxi services accept payment by card, but you may want to double-check with your driver before starting your trip to avoid surprises.
Keep in mind, for longer trips and if your destination is outside of the municipality, you may be able to agree on a flat fee with your driver.
Wheelchair-accessible Taxis in Burlington
The main taxi company offering wheelchair-accessible rides in Burlington, VT, is NEMT Services. They offer non-emergency medical transportation with trained professionals. To book, you can visit NEMT Services online or call +1 (802) 343 3780. It's recommended to contact the company in advance to confirm availability and make any necessary arrangements for your transfers.
Burlington Taxi Safety and Complaints
Burlington taxi companies must adhere to safety regulations established by the Vermont Department of Transportation. This includes routine vehicle inspections, driver background checks, and proper insurance coverage. Nonetheless, passengers should exercise the usual safety measures when using a taxi service in Burlington. This includes confirming that the taxi has a visible identification number, verifying that the taximeter is operating correctly, and confirming the estimated fare with the driver or operator before setting off. In case of any safety concerns or complaints, depending on the severity of the claim, passengers can report the matter to the associated taxi company directly, the Burlington Police Department, or the Vermont Department of Public Service.