Taxis in Chengdu
Chengdu has been deemed the happiest city in China. It boasts a rich ancient history dating back to the 4th century BC and is also known for its modernity and innovation. While exploring Chengdu, be sure to indulge your taste buds as UNESCO certified Chengdu as the first-ever 'City of Gastronomy'. And perhaps the best draw is the Chengdu Research Base of Giant Panda Breeding where visitors can observe pandas in their natural habitat.
With thousands of taxis and hundreds of taxi stands in Chengdu, it is easy to catch a ride to your next destination. If you aren't near a taxi stand, you can also flag one of the easy-to-spot green taxis from the street, or you can call to request that a driver picks you up. If you are travelling between popular destinations, such as rail stations and major tourist spots, you can negotiate a flat rate, otherwise, the fare is metered.
TRAINED DRIVERS
Hand picked & english speaking drivers
LOW PRICES
Same price as a regular Taxi from the line
FLIGHT MONITORING
Drivers are always on time
QUALITY SUPPORT
24/7 Email & Phone support
How much does a taxi cost?
Night time


(00:00 - 05:00)
CHENGDU AIRPORT (CTU) TO DOWNTOWN CHENGDU
CHENGDU TO CHENDU RESEARCH BASE OF GIANT PANDA BREEDING
CHENGDU TO BAOGUANG TEMPLE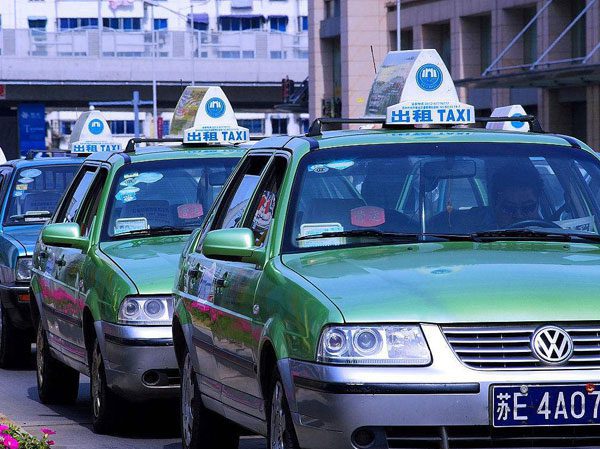 Chengdu Taxi Prices
Taxi fare in Chengdu is based on a metered rate, but if you are travelling between major points in the city such as railway stations and major tourist spots, you can negotiate a flat rate. Taxi fares may vary between the different Chengdu taxi companies, and there is a surcharge for rides at night from 23:00 to 6:00. Metered taxi rates are determined by a base rate for the first 2 kilometres travelled, plus a per-kilometre rate and an hourly rate for standing or waiting time. If you are going further than 10 kilometres, the per kilometre rate is increased. Metered taxi fares during the day can be estimated by the following rates:
Base fare (for the first 2 km): €1.28 (CNY 9)
Price per kilometre (up to 10 km): €0.27 (CNY 1.90)
Price per kilometre (for more than 10 km): €0.40 (CNY 2.85)
Hourly rate for standing or waiting: €3.24 (CNY 22.80)
To go from the Chengdu airport (CTU) to the city, you can expect to pay around €8.60 (CYN 60) to €10 (CYN 70). Another transfer option while in Chengdu is to book your taxi in advance with Welcome Pickups for a flat competitive rate with no hidden charges.
What our customers say about Welcome
How to get a Taxi in Chengdu
With thousands of taxis in Chengdu, it is easy to catch a lift in the city. There are hundreds of taxi stands around the city with taxis ready and waiting to transport passengers to their next adventure. You can also hail a taxi from the street; taxis are green with a taxi sign on top of the vehicle, so they are easy to spot. You can also call one of the Chengdu taxi companies to request that a driver comes to pick you up, or you can book your ride in advance with Welcome Pickups to ensure your driver is ready and waiting for you at the allotted time.
Book your Chengdu Taxi Transfer in Advance
By booking your Chendu taxi transfer in advance, you can sit back and relax knowing that your driver will show up at the pre-arranged time. You can save some time and stress by not having to navigate public transportation or wander around looking for a taxi to flag down or a taxi stand. Plus, you will be charged a flat rate for your ride with no hidden fees, so you can better budget for your stay in Chengdu. To ensure you have a comfortable transfer with a professional English-speaking driver at a competitive rate, consider pre-booking your ride with Welcome Pickups.
Tips for your taxi in Chengdu
Taxis may be harder to come by during rush hours.
Be sure to have enough cash to pay your taxi fare; most taxis won't accept foreign credit cards.
In case your driver doesn't speak English, have the name of your destination printed in Chinese beforehand. Your accommodation can also provide directions to where you are staying written in Chinese to show your driver.
Wheelchair Accessible Taxis in Chengdu
Unfortunately, a fully accessible wheelchair taxi may be hard to come by in Chengdu. If you have a foldable wheelchair, regular taxi drivers will be happy to assist you, and you can store the wheelchair in the storage compartment or the back seat. You can also book a larger vehicle in advance with one of the Chengdu taxi companies for some extra space.
Chengdu Taxi Safety and Complaints
Licensed taxis in Chengdu are the safest option for transportation. And overall, Chengdu is considered a very safe destination for foreigners. When taking a taxi, be sure the meter is turned on or that you have agreed upon a set price with your driver in advance. If an issue does arise, be sure to record the details of your ride including the license number, the driver's name, and the time and location of your journey, and be sure to keep your receipt. You can either report the complaint to the taxi company you used or the local transportation authority – keep in mind that you can request help from your hotel front desk if needed.