Cork Taxi Service
Nicknamed "the rebel city", Cork has a rich historical and maritime legacy that is well worth discovering. A key part of Ireland's Ancient East, this coastal city is essentially an island located right in the middle of River Lee and was the Titanic's last port of call. You can look forward to exploring medieval castles and gardens, ancient churches, and hidden tunnels, as well as local culinary feasts, galleries with 16th-century art, the Cork Jazz and Folk festivals, and a tour of the world-renowned Jameson Distillery. And that's just the start!
With so much to do in Cork, you need a quick and reliable way to move around the city. A private transfer or taxi is the perfect option to make the most of your time in a city with so much to offer. Cork has many taxis but it's best to only use a licensed taxi or pre-booked private car. For peace of mind, you can always book a taxi or private car in advance for a safe and comfortable transfer at a guaranteed set rate.
TRAINED DRIVERS
Hand picked & english speaking drivers
LOW PRICES
Same price as a regular Taxi from the line
FLIGHT MONITORING
Drivers are always on time
QUALITY SUPPORT
24/7 Email & Phone support
How much does a taxi cost?
Night time


(00:00 - 05:00)
ELIZABETH FORT TO BLARNEY CASTLE
ENGLISH MARKET TO BLACKROCK CASTLE OBSERVATORY
SHANDON TOWER TO ATLANTIC POND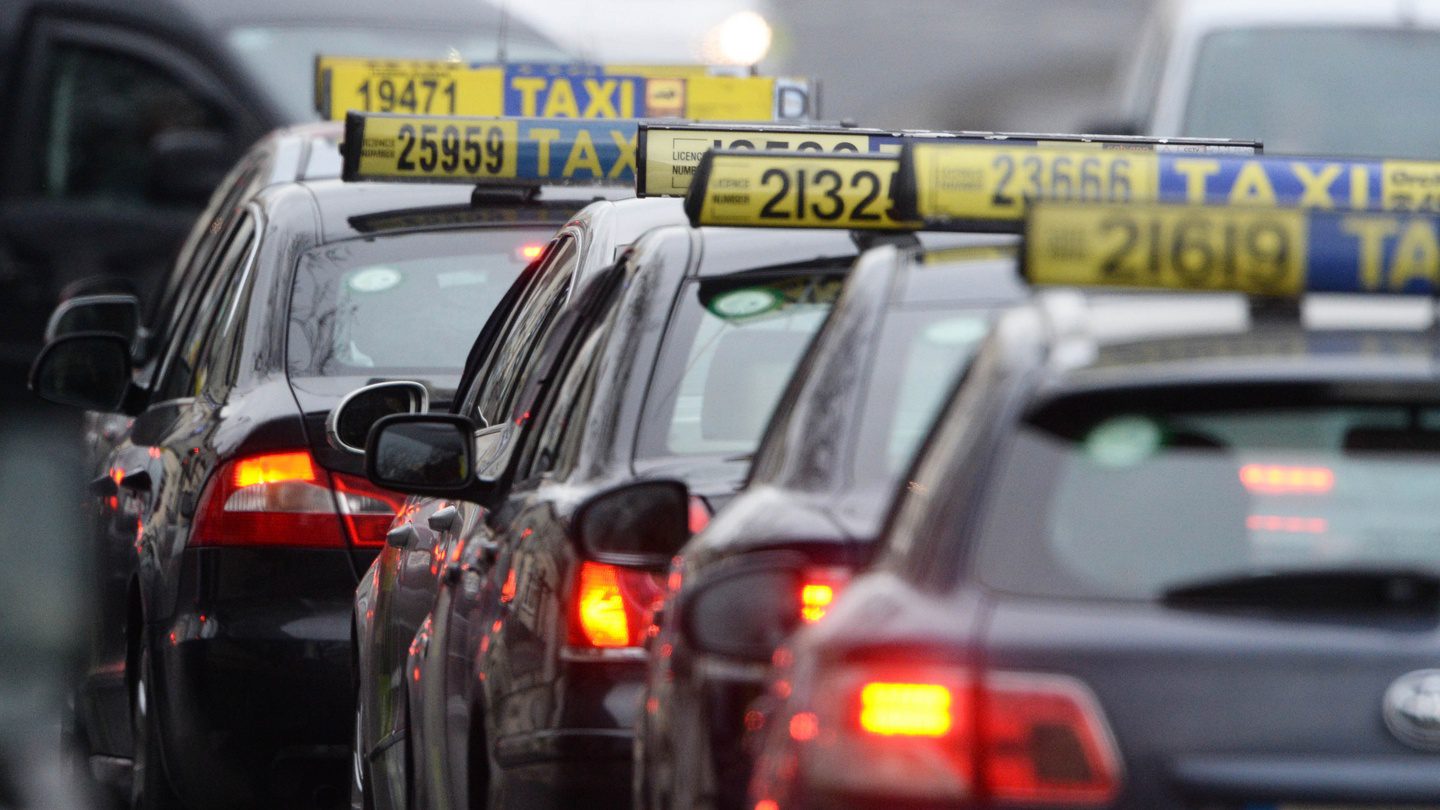 Cork taxi prices
Local taxis in Cork are reliable and well-regulated. Taxis are required by law to be fitted with an officially calibrated taximeter which needs to be visible in the cab of the vehicle alongside a table of fares.
Standard rate (08:00 to 20:00)
Initial fare — €4.20
Next 14.5 km/42 mins — €1.30/km or €0.46/minute
Thereafter — €1.65/km or €0.58/minute
Premium rate (20:00 to 08:00)
*These fares also include Sundays and most bank holidays.
Initial fare — €4.80
Next 14.5 km/42 mins — €1.71/km or €0.60/minute
Thereafter — €2.00/km or €0.71/minute
Additional charges
Each additional adult passenger — €1
One child rides for free, for each additional two children under 12 — €1
Booking fee — €2
Road toll charges as incurred
Please note that these rates are subject to change and that a special premium rate is used on Christmas and New Year's. The maximum extra charge for soiling is €140.
What our customers say about Welcome
How to get a taxi in Cork
Getting a cab in Cork is easy as there are plenty of official and private taxis. By law, the official taxis, with a roof sign and branding, are the only ones allowed to pick up passengers from the street or from taxi ranks and are required to calculate fares using a taximeter. There are also several companies that operate private transfer cars, called Hackneys. Hackneys are not required to use a taximeter, so it is important that you agree on the fare before your journey. You can book a taxi service in Cork by calling the below numbers, but keep in mind that there is a €2 surcharge for booking a taxi or a Hackney:
Satellite Taxis: +35 321 480 8080
Lee Cabs: +35 321 439 3977
Stephen Trevor Taxi +35 383 056 1055
All taxis are required by law to provide passenger information, including rights, responsibilities, and fares as provided by the National Transport Authority's Taxi Regulation Directorate. All taxis are also required to carry guide dogs and mobility aids for customers in need of them, at no extra charge.
Pre-book your Cork taxi service
The quickest and most comfortable way to begin your holiday in Cork is to book your airport transfer in advance with Welcome. We offer guaranteed on-time pickups, personalised transfers, 24/7 customer support and, above all, a level of trust and quality service needed for you to relax and enjoy your time in the beautiful city of Cork.
Cork taxi tips
Private hire companies are not subject to the official taxi rates, so you should agree on the fare with the operator or driver before getting in the car.
Travellers are advised to only use a licensed taxi or a pre-booked private hire vehicle.
Tipping in Ireland is not mandatory, but if you want to tip your driver, add 5-10% or round up the fare to the nearest euro.
Before setting off, make sure the taximeter has been reset to the initial fare and is on the right tariff setting.
Wheelchair-accessible taxis in Cork
The National Transport Authority has a register of all wheelchair-accessible taxis and Hackneys. Should you need help finding one in Cork, you can contact the NTA at +35 0818 064 000 to ask for a local recommendation.
Cork taxi safety and complaints
Although taxis in Cork are well regulated and considered to be safe, you should only get into a registered taxi if you are hailing one from the street, or a licensed private car that you have called for or booked in advance. In the event that you wish to file a formal complaint, you can contact the National Transport Authority at +35 761 064 000. For issues of a criminal nature or a traffic offence, you should contact An Garda Síochána, Ireland's national police service.