Cozumel Taxi Service
Cozumel is a stunning island located in Quintana Roo, Mexico. Known for its beautiful white-sand beaches, turquoise waters, unbelievable scuba diving spots and laid-back island lifestyle, it's the perfect place to relax and unwind. However, Cozumel is a large island with no public transport, which makes getting around a little difficult. If you're looking to explore this amazing beach destination, we recommend taking a Cozumel taxi service. Taxis in Cozumel can easily be hailed in the street, picked up at the designated taxi ranks known as "sitios", or requested over the phone by calling the official syndicate number.
TRAINED DRIVERS
Hand picked & english speaking drivers
LOW PRICES
Same price as a regular Taxi from the line
FLIGHT MONITORING
Drivers are always on time
QUALITY SUPPORT
24/7 Email & Phone support
How much does a taxi cost?
Night time


(00:00 - 05:00)
FROM COZUMEL AIRPORT TO CENTRO
FROM COZUMEL AIRPORT TO FERRY DOCK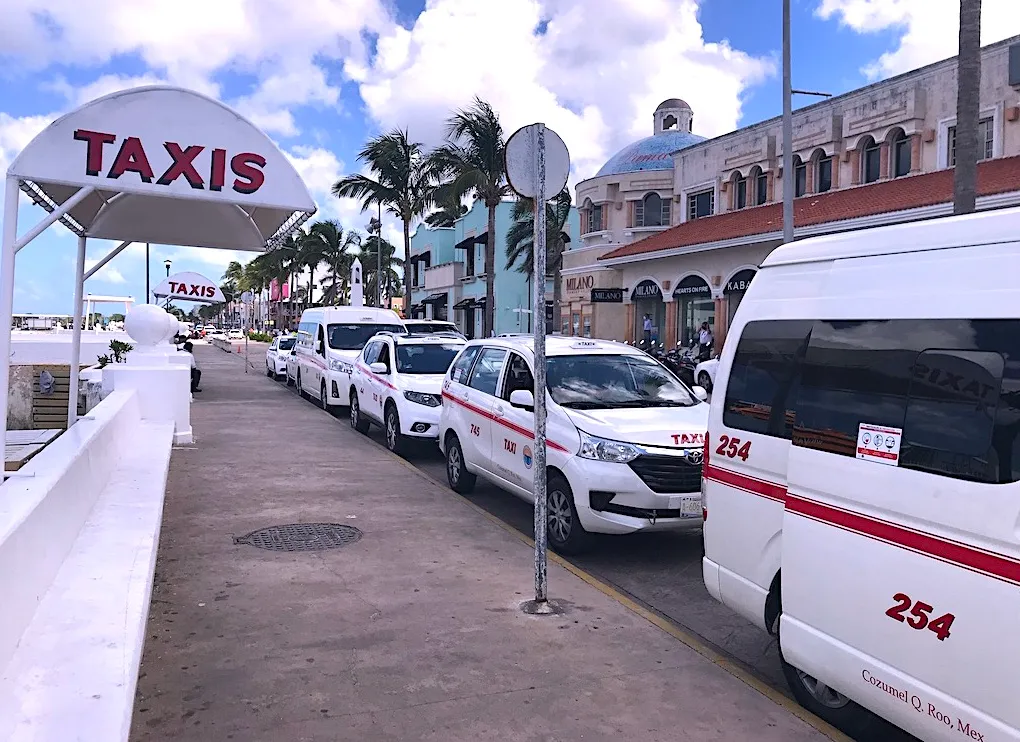 Cozumel Taxi Rates
The local Cozumel Taxi drivers don't have official set rates for their journeys. There is an official taxi tariff sheet that they are supposed to adhere to, but they usually use this as a guide rather than a rule. The lowest fare you can expect to pay for short journeys around the city centre is €1.80 (MXN 40), but if you're visiting beaches around the island you can expect to pay up to €14 (MXN 300) for a one-way trip.
If you're confident in speaking Spanish, you can try to haggle with the driver to lower your fare, or agree on a return fare if you're visiting a beach club for the day. Either way, you should always tell the driver where you're heading and agree on a price before getting in a Cozumel taxi.
What our customers say about Welcome
How to get a Taxi in Cozumel
All official taxis in Cozumel belong to a syndicate and are very strictly monitored. This means that independent drivers aren't able to pick people up in the street or provide quick transfers; they only do specifically designated pickups and drop-offs for tour packages. All Cozumel taxis are white in colour with a red stripe down the side and their taxi number clearly printed on the front doors. 
If you're downtown or by the main road, you can easily hail a taxi in the street by sticking out your hand or by walking to one of the designated taxi ranks (sitios). Taxi sitios are located outside all shopping malls, food markets, main tourist attractions and large hotels. 
On the other hand, if it's late at night or you're in a difficult to reach location, you can always call the official Sindicato de taxistas de Cozumel on +52 1 987 872 0041. However, it's worth noting that the person who picks up may not speak very much English, so before calling, ensure you can provide your exact location and destination.
Benefits of Booking your Cozumel Taxi with Welcome
Cozumel is a cruise ship destination, so on the days when lots of ships are docking, it can be very difficult to find an empty taxi, or the prices may spike dramatically. If you'd prefer a set fare you can rely on and a guaranteed pick-up time, we suggest pre-booking your Cozumel taxi service in advance with Welcome Pickups. We offer English speaking drivers, 24/7 customer support and competitive rates. Make the most out of your time on Cozumel island with reliable transfers from Welcome Pickups. 
Cozumel Taxi Tips
Not all Cozumel taxi drivers speak English, be sure to write your destination down or have the location on GoogleMaps.
Before getting in the taxi, ask your driver for the cost of your journey, if it's too high, wait for another taxi.
Taxis in Cozumel don't accept card payments.
Cozumel taxi rates aren't set, so feel free to haggle the price if you feel comfortable.
Wheelchair Accessible Taxis in Cozumel
Unfortunately, there are no wheelchair-accessible taxis in Cozumel. If you need to make a quick journey from A to B, there's no real option for wheelchair users. However, if you're looking to book a tour or do a day trip on the island, you can book with a company such as This Is Cozumel, which does offer wheelchair accessible vehicles and special packages for wheelchair users. 
Cozumel Taxi Safety and Complaints
As all of the taxis in Cozumel belong to a syndicate, they are mostly self-monitored, regulated and safe. However, the government has very little say over the drivers' actions, so overcharging is fairly common. If you do experience a rude driver or feel unsafe at any time during your journey, write down the taxi number (on the side of the car) and report the driver to the local police by calling +52 1 987 872 0409.