Taxis in New Delhi
New Delhi is all at once chaotic and calm, a complicated city where animals and people roam the streets alike. It is a city of paradoxes. If you are a newcomer and are looking to see everything in this enchanting place, then your best bet is to take a New Delhi taxi. Taxis in New Delhi are safe and comfortable and will transport you quickly around the city. The time you save trying to navigate the complex public transport network can be used for other activities like visiting Humayun's Tomb or the Qutab Minar. So hop on a New Delhi taxi today and explore India's fascinating capital.
TRAINED DRIVERS
Hand picked & english speaking drivers
LOW PRICES
Same price as a regular Taxi from the line
FLIGHT MONITORING
Drivers are always on time
QUALITY SUPPORT
24/7 Email & Phone support
How much does a taxi cost?
Night time


(00:00 - 05:00)
New Delhi Airport to City Centre
New Delhi Airport to Karol Bagh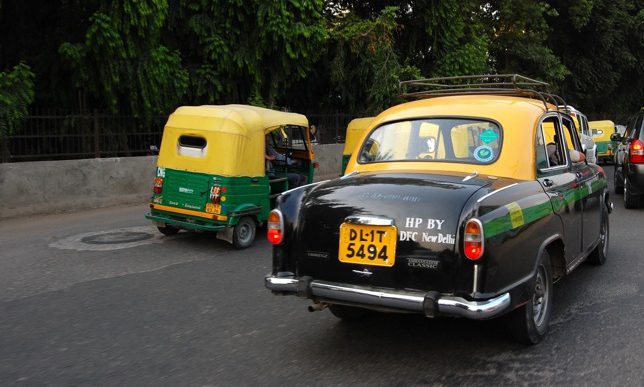 Cost of a New Delhi Taxi
Taxi tariffs in India are officially set by cities or districts. The fare for Delhi cab service was last set in January 2020 and published in the official tariff ordinance. It is binding for all taxis and taxi companies within the city area and suburbs and may not be exceeded or reduced. This is ensured by officially calibrated taximeters installed in each taxi in New Delhi.
The price of a taxi in Delhi depends on several factors. These are the route to be travelled, the journey time and of course traffic conditions (which can sometimes be rather difficult to handle in India). From these components the taxi price can be calculated.
New Delhi taxi fares are valid throughout the entire day and night.
Base fee (incl. 3 km): Rs 60.00 (€0.7)
Kilometre price: Rs 20.00 (€0.2)
Waiting time per hour: Rs 36.00 (€0.4)
What our customers say about Welcome
How to Get a Taxi in New Delhi
New Delhi is a huge and busy city, but when you choose a New Delhi taxi service for your transfer, getting to your destination couldn't be easier. You can choose to simply stop a taxi on the street, go to the nearest taxi rank, call one of the many local transfer companies or download a taxi app, like Meru cabs.
Taxi ranks can be found near all the major tourist spots in the city. In Delhi and Maharashtra, most taxicabs have yellow-black livery, while in West Bengal, taxis have yellow livery. When you spot a rank, all you have to do is walk to the front of the line and pick the first available vehicle.
During rainy days or late at night, we suggest booking your taxi by calling one of the local taxi companies or using one of the taxi apps available in India. That way, you can wait in a comfortable place for your driver to arrive.
Benefits of Booking a New Delhi Taxi in Advance
There is nothing like knowing that someone is there to take you home safely when you are in an unfamiliar territory. Our taxi drivers are reliable locals who know New Delhi like the back of their hand. They will be waiting for you at the airport, take your luggage and escort you to your appointed taxi. Then they will share with you everything they know about the area. So entrust Welcome with your transportation and book an airport transfer today.
New Delhi Taxi Tips
A 10% tip is always appreciated in India and that also goes for taxi services.
Taxis are safe at night. Of course you can always use a taxi app to feel more secure. You can also ask the reception to order a cab or hire from any reputable travel agent.
According to Government of India regulations, all taxicabs are required to have a taximetre installed. However, some cabs operate either without it or with defunct ones. If you notice something like this, stop the ride and step out of the vehicle immediately.
Wheelchair Accessible Taxis in New Delhi
Due to a lack of available vehicles in India, planning in advance is always a good idea. If you already know the dates of your India trip, then call ahead of time to make sure there is a wheelchair accessible car at your disposal. Then please reach Ezy Mov, Delhi via their website to book your customized vehicle.
Safety and Complaints for New Delhi Taxis
Taxi service in Delhi is reliable and drivers are known to be courteous and trustworthy. However, you can occasionally encounter unprofessional drivers who may try to scam you by not setting the metre on or taking a longer route to your destination. If you suspect that something like that has happened to you, note down the driver's plate and call the local police at +91 11 2669 1861.