Taxi Service in Edmonton
Edmonton, Alberta's capital, is a fascinating place that showcases everything Canada has to offer. Nature reigns supreme on the banks of the North Saskatchewan River, giving way to cycling, hiking, and other outdoor activities. At the same time, Edmonton is a bustling business hub, and the compact downtown area provides a plethora of dining, entertainment and shopping options.
Whether business or leisure brings you to the city, an Edmonton cab is the most convenient way to get around and make the most of your stay. Especially during the cold winter months, you can avoid waiting outside in harsh temperatures by pre-booking your Edmonton taxi. Additionally, many taxi companies are operating in the city, so you can easily hail a cab on the street, call one of the companies for a pickup, or go to one of the places with taxi ranks, such as hotels and popular attractions.
TRAINED DRIVERS
Hand picked & english speaking drivers
LOW PRICES
Same price as a regular Taxi from the line
FLIGHT MONITORING
Drivers are always on time
QUALITY SUPPORT
24/7 Email & Phone support
How much does a taxi cost?
Night time


(00:00 - 05:00)
DOWNTOWN EDMONTON ➙ WEST EDMONTON MALL
DOWNTOWN EDMONTON ➙ FORT EDMONTON PARK
DOWNTOWN EDMONTON ➙ ROYAL ALBERTA MUSEUMRK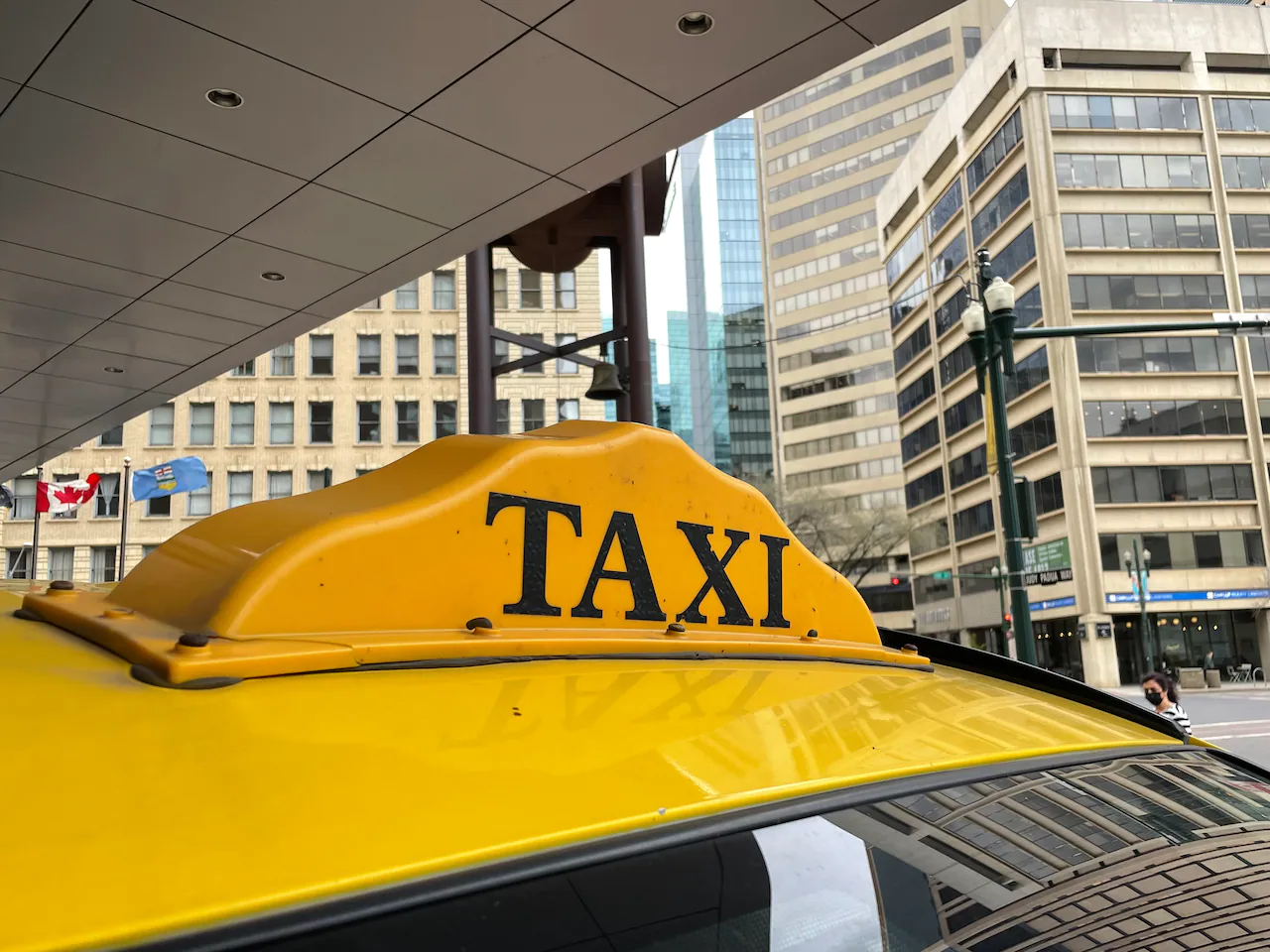 Edmonton Taxi Fares
Edmonton taxis are metered and apply the official rates stipulated by the city council. This means that the amount you will be charged will depend on the time and distance travelled. The current Edmonton cab fares are as follows:
Base fare/flag drop – €3 (CAD 4.10)
Rate per km – €1.35 (CAD 1.85)
Waiting per hour – €21.80 (CAD 30)
Additional charges may apply for luggage not fitting in the cab's trunk.
What our customers say about Welcome
How to get a Taxi in Edmonton
Taxi Services in Edmonton are available 24/7. At any time of the day, seven days a week, you can hail a taxi on the street that will safely drive you to your destination. Alternatively, you'll easily spot an available cab at one of the taxi ranks; you'll find local cabs lining up in front of hotels, shopping centres and other popular tourist attractions.
Plus, if you do not wish to stay out in the elements – especially during the winter when temperatures in the city are below zero, you can comfortably order a taxi online or call one of the following Edmonton taxi operators and request a pickup:
Yellow Cab: +1 (780) 462 3456
Anytime Taxi: +1 (780) 439 6655
Sherwood Park Cabs: +1 (780) 469 4222
Book your Edmonton Taxi Service in Advance
Do you want to avoid any possible hassle and secure a stress-free and reliable personalised transfer from the moment you set foot in Alberta's capital? In that case, you can pre-book your Edmonton taxi with Welcome Pickups. Welcome is renowned globally for its 5-star services, and being part of this premium experience takes less than 60 seconds. You can take advantage of a competitive fixed rate and a warm welcome by one of our hand-picked, English-speaking drivers in just a few clicks. Their superpower is impeccable door-to-door service and valuable local knowledge!
Edmonton Taxi Tips
Edmonton cabs do not apply night fares. The rates are the same all day round.
Most taxis accept payment by card. However, to make sure, you'd better ask before boarding the vehicle.
It's customary to give the taxi driver a 10-20% tip.
Besides the popular ridesharing apps, there are also local taxi apps in Edmonton.
Wheelchair Accessible Taxi Service in Edmonton
Overall, Edmonton is a very friendly city for people with limited mobility. Most public buildings and entertainment venues are accessible, and so is the public transit system. Regarding taxis, most vehicles can easily accommodate a folded wheelchair in the trunk. However, if you need dedicated equipment such as a ramp or an elevator system, you should book a ride in advance with one of the companies that provide fully wheelchair-accessible vehicles. One of the most reliable ones is Royal Wagon.
Safety and Complaints for Taxis in Edmonton
Edmonton cabs are generally safe and reliable. Highly unpleasant incidents are seldom heard of. However, if you feel like your fare was charged unfairly or incorrectly, you were refused service, or you have any other complaint, you can escalate the issue with the city authorities. You have to call a dedicated number (311) to report the incident. You must provide the date, the location, the taxi company, the driver's description and a contact number where the authorities can get a hold of you. After filing your complaint, the enforcement team will further investigate the matter.