Taxis in Fuerteventura
Holidays in Fuerteventura are all about the beach. If you are looking for the perfect summer destination, you can't go wrong with Fuerteventura, as its impressive sand dunes and unique volcanic landscapes are bound to enchant you. Whether you are visiting for business or pleasure, the idyllic island has something for you, which is why you should consider taking a taxi for your transportation. This way you will save time and have something less to worry about as you explore Corralejo, Playa de Cofete, Puerto del Rosario or Costa Calma. Hopping on an air-conditioned Fuerteventura taxi will add value to your vacation and help you avoid the intense summer heat, giving you and your travel group an unforgettable and comfortable transfer experience.
TRAINED DRIVERS
Hand picked & english speaking drivers
LOW PRICES
Same price as a regular Taxi from the line
FLIGHT MONITORING
Drivers are always on time
QUALITY SUPPORT
24/7 Email & Phone support
How much does a taxi cost?
Night time


(00:00 - 05:00)
CITY CENTRE TO TARAJALEJO
CITY CENTRE TO COSTA CALMA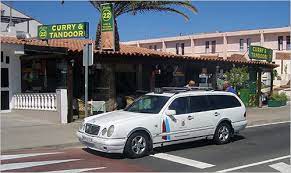 Cost of a Fuerteventura Taxi
Taxis in Corralejo and the rest of the island operate with a taximetre, a device that records the length of the journey and calculates the final tariff accordingly. There aren't any set fee journeys in Fuerteventura, but are charged based on distance traveled or time taken.
Generally speaking, taxis in the island are very easy to find and also affordable. The Fuerteventura taxi prices can be found below:
Minimum charge: €3.15
Price per km: €0.55
Price per 15 minutes: €3.76
Waiting Time: €15.05
While these rates are fixed, please bear in mind that journeys after midnight and during public holidays are more expensive. You should therefore plan your trip accordingly to ensure you stay within budget.
What our customers say about Welcome
How to get a Taxi in Fuerteventura
Finding a taxi in Fuerteventura is quite effortless. Airport taxis are located in front of the airport terminal building, close to the arrivals' hall exit. In Fuerteventura, each municipality has its own taxis. The cabs from each municipality are distinctly marked and operate only within their area. They can drop you off anywhere on the island, but can only pick up passengers within their own municipality.
There are multiple options to consider when looking for a taxi. You can walk to the nearest taxi rank, hail a taxi on the street or contact a local company.
You can find standardised taxi ranks outside all of the major hubs such as hotels, bus stations, train stations, and even some tourist sites. Taxi ranks could be also found near Puerto de Corralejo, Centro Comercial el Campanario as well as El Cotillo.
While getting a taxi on the island shouldn't be challenging, booking one in advance would be a good idea, especially during summer months or public holidays. Passengers of Fuerteventura Airport are advised to only use the official airport taxi services to avoid potential scams.
Benefits of Booking a Fuerteventura Transfer in Advance
Fuerteventura may be a beach paradise offering a variety of transportation options but can, at the same time, be hot, tiring and overcrowded. Prebooking a ride will ensure the driver picks you up at your selected location and drops you off at your destination without any nasty surprises. Welcome offers fixed rates, comfortable, air-conditioned vehicles and well trained English speaking drivers who provide service with a smile. There's no need to worry about unexpected fees, misconduct or hidden surcharges when you book a Fuerteventura airport transfer in advance.
Fuerteventura Taxi Tips
Finding a taxi at the airport is fairly easy. You will find the waiting taxis parked straight in front of you as you come out of the main arrivals area from the terminal building. However, you may want to consider preordering a taxi during public holidays or summer months.
Fuerteventura taxis are mostly white and are distinctly marked based on the municipality they belong.
Tips are always welcomed in Fuerteventura. In general, anything between 5% - 10% is more than enough for eating out and getting taxis..
Passengers should always ensure that the metre of the taxi is on and in working condition when entering the vehicle.
Wheelchair Accessible Taxis in Fuerteventura
Typical taxis driving around the island cannot accommodate passengers with mobility difficulties. As the space is limited, you can only put foldable wheelchairs in the trunk during the journey. Some taxi companies have a wheelchair-accessible taxi fleet with hydraulic lifts and other accessibility features. Such an example is Taxis Fuerteventura. To benefit from their services, simply go on their website, put down your dates and book your own personalized wheelchair adapted taxi.
Safety and Complaints for Fuerteventura Taxis
Although taxi drivers are mostly honest and friendly, and operate in a straightforward manner, it is wise to ask the average price to your destination before getting into the taxi. Tourists who don't speak Spanish are especially vulnerable, therefore try to learn a few words in the local language regarding taxi services. You can also lodge a complaint if you feel so inclined by heading to the nearest police department.