Taxis in Grenoble
Grenoble is the city for you if you are looking for a blend of nature and culture. Nestled at the foot of the mountains in southeast France, Grenoble is the perfect hub for winter-sports enthusiasts or summertime adventurers. Grenoble is also a renowned scientific research hub and is home to many public and private laboratories. When visiting, you can't miss the "Les Bulles" (Bubbles) cable cars that carry passengers to the top of La Bastille hill where you can explore an 18th-century fortress.
Whether you are trying to get around the city or to a nearby destination, such as one of the many ski slopes in the region, taking a Grenoble taxi is the easiest way to get to wherever you are going. Various companies offer Grenoble taxi services. If you need a lift, you can call to request that a driver comes to pick you up or you can take a taxi from a taxi stand. You can also book your ride in advance with a professional, English-speaking Welcome Pickups driver.
TRAINED DRIVERS
Hand picked & english speaking drivers
LOW PRICES
Same price as a regular Taxi from the line
FLIGHT MONITORING
Drivers are always on time
QUALITY SUPPORT
24/7 Email & Phone support
How much does a taxi cost?
Night time


(00:00 - 05:00)
GRENOBLE AIRPORT TO GRENOBLE
GRENOBLE TO LES DEUX ALPES
GRENOBLE TO MUSEE DE GRENOBLE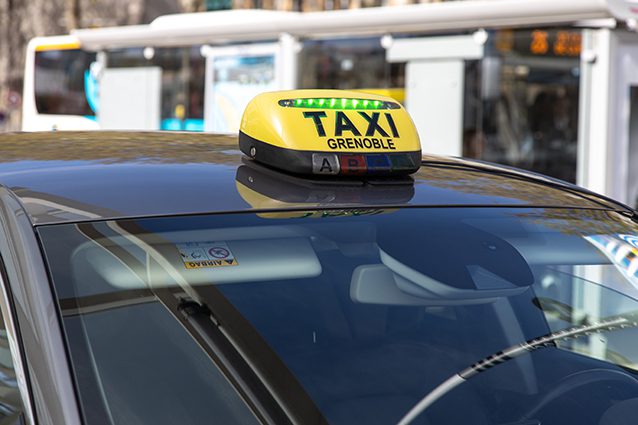 Grenoble Taxi Prices
Unless you book your Grenoble taxi transfer in advance, taxi prices are based on a metered rate. The cost is determined by a base rate, the number of kilometres travelled, the standing or waiting time, and whether you are travelling during the day or at night. Surcharges for extra luggage or more than 4 passengers may also apply. The fare can be estimated based on the following rates:
Base fare: €2.50
Daytime price per kilometre: €1.86
Night-time (19:00 to 7:00) price per kilometre: €2.79
Hourly rate for standing or waiting: €27.00
For a Grenoble airport transfer to the city during the day, the fare is estimated to cost around €85. For a competitive flat rate with no hidden charges, you can book your ride in advance with Welcome Pickups.
What our customers say about Welcome
How to get a Taxi in Grenoble
Taxis are easy to find around Grenoble. You can take a taxi from one of the city's taxi stands (such as at the Grenoble train station) or you can call a Grenoble taxi company to request a ride. A couple of companies you can contact include Taxi Grenoblois (dial +33 4 7654 4254) and Alp' Bievre Taxis (dial +33 4 7420 0566). To save some waiting time, another option is to book a personalised transfer in advance with one of the Welcome Pickups' prompt and professional English-speaking drivers.
Book your Grenoble Taxi Transfer in Advance
If you know where and when you'll be needing a ride, you can save some time and hassle by booking your Grenoble taxi ahead of time. When you book with Welcome Pickups, you know your driver will be there as soon as needed to pick you up. Plus, you will be charged a competitive flat rate, so you won't have to worry about what a standard taximeter will add up to.
Tips for your taxi in Grenoble
If you want to pay by debit/credit card, you will need to either book your taxi transfer in advance or double-check with your driver before starting the journey. Some drivers may not accept payment by card.
Tipping is not obligatory, but often passengers will round the fare up to the nearest euro. For a private driver, people tend to tip 5 to 10%.
If you are headed to the slopes with skis or snowboards, you may want to book a vehicle in advance, that can accommodate your gear.
Wheelchair Accessible Taxis in Grenoble
Grenoble is a leader in handicap-accessible transportation – you can easily get around by public transportation, or you can take a wheelchair-accessible taxi. Several Grenoble taxi companies offer accessible taxis. If you will be needing a lift, you can contact Taxis de la Banlieue Grenobloise (book online or call +33 476 541 718); they have drivers trained to assist persons with limited mobility. Taxis Marillet also offers trained drivers and accessible vehicles certified by Health Authorities (you can book online or call +33 611 088 176).
Grenoble Taxi Safety and Complaints
Grenoble taxis are the safest, most comfortable and quickest way to get around Grenoble, whilst Grenoble taxi drivers are polite and friendly. If for any reason an issue comes up during your taxi trip, keep a note of what happened and the date/time, along with the license plate number. You can report the issue directly to the company that you used.