Inverness Taxi Service
Inverness is a vibrant and historic city in the Scottish Highlands. The city is located on the River Ness and is surrounded by stunning scenery. There are many things to do in Inverness, from exploring the castle and visiting the museums, to enjoying the nightlife and shopping. Inverness is also a great base for exploring the rest of the Highlands as it offers easy access. When your feet have had enough, and you need a comfortable way to move about, an Inverness taxi or private shuttle is the easiest and most reliable option. There is an extensive taxi culture in Inverness and drivers are known to be friendly and professional.
TRAINED DRIVERS
Hand picked & english speaking drivers
LOW PRICES
Same price as a regular Taxi from the line
FLIGHT MONITORING
Drivers are always on time
QUALITY SUPPORT
24/7 Email & Phone support
How much does a taxi cost?
Night time


(00:00 - 05:00)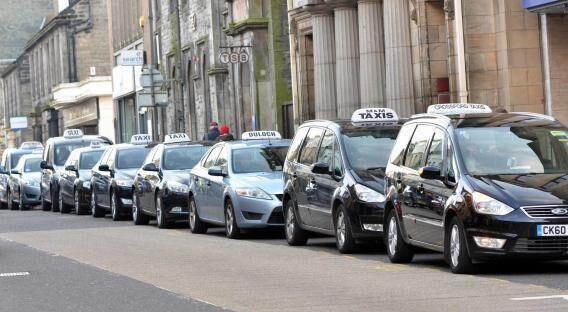 Inverness taxi prices
Inverness taxi fares are set by the Highland Council and refer to the maximum charge allowed. Some Inverness cab companies offer lower rates to be competitive. If you are travelling around Christmas or Easter, you should know that tariffs are different on specific days, i.e. on Boxing Day, Easter Friday etc. More information can be found on Highland Council's website. Here are the main rates you should be aware of:
Day prices (7:00-21:00)
Base fare: £3.00 (€3.60)
Price per km: £0.90 (€1.10)
Night prices (21:00-7:00)
Base fare: £3.30 (€4)
Price per km: £1.40 (€1.70)
It's important to note that other charges may apply, such as a booking charge depending on the company you choose, or for vehicles that can accommodate groups of 5 or more.
What our customers say about Welcome
How to get a taxi in Inverness
There are three ways to get a taxi in Inverness: you can hail one from the street, walk to a nearby taxi rank, or book over the phone with an Inverness cab company of your choice. There are plenty of companies and hundreds of taxis and private transfer vehicles operating in Inverness, therefore, getting a taxi is easy, unless you are visiting during a particularly busy period, like the Loch Ness Marathon. Inverness taxis are not colour coded, but you can easily distinguish them by their logos and written phone numbers.
If you wish to book a taxi in Inverness by phone, you can call one of the taxi companies below. The list is indicative, based on ratings. There are many more companies you can find online. 
Inverness Taxis: +44 1463 222222
A2B Taxi Inverness:  +44 1463 807060
Capital Taxi Inverness: +44 1463 808080
Taxi Inverness: +44 1463 808080
During peak periods for tourism, it's best to plan well and leave fewer things to chance, so you may also wish to pre-book your ride online.
Pre-book your Inverness taxi service with Welcome
When you travel to a new city like Inverness, full of things to do and places to see, transportation can be a source of stress, especially if it's late in the evening or the weather is bad. That's why we recommend letting Welcome take care of your Inverness taxi or private shuttle and treat yourself with unbeatable prices and 24/7 customer support. We guarantee on-time pickups and offer you a reliable friend on the ground.
Inverness taxi tips
Taxis in Inverness are not colour coded, so look out for the taxi logos on the vehicles instead.
Ensure the taximeter is reset to the base fare before you begin your journey.
If you require a child seat, you might have to bring your own or make an inquiry in advance. Child seats are available upon request with some taxi companies.
Tipping your Inverness Taxi driver is not customary, but if you are happy with the service, a goodwill gesture is much appreciated.
In the Highlands, there is no additional cost for the carriage of luggage.
Wheelchair-accessible taxis in Inverness
There are wheelchair accessible Inverness cabs available, like C&E Taxis, but you must make a reservation for your accessible vehicle ahead of time. Not all taxis have the room needed, nor do all drivers have the expertise to offer sufficient assistance, so if you call to request a pickup via another company, make sure to highlight your requirements for your comfort and safety. 
Inverness taxi safety and complaints
Generally speaking, Inverness cabs are safe and offer a good standard of service. If you happen to come across any problems with your driver or the service received, you will need to contact the associated taxi company with as much detail as possible. If you need to take your complaint further, then you should email the Passenger Transport Licensing Division at the Driver and Vehicle Agency (DVA).