Taxi Service in Kansas City
Kansas City is the largest city in the state of Missouri and a beautiful destination to visit if you're travelling around the central US. It's a vibrant city with rich culture and jazz heritage, offering multiple exciting activities. To move around quickly and in comfort, Kansas City taxis are a great transportation option that will help you make the most of your stay. Better yet, you can book your Kansas City cab in advance to save both time and money. There are taxis available around the city all day long and you can find official taxi ranks at popular destinations, such as the airport or train stations. There are also many taxi operators you can call to order a taxi.
TRAINED DRIVERS
Hand picked & english speaking drivers
LOW PRICES
Same price as a regular Taxi from the line
FLIGHT MONITORING
Drivers are always on time
QUALITY SUPPORT
24/7 Email & Phone support
How much does a taxi cost?
Night time


(00:00 - 05:00)
KANSAS CITY CENTRE ➙ River Market
KANSAS CITY CENTRE ➙ Southmoreland
KANSAS CITY CENTRE ➙ Kansas City Zoo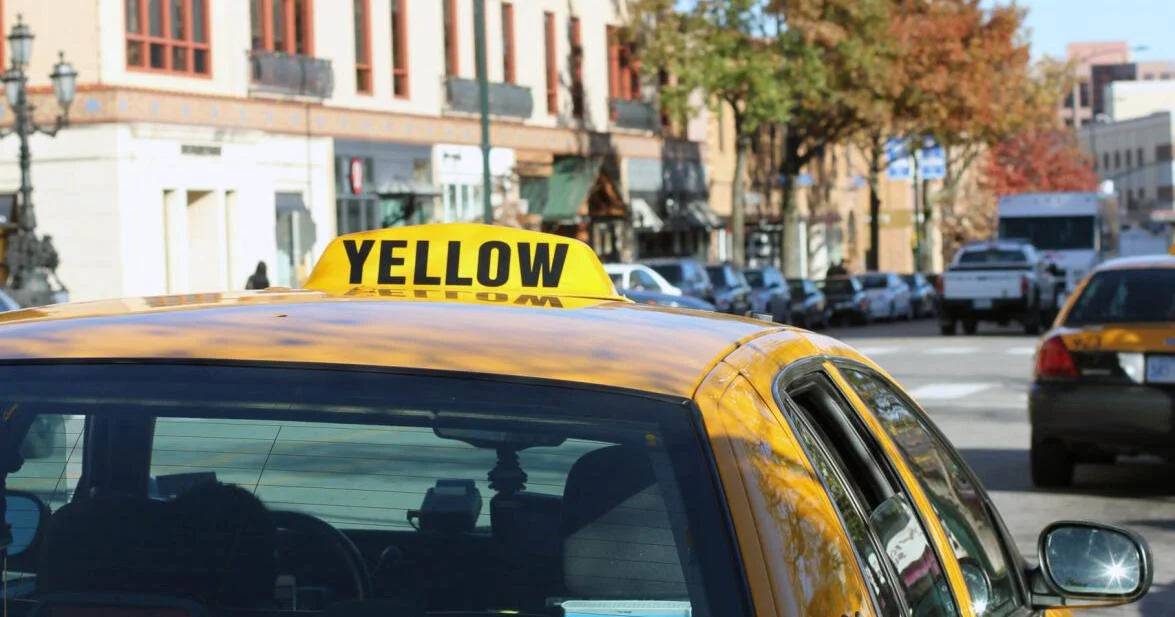 Kansas City Cab Fares
The taxi Service in Kansas City is reliable with the state regulating the rates for all licensed taxi operators. For routes around the city you might come across different rates but all taxis must use a taximeter to calculate the total fare. Airport taxis in Kansas City operate with a set rate, which you can use as a reference for other routes as well.
Base fare – $2.50 (€2.50)
Rate/km – $1.50 (€1.50)
Keep in mind that the total fare can vary depending on traffic conditions and waiting time and that there can be additional charges for certain operators, such as luggage fees.
What our customers say about Welcome
How to Get a Kansas City Taxi
Choosing to move around Kansas City using a taxi is a pretty convenient transportation option as you can find or order one 24/7, no matter where you are. Official Kansas City cabs are usually yellow with the typical TAXI sign on the roof, so they're easy to spot. If you see one on the street with the available sign lit up, you can simply wave over to signal the driver to stop; just make sure to stand somewhere that you don't block traffic and there is room for the driver to pull over. In busy places like the airport, there are courtesy phones that you can use to order a taxi by saying your exact location. Alternatively, you can order a taxi by downloading one of the available apps, or by calling a taxi operator over the phone. Some of the local providers you can call for a pickup are:
City Cab of Kansas City: +1 (816) 474 8294
Local Budget Cab: +1 (816) 921 5000
Pre-Book your Kansas City Cab
To enjoy professional and personalised taxi service in Kansas City from the moment you land at the airport, you can pre-book your transfers with Welcome Pickups. With a very simple booking flow and flexible cancellation policy, it's a must when you're planning your trip if you want to avoid waiting in lines or looking for a taxi at the last minute. You'll also ensure a competitive fixed rate which you'll know and pay in advance instead of being unpleasantly surprised at the end of the ride. With Welcome, you can simply relax and enjoy a stress-free travel experience and let a professional, trained driver take you comfortably to your destination, offering useful recommendations about the city!
Kansas City Taxi Tips
All official Kansas City cabs are metred; if you don't see a taximeter on the dashboard avoid using the taxi.
All Kansas City operators are required to take all trips regardless of length, otherwise, they can be reported.
Asking for a receipt at the end of the ride will help you in case you leave any personal items behind.
In Kansas City, a tip between 8% to 20% is customary depending on the level of service.
Wheelchair Accessible Taxis in Kansas City
Kansas City is a wheelchair-friendly destination allowing all travellers to enjoy multiple activities. Standard taxis can fit a foldable wheelchair in the trunk but aren't equipped with ramps that allow wheelchair users to remain seated while inside the vehicle. To ensure comfortable transportation throughout your trip you can book your transfers by calling a company that provides customised services like Secure Transport at +1 (816) 350 1800 or zTrip at +1 (913) 469 8747.
Kansas City Taxi Service Safety and Complaints
Taxi service in Kansas City is a pretty reliable transportation option both for tourists and locals with the state imposing and controlling the rates. In the unlikely event that you think you have been overcharged or you wish to report another type of unprofessional behaviour on part of the driver, it's best to contact KCMO, the Kansas City Hall, at +1 (816) 513 3600. By explaining the incident they will be able to guide you accordingly as to what steps you need to follow to file a complaint. Make sure to write down as much information as possible, including the date, driver's name, registration number, and license plate.