Taxis in Kelowna
Kelowna is located in the Okanagan Valley of British Columbia, Canada. It is a popular destination known for its natural beauty, vibrant cultural scene, and abundant outdoor activities. Whether you're a foodie, wine lover, outdoor enthusiast, or just looking for a relaxing getaway, Kelowna has something for everyone. With so much to see, the easiest way to get around is by taking a Kelowna taxi.
TRAINED DRIVERS
Hand picked & english speaking drivers
LOW PRICES
Same price as a regular Taxi from the line
FLIGHT MONITORING
Drivers are always on time
QUALITY SUPPORT
24/7 Email & Phone support
How much does a taxi cost?
Night time


(00:00 - 05:00)
FROM CITY TO KNOX MOUNTAIN PARK
FROM CITY TO BEAR CREEK PARK
FROM CITY TO BIG WHITE SKI RESORT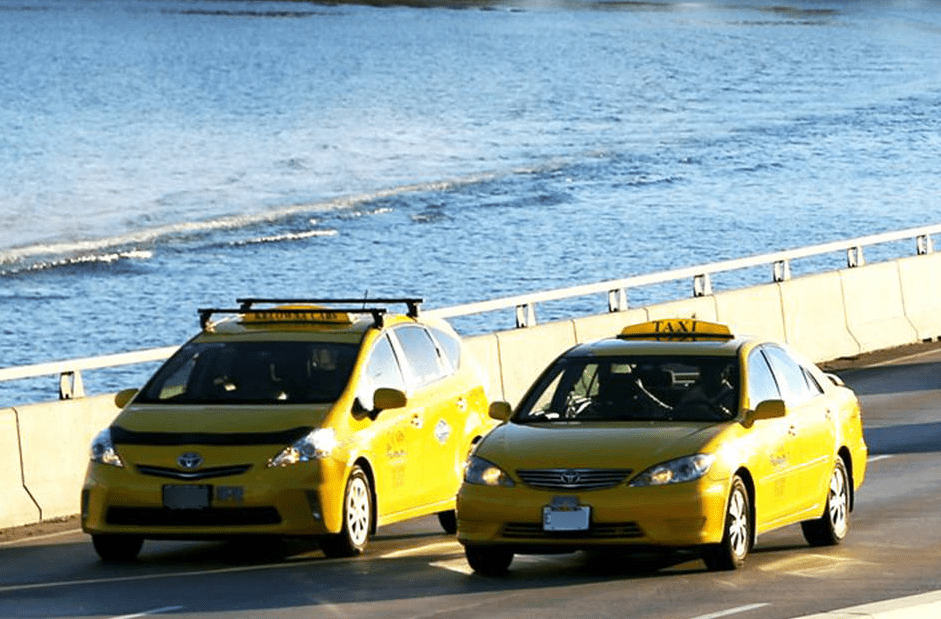 Kelowna Taxi Prices
Various taxis operate in and around Kelowna and calculate their fares using a taximeter based on the time and distance travelled. However, some Kelowna taxi companies may charge higher fares during peak hours or for specific destinations.
It is good to know that only one tariff is applicable – regardless of the time of the day or the day of the week, and prices are as follows:
Initial fee: €2.38 (CAD 3.50)
Price Per Km: €1.63 (CAD 2.40)
Waiting time per hour: €17 (CAD 25)
Nevertheless, if you prefer to travel at a fixed competitive rate with a local, friendly driver, you can pre-book your private Kelowna taxi transfer with Welcome Pickups.
What our customers say about Welcome
How to Get a Taxi in Kelowna
Getting a taxi in Kelowna is easy; you can hail one on the street by waving your hand, or head to popular areas such as tourist attractions, hotels, or transportation hubs like the airport or a bus station. You can also call a taxi company directly to request a pickup or use a ride-hailing app.
Here are the main Kelowna taxi numbers you can call:
Current Taxi Kelowna: +1 (250) 864 8294
Checkmate Cabs Ltd: +1 (250) 861 1111
Kelowna Eco Taxi: +1 (250) 860 6666
In any case, if you know when and where you'll be needing a ride, you may also pre-book your transfers with Welcome Pickups for a personalised and prompt pickup.
The Benefits of Booking a Kelowna Taxi in Advance
Pre-booking a taxi in Kelowna is the best way to see the city, especially when travelling with children. Cabs are convenient and time-saving, avoiding the trouble of finding your way in the public transportation system or waiting for ages in taxi rank queues. 
By pre-booking your Kelowna taxi with Welcome Pickups, you can ensure on-time pickups round the clock, stellar 24/7 customer service, and premium transfers with handpicked local drivers – all trained by our care. So, why not start your holiday in a stress-free manner, and book your transfer with our fast and simple booking process?
Kelowna Taxi Tips
It is customary to tip your Kelowna cab driver. Most travellers leave around 10-15% of the total fare.
All taxis in Kelowna should accept card payments; however, it is advised to check with your driver beforehand.
It is good to know that no price difference applies to night and weekend trips.
Ensure the taximeter is turned on and reset before starting your journey.
Wheelchair-accessible Taxis in Kelowna
Many private cab companies offer wheelchair-accessible vehicles, although they need to be booked in advance. Two of the main companies offering this service are Kelowna Cabs (+1 (250) 762 2222) and Checkmate Cabs (+1 (250) 861 1111).
Kelowna Taxi Safety and Complaints
If you have any safety concerns or complaints regarding a Kelowna taxi driver, you can file a complaint directly with the cab provider you travelled with. Alternatively, you can contact the Passenger Transportation Board (PTB) to file a report for more severe matters. You can do this online through PTB's website or by phone, email, or even mail.