Travel safely with Welcome Pickups
Net Safety Score
We've introduced a metric indicating how safe travellers feel when using our services during the COVID-19 pandemic. After every ride, we ask each traveller to leave a review.
20 minute gap between transfers

Following each ride, our drivers have at least 20 minutes to thoroughly clean the surfaces of the car and ventilate the cabin.

Regular Car Sanitisation

Our drivers thoroughly sanitise and disinfect cars according to Welcome Safety Protocol

Contactless ride

When you book, you can request to have zero contact with the driver during the transfer with just one click. In this case, the driver won't help you with your luggage or shake hands.

Sanitiser in every car

We provide hand sanitisers and hand wipes for all our travellers. Our drivers have their own sanitiser, which they use before and after every ride
Friendly and Safe Taxi Service in Kolkata
Kolkata is the bustling capital city of the West Bengal state of India. This sprawling city is filled with fascinating museums and art galleries, showcasing its unique history as an East India Company trading post. Kolkata is also home to some of the largest festivals and celebrations in India, including the exciting Durga Puja. To avoid having to navigate the complicated and busy streets, the best way to get around is by taking a local Kolkata taxi service. You can easily hail one of the yellow Kolkata taxis in the street, walk to a rank, have your hotel call one of the phone dispatch Kolkata taxi companies on your behalf, or book your rides in advance for a seamless transfer.
TRAINED DRIVERS
Hand picked & english speaking drivers
LOW PRICES
Same price as a regular Taxi from the line
FLIGHT MONITORING
Drivers are always on time
QUALITY SUPPORT
24/7 Email & Phone support
How much does a taxi cost?
Night time


(00:00 - 05:00)
FROM AIRPORT TO CITY CENTRE
FROM HOWRAH STATION TO KOLKATA STATION
FROM KOLKATA BUS STATION TO VICTORIA MEMORIAL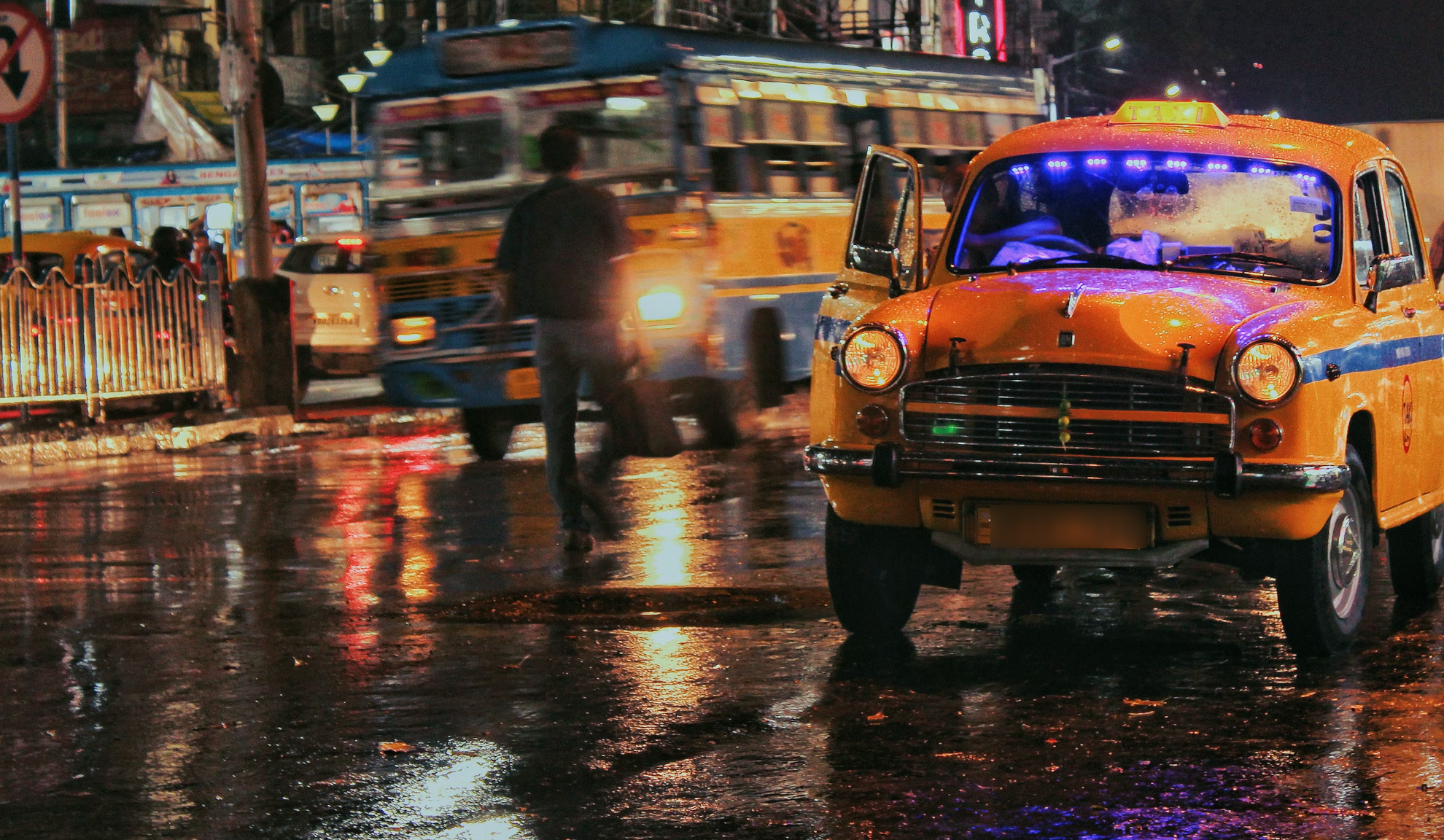 Cost of a Taxi in Kolkata
The official yellow taxis in Kolkata are fixed with meters that calculate fares based on distance and time. All taximeters were recalibrated in 2018 and now all clearly show the exact same tariffs on an LED screen. The fare for your taxi service in Kolkata will be calculated as follows:
Base fare – incl. first 2 km: €0.35 (INR 30)
Price per km: €0.50 (INR 42)
It's important to note that there will be extra charges for things such as keeping your driver waiting (€0.03 (INR 2) / every 2 minutes) and bringing large items like luggage (€0.06 (INR 5) per piece).
What our customers say about Welcome
How to Get a Kolkata Taxi
The official city-run taxis in Kolkata are yellow in colour with a 'TAXI' sign on top. You can very easily hail one of these taxis in the street by waving at an empty cab or by walking to a taxi rank. The taxi ranks are usually located outside of the major tourist attractions, the bus and train stations, Kolkata Airport, large shopping malls and major hotels. It's important to note that if you take a taxi at one of the ranks, you will need to go to the pre-paid taxi booth and purchase a ticket before getting into the taxi. For a full list of the pre-paid taxi ranks, you can visit the Kolkata government's website. 
However, if you'd prefer a more personalised ride or are travelling late at night and want to avoid waiting in the street, you can call a phone dispatch taxi service in Kolkata, or book your ride in advance. Some of the better-rated Kolkata taxi service numbers are:
Bharat Taxi: +91 969 600 0999
Dynamic Travels: +91 700 373 7779
Chiku Cabs: +91 844 844 5504
Booking your Kolkata Taxi Service with Welcome
Variable pricing, language barriers and old vehicles with no air conditioning can really put a damper on exploring a new city. That's why we recommend booking your taxi in Kolkata with a world-renowned and trusted company such as Welcome Pickups. All of our cars are state of the art and undergo very strict regulatory checks. We also offer all of our customers fully personalised transfers, English-speaking local drivers, competitive fixed-rate fares and 24/7 customer service.
Kolkata Taxi Tips
To avoid any miscommunication, try to show your driver the destination you have in mind on Google Maps.
Ensure your driver resets and switches on their taximeter before you begin your journey.
There's an extra charge for large luggage items; €0.06 (INR 5) per piece.
A Kolkata taxi can transport up to 4 passengers as standard.
Wheelchair-accessible Taxi in Kolkata
A standard taxi service in Kolkata won't offer wheelchair-accessible vehicles. If you're in need of a Kolkata taxi with a hydraulic lift or a ramp, you will need to pre-book with a specialised company such as EzyMov. You can contact EzyMov online or by calling them on +91 902 909 0880.
Kolkata Taxi Safety and Complaints
Taking an official yellow taxi in Kolkata is usually a safe and pleasant experience. However, if you do experience any issues during your ride, such as an unfair rate, or a rude and abusive driver, you can make an official complaint to the Kolkata Traffic Police by filling in their online form.