Taxis in Limoges
Limoges is the city of porcelain – it is most famous for the production of decorated porcelain. This destination is a bit off the beaten path for tourists, but it is a wonderful place to visit. The city is nestled between rolling green hills and the historic centre of Limoges is home to medieval timber-framed houses and cobbled streets. It is also home to what is claimed to be the most beautiful train station in all of France.
Whether you are trying to get around the city or to a nearby destination, taking a Limoges taxi is the best way to get to wherever you are going. Various companies offer taxi services in Limoges. If you need a lift, you can take a taxi from a taxi stand, flag a taxi down the street or call to request a ride. Fares are generally based on a metered rate, but flat rates are offered for trips from Limoges airport to destinations near the Limoges train station. You can, of course, always book your ride in advance with a professional, English-speaking Welcome Pickups driver for a competitive flat rate with no hidden fees and a personalised trip.
TRAINED DRIVERS
Hand picked & english speaking drivers
LOW PRICES
Same price as a regular Taxi from the line
FLIGHT MONITORING
Drivers are always on time
QUALITY SUPPORT
24/7 Email & Phone support
How much does a taxi cost?
Night time


(00:00 - 05:00)
LIMOGES AIRPORT TO LIMOGES
LIMOGES TO MUSEE NATIONAL ADRIEN DUBOUCHE
LIMOGES TO CHATEAU DE CHALUCET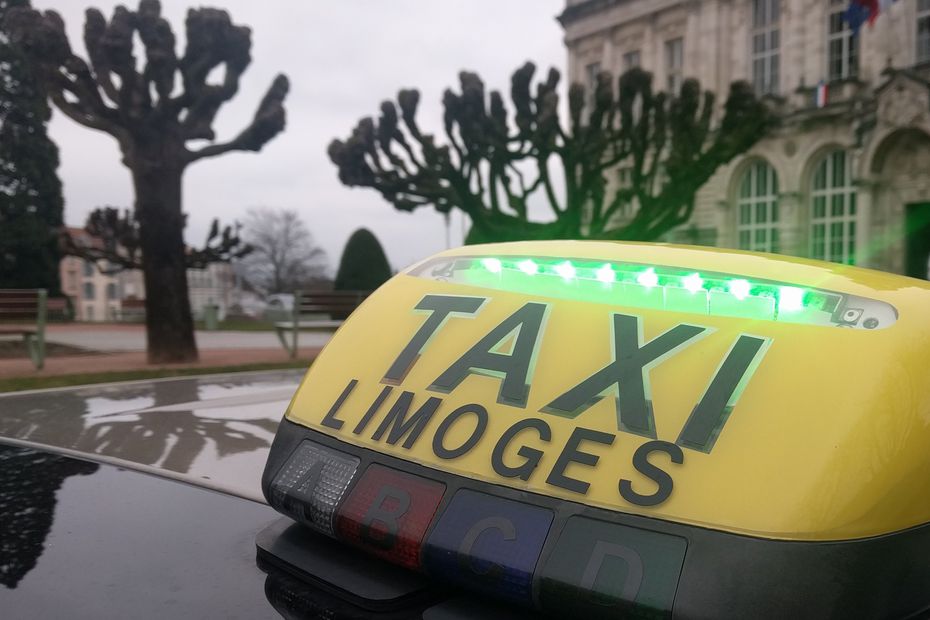 Limoges Taxi Prices
Limoges taxis usually charge their fares based on a metered rate. The fare is determined by a base rate and a price per kilometre, plus an hourly rate for standing or waiting. Your fare can be estimated based on the following rates:
Base fare: €2.30
Price per kilometre during the day: €1.72
Price per kilometre at night (from 19:00 to 8:00) and on Sundays: €2.58
Hourly rate for standing or waiting: €22.20
If you are travelling from Limoges airport to a destination in the centre near the Limoges train station, a fixed fee is charged by the airport's main taxi service. The fare costs €27 during the day and €37 at night and on Sundays. There is no additional charge for luggage., however, booking fees and waiting times are not included in the fare. Your best option for a competitive flat rate without any additional charges is to book your Limoges airport taxi in advance with Welcome Pickups.
What our customers say about Welcome
How to get a Taxi in Limoges
Taxis are readily available in Limoges. You can find taxis waiting at taxi stands in the city, you can flag a taxi down from the street, or you can call a Limoges taxi company to request a ride. One of the main taxi companies you can call in Limoges is Allo Artisans Limoges Taxis (+33 5 55 38 38 38).
To avoid wasting time looking for a taxi or waiting for a driver to come to pick you up, another option is to pre-book a personalised transfer with one of Welcome's prompt English-speaking drivers.
Book your Limoges Taxi Transfer in Advance
If you know where and when you'll be needing a ride, you can save some time and hassle by booking your Limoges taxi ahead of time. When you book with Welcome Pickups, you know your driver will be there as soon as you need to be picked up. Plus, you will be charged a competitive flat rate, so you won't have to worry about what a taximeter will add up to or about additional fees.
Tips for your taxi in Limoges
In France, tipping your taxi driver isn't expected. But for a great driver, it is common to round up the fare or to leave a 5-10% tip.
If you want to pay for your fare by card, we suggest you check with your driver whether they can accept card before making the journey.
A regular Limoges taxi can accommodate up to 4 passengers.
Luggage that fits in the trunk of the taxi can be transported for free.
Wheelchair Accessible Taxis in Limoges
The region of Nouvelle-Aquitaine, including the city of Limoges, is recognized for its commitment to serving persons with reduced mobility. If you will be needing a wheelchair-accessible taxi during your stay in Limoges, you can contact Sofie Taxi (+33 5 55 79 45 58) to book a ride. They offer a properly equipped van with a wheelchair lift.
Limoges Taxi Safety and Complaints
Limoges taxis are a safe, comfortable, and fast way to get around the city and the surrounding area. Limoges taxi drivers can transport you to wherever you need to go reliably. If an issue does come up during your taxi trip, keep a note of what happened and when along with your receipt and the license plate number. You can report the issue directly to the taxi company that you used for the transfer.