Get Around the Island in a Maui Taxi
The beautiful Hawaiian island of Maui is the perfect place to enjoy a relaxing beach vacation and sink into the laid-back island lifestyle. Famous for its world-class beaches, stunning 5-star resorts, exciting whale watching and fresh farm-to-table cuisine, Maui is truly a magical destination. Maui is the second largest island in Hawaii, so getting around via public transport can be tricky. To save yourself time and stress, we recommend taking a Maui taxi for your journeys around the island. You can easily grab a taxi in Maui off the street, at a taxi rank, book your rides in advance or have your hotel call a phone dispatch taxi for you.
TRAINED DRIVERS
Hand picked & english speaking drivers
LOW PRICES
Same price as a regular Taxi from the line
FLIGHT MONITORING
Drivers are always on time
QUALITY SUPPORT
24/7 Email & Phone support
How much does a taxi cost?
Night time


(00:00 - 05:00)
KALULUI AIRPORT TO LAHAINA
LAHAINA HARBOUR TO HO'OKIPA BEACH PARK
KAANAPALI BEACH TO KULA FOREST RESERVE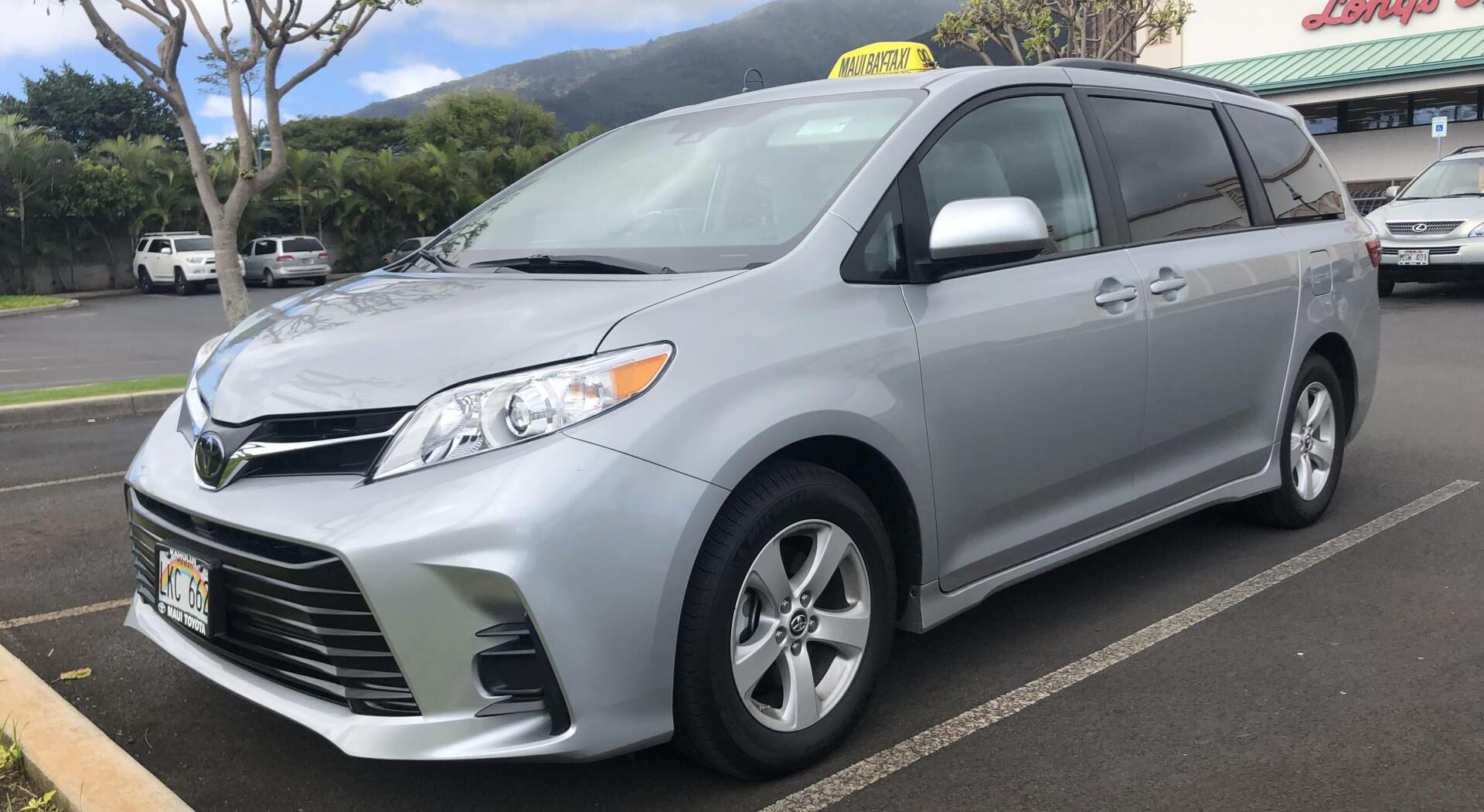 What are the Maui Taxi Rates?
The local Maui taxi drivers will use a taximeter to calculate the cost of your journey based on both time taken and the distance travelled. There may be cases when you can agree on a fixed price, usually when travelling large distances or from the airport, but your Maui taxi fare will usually be calculated as follows;
Base fare: $3.50 (€3.20)
Price per mile: $3 (€2.80)
Additional cost / per minute waiting: $0.30 (€0.28)
There are also additional charges for bringing along large pieces of luggage ($0.30 (€0.28)) and transporting a surfboard or bike ($3 (€2.80)).
What our customers say about Welcome
How to Get a Taxi in Maui
Although there will be plenty of taxis waiting around the airport when you land in Maui, it's rare to see them driving around the island once you get to your hotel or one of the main cities. Rather than trying to hail a taxi in Maui in the street, the best way to get a cab is to book one in advance if you know when and when you'll be needing a ride, or ask your hotel's reception staff to call one for you. There are many different Maui taxi companies operating on the island, but some of the top-rated ones are; 
Lahania Taxi Service:  +1 (808) 661 5959
West Maui Taxi: +1 (808) 661 1122
Aina Lahania Taxi: +1 (808) 205 4555
CB Taxi Maui: +1 (808) 243 8294
Booking your Maui Taxi with Welcome Pickups
It's quite difficult to hail a taxi in the street in Maui. The local Maui taxi drivers tend to wait around at the airport or large hotels and shopping malls. So, if you're looking to take a taxi in Maui from one of the cities, it's best to book your ride in advance with a trusted company such as Welcome Pickups. You won't need to wait around in the hot sun for your ride as we offer guaranteed on-time pickups and door-to-door transportation. Plus, there's no need to panic about costly fares either, as we provide fixed-rate fares that are paid in advance, so there are never any nasty surprises.
Maui Taxi Tips
It's worth noting that there are extra charges when taking a taxi in Maui to move around things such as; bikes, luggage and surfboards.
Ensure your Maui taxi driver resets the meter before beginning your journey.
Tipping your driver in Maui is expected. Most people leave a 15% tip when taking a taxi in Maui.
If you're in a city and looking for a taxi in the street, you may have a long wait. Try to save one of the phone dispatch taxi numbers and keep it with you for these instances.
Wheelchair-Accessible Taxi in Maui
There are a few different Maui taxi companies that offer wheelchair-accessible vehicles. Some specialise in accessibility for powered wheelchairs, and others for manual chairs, so be sure to check with each provider depending on your needs. Take a look at the full list of wheelchair-accessible taxis in Maui, or call one of the following numbers;
ABC Transport Service: +1 (808) 677 9300
Aloha Transportation Services Inc.: +1 (808) 677 3056
Handi Wheelchair Transportation: +1 (808) 946 6666
Maui Taxi Safety and Complaints
Taking a taxi in Maui is usually very pleasant and safe, as most drivers like to show visitors the 'Aloha' way of life. However, if you do face any issues during your journey, such as being overcharged or having an unprofessional driver, you can make a complaint directly to the company you travelled with. The number of each Maui taxi company is usually printed on the side or door of the car. Be sure to note your taxi driver's ID number or name and the license number plate of your taxi before calling.