Top-Rated Menorca Taxi Service
Menorca is one of the most popular of the Balearic Islands in Spain. Much quieter than its neighbours Ibiza and Mallorca, Menorca is filled with quaint resort towns, stunning beaches and long stretches of powdery white sand. If you're looking to make the most out of your relaxing beach vacation on the island, taking a Menorca taxi is the best way to get around. You can easily hail a taxi in the street, call one of the phone dispatch taxi numbers or book your taxi in Mahon in advance.
TRAINED DRIVERS
Hand picked & english speaking drivers
LOW PRICES
Same price as a regular Taxi from the line
FLIGHT MONITORING
Drivers are always on time
QUALITY SUPPORT
24/7 Email & Phone support
How much does a taxi cost?
Night time


(00:00 - 05:00)
FROM AIRPORT TO MAHON CITY
FROM MAHON CENTRE TO PUNTA PRIMA BEACH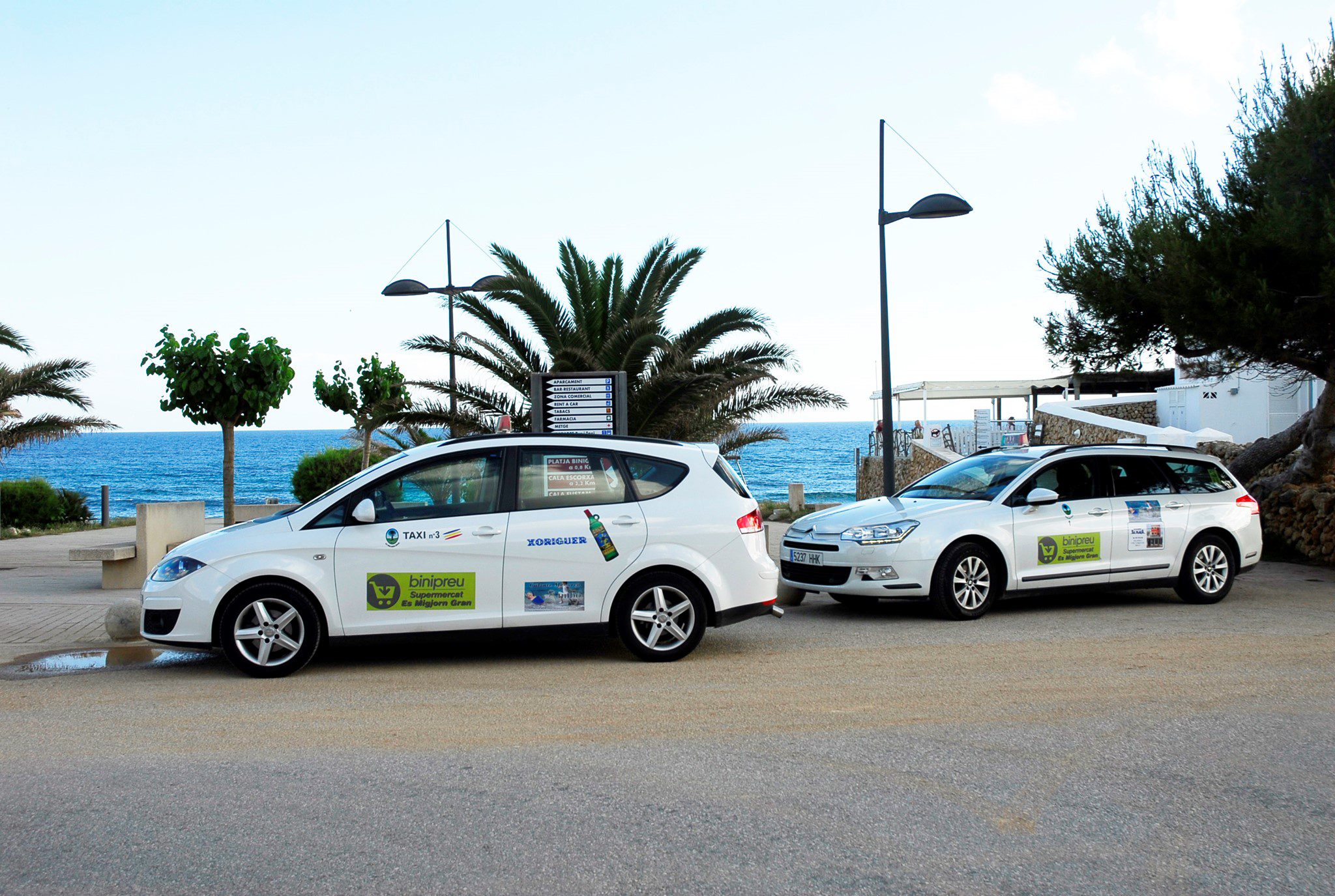 What are the Menorca Taxi Prices?
The local taxi drivers must use an officially calibrated taximeter to calculate the cost of their fares. The Menorca taxi prices are fairly reasonable and consist of both a time and distance element. The taximeter tariffs are calculated as follows:
Day Tariff (06:00 to 21:00) – 
Base Fare: €3
Price per km: €0.51
Night Tariff (21:00 to 06:00) – 
Base Fare: €4
Price per km: €0.61
It's worth noting that there are also extra charges for being picked up at the airport (€2.90), trips originating at a port (€2.90), calling a radio taxi (€1.05) and for transporting large luggage items (€0.60 per piece).
What our customers say about Welcome
How to Get a Taxi in Mahon
Private companies cannot operate taxis in Mahon. All of the taxis on the island are government-run and are white in colour with a taxi sign on top and the taxi number clearly printed on the side. If you're in a town or the city centre, you can easily hail a taxi in Menorca in the street or walk to a rank – those are usually located outside of the main hotels, shopping centres, plazas and beach entrances. Another option is to call one of the phone dispatch numbers or book your rides in advance. However, it's worth noting that there's an extra charge for calling a phone dispatch Menorca taxi.
Taxis Menorca: +34 699 007 790
Taxis Zona Centro: +34 871 520 070
Alayor Radio Taxi: +34 971 367 111
Why Book your Taxi in Menorca with Welcome
As all of the taxis in Menorca are fitted with a taximeter, it can be difficult to plan the cost of your transfers while on the island. If you're looking for a company with fixed Menorca taxi prices, we suggest booking with Welcome Pickups. We not only offer competitive fixed rate fares, but all of our drivers also speak fluent English, we have a 24/7 customer service team and we create fully tailored and personalised transfers throughout Menorca.
Menorca Taxi Tips
Make sure your Menorca taxi driver resets the taximeter before you begin your journey to avoid surprises.
Not all Menorca taxi drivers speak English, try to write down your destination or show it to your driver on Google Maps.
There's an extra charge of €1.05 for using a phone dispatch taxi company.
You can bring up to 4 passengers in a taxi in Mahon as standard.
Wheelchair-accessible Taxi in Mahon
The standard taxis in Menorca don't have the space needed for wheelchair users. However, there are a few private Menorca taxi companies that do offer fully wheelchair-accessible vehicles. For example, Taxis Menorca has 10 fully wheelchair-adapted vehicles that you can hire on-demand or in advance by calling +34 699 007 790.
Menorca Taxi - Safety and Complaints
All taxis in Menorca are regulated by the government and local drivers are courteous and friendly. The official Menorca taxis are white in colour and must have their unique taxi number printed on the vehicle. So long as you're taking a licensed taxi in Mahon, you shouldn't have any safety issues. However, if you do experience any problems during your journey, you can report them directly to the local police on the island.