Taxis in Minsk
Minsk has long been celebrated as the perfect example of a Soviet City, well known for its Stalinist architecture. In recent years, the city has begun its modernisation, so along with Minsk's rich history, visitors can enjoy hip cafes, delicious Belarusian restaurants and lively nightclubs.
Whether you are trying to get around the city or to reach a nearby destination, taking a Minsk taxi is the best way to get to where you are going. Various companies offer taxi services in Minsk. If you need a lift, you can take a taxi from a taxi rank, flag a taxi down from the street, or call to request a ride. Minsk taxi fares are not regulated by the government, instead, they depend on the individual taxi company or driver. Fares may be metered, or you can ask to negotiate a set price if you feel confident. Another option is to book your ride in advance and you can do so with a professional, English-speaking Welcome Pickups driver.
TRAINED DRIVERS
Hand picked & english speaking drivers
LOW PRICES
Same price as a regular Taxi from the line
FLIGHT MONITORING
Drivers are always on time
QUALITY SUPPORT
24/7 Email & Phone support
How much does a taxi cost?
Night time


(00:00 - 05:00)
MINSK CITY CENTRE TO BOLSHOI THEATER
MINSK CITY CENTRE TO CHELYUSKINITES PARK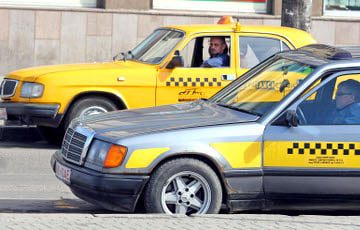 Minsk Taxi Prices
Minsk taxi prices are not regulated and are determined by each taxi company or individual driver. Fares may be metered, or you may be able to negotiate a flat rate to your destination. Metered fares are usually determined by a base rate (including the first 3 kilometres travelled), the additional number of kilometres travelled, and any surcharges that may apply. For example your taxi cost may increase if you're travelling at night, if you need to travel outside of the city centre if you keep your driver waiting or get stuck in lots of traffic. Taxi fares can generally be estimated based on the following rates:
Base fare: €1.30 (BYN 3.30)
Price per kilometre: €0.10 (BYN 0.30) inside the city and €0.20 (BYN 0.50) outside the city
Hourly rate for standing or waiting: €2.34 (BYN 6)
For a Minsk airport transfer to the city, the fare is estimated to cost between €9.80-11.70 (BYN 25-30), however as this cannot be guaranteed with a standard taxi, for a competitive flat rate with no hidden charges, you can book your ride in advance with Welcome Pickups.
What our customers say about Welcome
How to get a Taxi in Minsk
Taxis are readily available in Minsk, so you won't have trouble finding one. You can find taxis waiting near popular destinations in the city centre, you can flag down a taxi from the street, or you can call a Minsk taxi company to request a ride. A couple of companies you can ring include Taxi 152 (+375 17 313 9142) and Taxi Bavaria (+375 44 555 5555).
To avoid wasting time looking for a taxi or waiting for a driver to come and pick you up, another option is to pre-book a personalised transfer with a prompt, professional driver.
Book your Minsk Taxi Transfer in Advance
If you know where and when you'll be needing a ride, you can save some time and hassle by booking your Minsk taxi ahead of time. When you book with Welcome Pickups, you know your driver will be there as soon as you need to be picked up. Plus, you will be charged a competitive flat rate, so you won't have to worry about negotiating the fare, or try to figure out what a standard taximeter will add up to.
Tips for your taxi in Minsk
Several Minsk taxi companies have apps you can download to your smartphone to easily order and pay for a taxi ride, however booking fees may apply.
Tips are not expected but are appreciated. If you have a good driver, you may consider leaving a 5-10% tip.
If you flag a taxi down from the street and want to pay by card, double check with your driver if that's something they can accommodate, before starting your journey.
Wheelchair Accessible Taxis in Minsk
While Minsk offers many accessible places to visit, the city has some catch-up to do with accessible transportation. Public transportation is mostly accessible, though some stations may be more difficult to navigate than others. Minsk taxi companies do not yet offer fully equipped wheelchair-accessible vehicles either however, most Minsk taxi companies do offer larger vehicles, such as minivans or vans, that can easily accommodate folded wheelchairs and can offer a more comfortable transfer than a standard taxi would. Alternatively, you may wish to contact a private tour guide directly and specify your needs.
Minsk Taxi Safety and Complaints
Minsk taxis are the safest, most comfortable, and quickest way to get around the city and surrounding area. Minsk taxi drivers can get you around reliably and at a reasonable cost. If an issue does come up during your taxi trip, keep a note of what happened and when along with the vehicle's license plate number. You can then report the issue to the taxi company that you used for the transfer or for serious matters stop by your nearest police station.