Taxi Service in Nuremberg
Nuremberg is a picturesque German city full of history, located north of Munich and it's definitely worth a visit if you're travelling in Germany. Being among the country's largest cities, it can get quite busy during the high season so if you want to explore it quickly and comfortably, taking a Nuremberg taxi is the best transportation option. Taxi service in Munich is very safe and reliable so you can use it any time of the day. You can find taxis parked at taxi ranks around the city, hail one from the street, or call one of the many taxi companies that are available 24/7.
TRAINED DRIVERS
Hand picked & english speaking drivers
LOW PRICES
Same price as a regular Taxi from the line
FLIGHT MONITORING
Drivers are always on time
QUALITY SUPPORT
24/7 Email & Phone support
How much does a taxi cost?
Night time


(00:00 - 05:00)
NUREMBERG CITY CENTRE ➙ WESTSTADT
NUREMBERG CITY CENTRE ➙ NUREMBERG ZOO
NUREMBERG CITY CENTRE ➙ FUERTH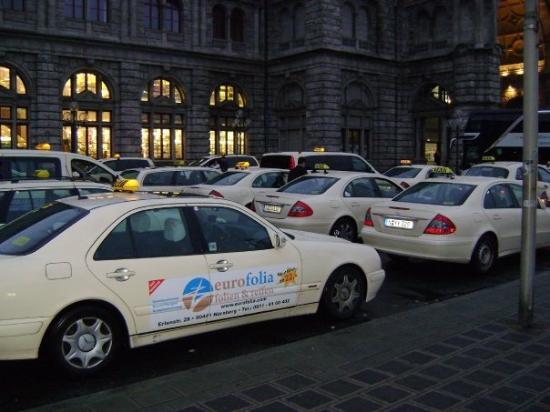 Nuremberg Taxi Fares
Nuremberg taxi fares are set and regulated by the state, which makes taxi services in the city very reliable. All taxis are equipped with a taximeter that the driver must set to the base fare before the ride starts and use during the whole journey. There is only a single tariff that applies every day, throughout the day:
Base Fare – €3.70
Rate/km up to 5 km – €2.20
Rate/km >5 km – €1.60
To make your fare calculation easier, Nuremberg is divided into 6 zones. Zones 1 and 2 are within city limits and the rates mentioned above apply. For journeys that go through areas outside the city limits (Zones 3 to 6), a surcharge from €10 to €40 applies; the further you go, the higher the surcharge.
You should keep in mind, though, that there can be additional charges, like the waiting time fee, which amounts to €28 per hour, and a cancellation fee equal to the base fare of €3.70 in case you call a taxi but eventually don't use it. Finally, ordering a larger taxi, like a station wagon or a minivan over the phone or through an app will cost from €2.50 to €7.50 extra, depending on the number of travellers.
What our customers say about Welcome
How to Get a Taxi in Nuremberg
The taxi service in Nuremberg is very reliable and you should be able to find a taxi 24/7. If you want to move around the city quickly and comfortably, especially during winter, getting a taxi is the way to go. You can take a taxi from one of the official taxi ranks around the city; they're usually located near busy or popular destinations like the airport, train stations, malls, or tourist attractions. If you're not near a taxi rank, you can hail a taxi from the street or call one of the many taxi companies that operate in the city, such as:
Nürnberg Taxi: 19 410
SKY Taxi: +49 911 81670220
Vatan Taxi: +49 911 666112
Pre-book your Taxi in Nuremberg
Even though taxis in Nuremberg are available 24/7, if you need one during peak hours, you might have to wait for some time. Especially if you need a ride from the airport, you might come across some long queues, which is the last thing you need after a long flight. To avoid that and reach your destination quickly, you can pre-book your Nuremberg taxi with Welcome Pickups. That way, you won't have to worry about waiting around, having to pay in cash or what the taximeter may add up to. Plus, you'll have a friendly English-speaking driver and a private vehicle at your disposal for a comfortable, personalised ride.
Nuremberg Taxi Tips
When you enter the taxi, make sure that the driver sets the taximeter to the base fare of €3.70 before you start your ride.
Not all taxi drivers in Nuremberg speak English, so it's best to have your address written down in the local language.
Not all taxis accept card payments so make sure to have some cash on you.
At the end of the ride, ask the driver for the receipt; this will help in case of any forgotten items or if you face any issues.
Wheelchair Accessible Taxis in Nuremberg
Standard taxis in Nuremberg aren't fully accessible but they can sure fit a foldable wheelchair in the trunk. If you wish to order a fully accessible taxi you can contact either Rollstuhltaxi at +49 911 25 30 22 11 or Rolli Drive Nürnberg at +49 911 7808 6767. Note that for ordering this service there is a surcharge of €7.50 on top of what the taximeter records.
Nuremberg Taxi Safety and Complaints
Nuremberg taxis are strictly regulated by the state, which makes the service very reliable. However, if you regrettably face an issue and need to file a complaint, you can contact the Nuremberg Tourist Information Centre at +49 911 23360; they will guide you as to what steps you need to take and who to contact to file your complaint. Just make sure to keep your receipt, the driver's name and registration number, and the license plate as this information will make it easier for the authorities to investigate the incident.