Reliable Taxi Service in Sacramento, CA
Sacramento is the beautiful capital city of California. With year-round pleasant weather, it's a great place to enjoy a city escape no matter when you're looking to travel. While in this vibrant place, make sure you check out the river tours and Old Sacramento, a place where you can dive into the city's Gold Rush era and enjoy wagon rides, museums and even gold sifting. To get around Sacramento quickly and easily, we suggest using a Sacramento taxi service. You can easily grab a taxi in Sacramento by hailing one in the street, strolling to a taxi rank, booking your rides in advance or calling one of the phone-dispatch Sacramento taxi companies.
TRAINED DRIVERS
Hand picked & english speaking drivers
LOW PRICES
Same price as a regular Taxi from the line
FLIGHT MONITORING
Drivers are always on time
QUALITY SUPPORT
24/7 Email & Phone support
How much does a taxi cost?
Night time


(00:00 - 05:00)
FROM YOLOBUS STATION TO OLD SACRAMENTO
FROM RIVER GARDENS TO CALIFORNIA STATE RAILROAD MUSEUM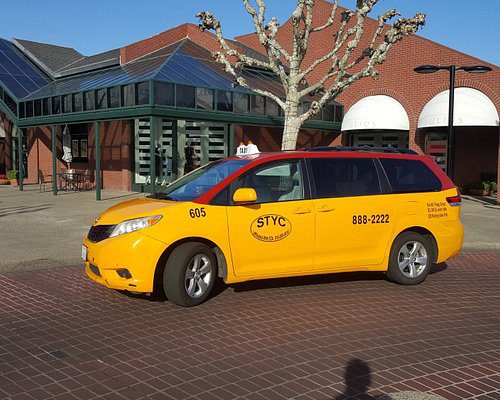 Cost of a Taxi in Sacramento
There are many different Sacramento taxi companies that operate throughout the city, so the way you're charged will depend on who you travel with. Some private companies will offer fixed-rate fares, while the local taxis that ride around the city usually use a taximeter to calculate the cost of your trip. The average cost of a taxi service in Sacramento, CA can be calculated based on the following rates;
Base fare: $4 (€3.70)
Price per mile: $3 (€2.80)
Waiting one hour: $25 (€23.20)
What our customers say about Welcome
How to Get a Taxi in Sacramento
There are over 500 taxis operating in Sacramento, so flagging down a Sacramento taxi in the street will be easy. You can also have your hotel call for a local Sacramento taxi service, or walk to one of the taxi ranks located outside of most tourist attractions, transport hubs, the airport and major shopping centres. 
If you're outside the downtown area, and are travelling late at night or during bad weather, it's recommendable to either book your taxi in Sacramento in advance or call one of the phone dispatch companies for a pickup. Some of the most popular taxi services in Sacramento CA are;
Sacramento Taxi Yellow Cab:  +1 (916) 888 2222
Yellow Cab Company: +1 (916) 444 2222
Americab: +1 (916) 441 5555
Best Deal Taxi cab: +1 (916) 444 0404
Why Book your Sacramento Taxi with Welcome
As there are quite a few different Sacramento taxi companies operating throughout the city, the level of service and price you will receive can vary dramatically. If you're looking to take a taxi in Sacramento that you can rely on both for 5-star service and competitive fixed rates, we recommend booking with Welcome Pickups. We offer fully personalised door-to-door transfers, guaranteed on-time pickups and 24/7 customer service, so we can take the stress out of your Sacramento taxi transfers throughout your stay.
Sacramento Taxi Tips
If your Sacramento taxi driver doesn't have a taximeter, be sure to ask what the set rate price is before beginning your journey.
The cost of a taxi in Sacramento includes up to 4 passengers as standard.
If you're travelling to and from the airport, there's a fixed rate fare of $30 (€28) for this ride.
Some Sacramento taxi companies accept card payments, while others don't. If you wish to pay by card, be sure to ask if it's possible before beginning your journey.
Wheelchair-Accessible Sacramento Taxi Service
Although regular Sacramento taxis don't have fully wheelchair-equipped vehicles, there are private companies that specialise in this service. One of the leading wheelchair-accessible taxi services in Sacramento CA is Diamond Cabs. They have specially trained drivers and large vans that can transport people with reduced mobility or those who are wheelchair-bound comfortably and safely. You can contact them via their website or by calling +1 (916) 444 8888.
Sacramento Taxi Safety and Complaints
Taking a taxi in Sacramento is usually a very safe and pleasant experience. All taxi drivers must have a permit and undergo tests to monitor their behaviour and vehicle standards. However, if you do have any complaints about your Sacramento taxi service, or feel you have been unfairly charged, you can make a complaint directly to the city council by calling 311.