Taxis in Saint Petersburg
Russia's cultural centre, St. Petersburg, is the Venice of the North, with numerous stunning historic landmarks and cultural treasures waiting to be explored. This heavenly city was built in extravagant Italian and French architectural styles and is considered the most western city in the country whilst also being the 4th most populous city in Europe.
To avoid getting lost trying to navigate the Russian public transport system or wandering around the dark alleys of this vast metropolis, pick a St. Petersburg taxi for your airport and in-city transfers. A local driver can get you to your destination safely and quickly – all while you sit back and enjoy a ride in total comfort.
TRAINED DRIVERS
Hand picked & english speaking drivers
LOW PRICES
Same price as a regular Taxi from the line
FLIGHT MONITORING
Drivers are always on time
QUALITY SUPPORT
24/7 Email & Phone support
How much does a taxi cost?
Night time


(00:00 - 05:00)
PULKOVO AIRPORT TO CITY CENTRE
PULKOVO AIRPORT TO PALACE SQUARE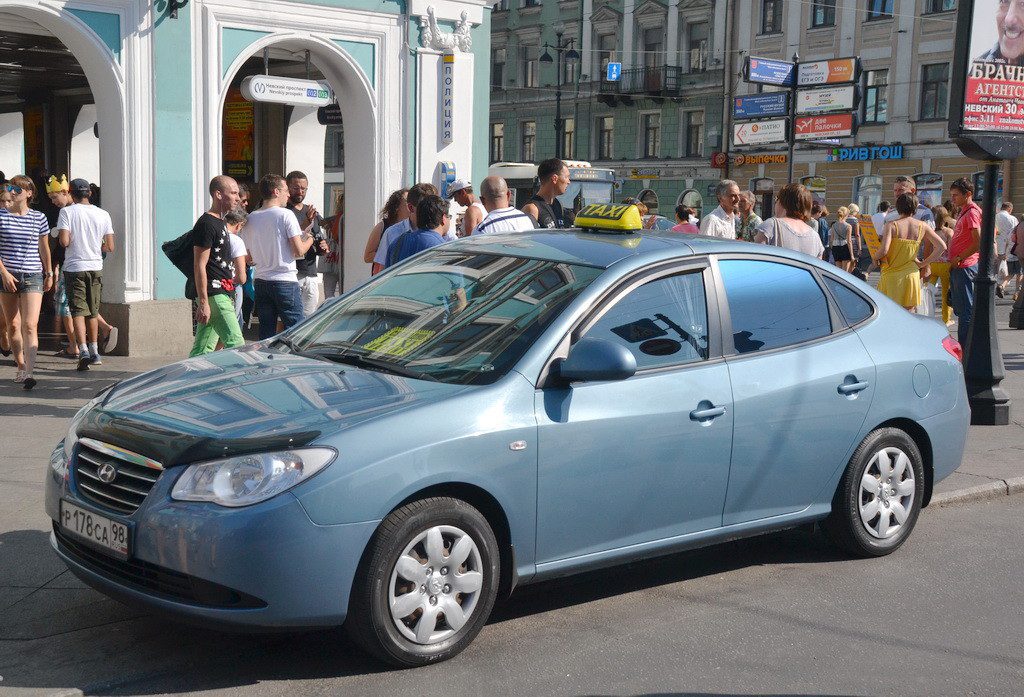 Cost of a St. Petersburg Taxi
When getting a taxi in Saint Petersburg, you will notice that most of them are relatively cheap. An accurate estimate of the taxi fare would be a hard task since most companies in the city have their own prices. Several reputable companies are offering good St. Petersburg taxi prices and generally the minimum average fares are as follows:
Flag Drop: €3.50 (RUB 300)
Price per Kilometre: €0.70 (RUB 50)
Price per 1 Hour of Waiting: €9.50 (RUB 900)
What our customers say about Welcome
How to get a taxi in Saint Petersburg
When it comes to securing a St. Petersburg taxi, you have plenty of options. You can catch a taxi on the street (raise your hand to signal one), make a phone call to a local taxi company to request a pickup, reserve it ahead of time on your preferred company's website or use a taxi app.
Taxi ranks can be found waiting for their next ride around important city landmarks – such as State Hermitage Museum, the Winter Palace and St. Isaac's Cathedral. Generally, it would be good to ask for an approximate fare before entering the vehicle.
Furthermore, one of the more popular phone dispatch companies you can use is Taxi 777 which can be contacted via phone at +7 812 777 1777; a taxi should reach you within 10-20minutes depending on driver availability. You may also ask your hotel reception desk for them to call a St. Petersburg taxi for you, as some companies and drivers sadly do not speak very good English.
Benefits of Booking a Saint Petersburg Transfer in Advance with Welcome
During peak seasons in Saint Petersburg, such as spring or summer, it can be extremely hard to find a St. Petersburg taxi service. With all travellers hailing cabs or ordering them online, day after day, you may be left waiting for more than an hour for a free taxi. To avoid the frustration and long wait times, we recommend booking your Saint Petersburg airport transfers in advance with Welcome Pickups. We offer fast, comfortable and personalised taxi rides all over the city, without compromising your budget, whilst you also get a fixed price with no hidden fees when you book.
Saint Petersburg Taxi Tips
Although taxis roam the city quite frequently, a certain way to find one is to order a cab through your hotel or book one online.
Tipping in Russia is not obligatory, but you can round up to the nearest Russian Ruble (RUB) if you are satisfied with your ride.
Some bank cards may not work with taxi apps. Hene, ensure you have cash in hand and preferably avoid large bills, as drivers might not carry much change.
Taxis in Saint Petersburg are usually yellow and have a visible sign that says TAXI, but you may also find them in other colours.
Wheelchair Accessible Vehicles in Saint Petersburg
Russia is not the most wheelchair-friendly country. Having said that, there have been considerable changes for the better in the last decades. Although regular cabs roaming the streets sadly do not offer special ramps or dedicated space for equipment, wheelchairs or mobility scooters, you can book a wheelchair accessible vehicle in advance by contacting Invotaxi.
Safety and Complaints for Taxis in Saint Petersburg
Although taking a Saint Petersburg taxi is usually very safe and affordable, the service you receive solely depends on the company and specific driver you come across. If an issue does occur, make sure to note the taxi driver's name, ID number and plate number. Then you can head to the local tourist office to make a complaint or contact the associated taxi company to discuss your experience.