Taxis in Skiathos
Skiathos, one of the most popular islands in Northern Greece, is truly a paradise on earth, with lush pine forests and crystal-clear blue waters. The island is also blessed with more than 60 beautiful beaches. When you add in its bustling nightlife, it is only natural that the island attracts thousands of visitors every year! Not only will a Skiathos taxi get you to your destination quickly and conveniently, but it may even be your only option. Taxis in Skiathos are affordable and readily available, thus a great way to explore Skiathos without compromising your budget or your comfort.
TRAINED DRIVERS
Hand picked & english speaking drivers
LOW PRICES
Same price as a regular Taxi from the line
FLIGHT MONITORING
Drivers are always on time
QUALITY SUPPORT
24/7 Email & Phone support
How much does a taxi cost?
Night time


(00:00 - 05:00)
FROM JSI TO LALARIA BEACH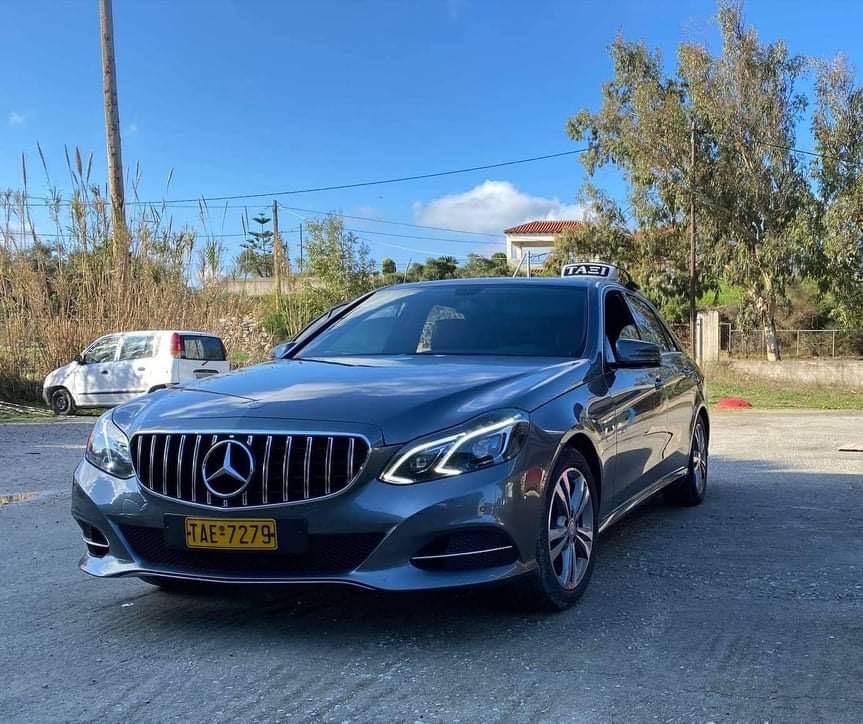 Cost of a Skiathos Taxi
Skiathos taxi prices are very budget-friendly and government regulated. Drivers use a taximeter to calculate the final fare for your journey. The tariffs for your Skiathos taxi are provided below:
Base Fare: €3.50
Fare per 1 km: €1.30
Fee per 1 hour of waiting: €13
There's no flat price for the transfer from the airport to the city, as Skiathos taxis are metered. Generally, the taxi fare isn't too expensive as the airport is located near Skiathos town. You can expect to pay around €10-20, depending on traffic conditions.
What our customers say about Welcome
How to get a Taxi in Skiathos
Taxis in Skiathos are all privately owned by different companies. Getting a taxi in Skiathos couldn't be easier as they are plentiful and available 24/7. You can choose to hail a taxi in the street or walk to one of the many taxi ranks, located near popular tourist spots, as well as outside transportation hubs. You can also pre-book and prepay your taxi transfer online. Many locals also prefer to call a radio taxi for a pickup service. The following are just two of the top Skiathos taxi companies you can phone:
Skiathos Taxi Union: +30 24 2702 4461
Arkos Minibus Transfer: +30 24 2702 9143
Benefits of Booking a Skiathos Taxi in Advance
Taxis in Skiathos are the most convenient way to explore the island. Due to the lack of public transport options, pre-booking your taxi in Skiathos may take a lot of weight off your shoulders. Walking might also prove to be a very strenuous task, as the greatest part of the island is mountainous and the heat can be excruciating during the summer months. To avoid all this, make sure you book your taxi in advance and tour the island of Skiathos in absolute comfort and style.
Skiathos Taxi Tips
Please bear in mind that, unless you own or rent a car to get around, taxis in Skiathos may be the only transportation option for you, as there aren't many operational local bus lines.
Tips are not obligatory but are always welcome for a good service.
Please make sure you are carrying cash in the local currency, as the majority of Skiathos taxis do not have card machines installed.
Wheelchair Accessible Vehicles in Skiathos
Standard Skiathos taxis cannot accommodate passengers using a wheelchair unless you're happy to have yours folded in the trunk. Although normal taxis in Skiathos don't have wheelchair accessibility, there are some companies you can call and book a ride with if you need this service. The most trusted company is Arkos Transfers and the roomy minibuses they offer. Simply call +30 69 7040 4353 to arrange a ride, or book your trip online in advance.
Safety and Complaints for Taxis in Skiathos
Taxis in Skiathos are usually very safe and well-regulated. All taxi drivers are required to have a licenced vehicle and a personal driver's ID which features a clear photo of the driver. If you do experience any problems during your Skiathos taxi ride, for example, if you feel unsafe or think you have been overcharged, you can contact the company directly after your trip or make a formal complaint to the local tourist police. Just ensure you keep any relevant information handy, i.e. the driver's registration number, the vehicle plate, the time and date of the incident, etc.