Taxis Service in Spokane
Spokane is a small city in eastern Washington with a rich art and culture scene and impressive natural surroundings ideal for hiking or cycling. There are numerous activities in the city for all types of travellers so choosing a Spokane cab as your main transport will help you make the most of your stay. Especially if your trip takes place during winter, pre-booking your Spokane taxi will save you from waiting for a taxi in the cold. Spokane taxi service is available 24/7 by calling one of the many companies that operate in the city but you can also find taxis lined up at popular locations, such as the airport or train stations.
TRAINED DRIVERS
Hand picked & english speaking drivers
LOW PRICES
Same price as a regular Taxi from the line
FLIGHT MONITORING
Drivers are always on time
QUALITY SUPPORT
24/7 Email & Phone support
How much does a taxi cost?
Night time


(00:00 - 05:00)
SPOKANE CITY CENTRE ➙ CLIFF/CANNON
SPOKANE CITY CENTRE ➙ MANITO PARK
SPOKANE CITY CENTRE ➙ HISTORIC FLIGHT FOUNDATION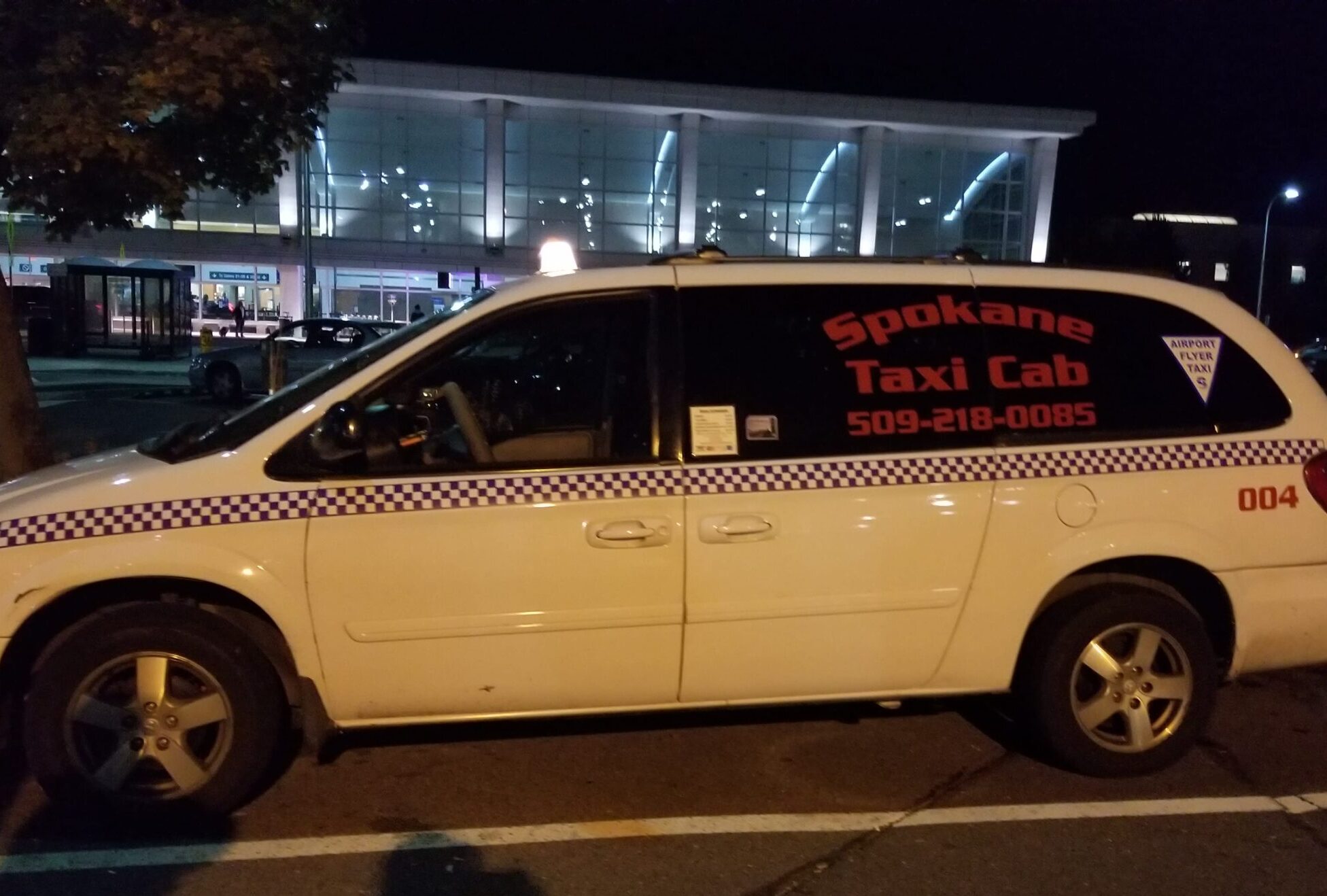 Spokane Taxi Fares
Spokane cab fares might seem confusing at first, as there isn't an official rate that applies to all operators. Taxi service is reliable thanks to the city council that regulates the rates, ensuring that passengers, both locals and tourists, are fairly charged. The following rates are for reference but you can ask the driver to confirm their rates before entering the taxi or book your taxi in advance for your utmost peace of mind.
Avg. drop fee – $3 (€3)
Avg. rate/km – $3.80 (€3.80)
Keep in mind that additional fees might apply for luggage, special equipment or pets, and on national holidays.
What our customers say about Welcome
How to Get a Taxi in Spokane
Spokane cabs are available 24/7, ensuring you'll reach your destination comfortably at any time during the day. Most companies provide scheduled service but you'll also be able to pick a taxi up at busy locations, such as the airport, train stations or main tourist attractions. You can also use one of the available apps to order a taxi online or call one of the following taxi operators to order a taxi over the phone.
Yellow Cab: +1 (509) 535 9900
Spokane Taxi Cab: +1 (509) 458 5555
Mr. Taxi: +1 (509) 494 8256
A-Cab: +1 (509) 998 1774
Pre-book your Spokane Taxi Service
To enjoy a reliable and personalised door-to-door taxi service in Spokane from the moment you land at the airport, you can book your taxi in advance with Welcome Pickups. You'll need only a couple of minutes to complete your booking and you'll pay a competitive fare in advance, saving you the trouble of carrying cash or looking for taxis that accept card payments. With Welcome, you get more than a convenient transfer service; you get a friend on the ground who will greet you warmly and will make you feel at home, whether or not it's your first time visiting the city.
Spokane Cab Tips
Once you enter the taxi, make sure that there is a taximeter on display; if not, avoid using the taxi.
Rates might differ among taxi operators but an average base fare is around $4 (€4).
Asking for a receipt at the end of the ride will help you if you leave any personal items behind or face any issues.
A 15% tip is customary for taxi drivers in Spokane; if you're very happy with the service you can even go up to 20% of the total fare.
Wheelchair Accessible Taxis in Spokane
Spokane is overall a wheelchair-friendly city, allowing people with disabilities to move around easily and access most areas effortlessly. Spokane taxis found in the street can fit a foldable wheelchair in the trunk but are rarely equipped with a ramp that allows full access to wheelchair users. To make the most of your stay in Spokane and get from one attraction to the other quickly, you can book a fully accessible taxi with a company like MedTran. Just make sure to request a ride in advance to ensure availability and avoid long waiting times.
Spokane Cab Safety and Complaints
Taxis in Spokane offer reliable and safe service in general; being overcharged isn't very common as all taxi operators must use a taximeter for the entire ride. If you think that you paid an unreasonably high amount or you wish to report any kind of inappropriate behaviour of the driver, you can file a complaint at the Washington State Department of Licensing. You'll be asked to fill out as much information as possible about the incident so at the end of the ride make sure to write down the date and time as well as the driver's name, registration number, and license plate.