Syracuse Taxi Service
Syracuse is a beautifully preserved city nestled beside Onondaga Lake Park in the Finger Lakes Region of Upstate New York. The downtown area boasts streets full of Neoclassical and Gothic buildings and a wide selection of activities ranging from sightseeing, shopping and dining to year-round festivals and city parks. Some top-rated attractions in Downtown Syracuse include the free Eerie Canal Museum, the Museum of Science and Technology, the historic Landmark Theatre, the Rosamond Gifford Zoo, and the Clinton Square public park. The city is also home to the fifth-largest shopping mall in the country, Destiny USA, which has loads of shops, restaurants, and indoor entertainment options. If you fancy a day trip, the stunning glacial lakes at Green Lakes State Park and the picturesque village of Skaneateles are only about 15 and 30 minutes away by car or taxi. 
There is a lot to explore in Syracuse, so it's worth having a reliable way to get around the city quickly and hassle-free. The fastest and easiest transportation method is a Syracuse taxi or private transfer. To ensure that your transfers are of professional quality and at a competitive price, we recommend booking in advance with a top-rated global company.
TRAINED DRIVERS
Hand picked & english speaking drivers
LOW PRICES
Same price as a regular Taxi from the line
FLIGHT MONITORING
Drivers are always on time
QUALITY SUPPORT
24/7 Email & Phone support
How much does a taxi cost?
Night time


(00:00 - 05:00)
MUSEUM OF SCIENCE AND TECHNOLOGY TO ROSAMOND GIFFORD ZOO
CLINTON SQUARE TO DESTINY USA MALL
ONONDAGA LAKE PARK TO LANDMARK THEATRE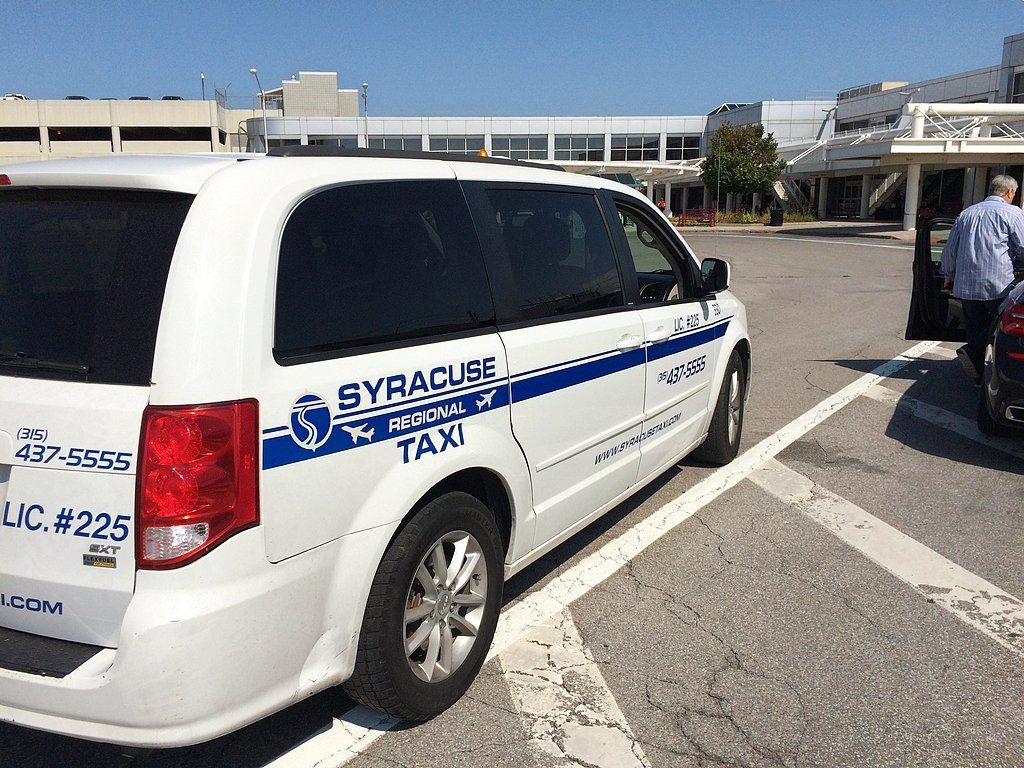 Syracuse taxi prices
Taxi services in Syracuse, NY, are available through private companies. As such, there are no standard government-set rates as in other cities, making it hard to offer a specific fare estimate for a ride. Although the average transfer from the airport to downtown Syracuse is estimated at around $30.21 (€28.71), rates vary among operators, so we recommend asking for a fare estimate before booking or getting in a cab. You can find cab ranks in very busy areas such as the airport and train stations, but generally, you will probably have to call for one. You can also book in advance with Welcome to secure a reliable and professional transfer at a competitive fixed rate.
What our customers say about Welcome
How to get a taxi in Syracuse
To get a taxi in Syracuse, NY, you can contact one of the many Syracuse taxi companies to enquire about their rates and additional charges and ask if they provide flat rates for specific transfers. We recommend doing some research beforehand so that you can secure a more competitive price for your transfer. To call a Syracuse taxi, try one of the top-listed companies below: 
Midstate Taxi: +1 (315) 214 1929
Syracuse Taxi Cab Service: +1 (315) 401 7769
Suburban Taxi: +1 (315) 434 9999
Pre-book your Syracuse taxi service
The most convenient, fast, and hassle-free way to get the most out of your holiday in Syracuse is to book your rides in advance with Welcome. Our taxi service in Syracuse guarantees reliable, professional service, on-time pickups, 24/7 customer support, and personalised door-to-door transfers to ensure you get where you're going without any trouble. Whether your destination is the airport or the city, or you want to explore the greater region, we can provide you with stellar service, without any wait times, at a competitive and fixed rate.
Syracuse taxi tips
When using a private cab company, always ask about their rates and additional charges before booking a taxi.
Cab companies often use flat fee rates for popular journeys, so make sure you ask about that option as it could turn out to be more budget-friendly.
The standard tipping rate in the state of NY is 15 to 20% of your total fare.
Although you will generally need to call for a taxi pickup, you shouldn't have any trouble finding one at a taxi rank in busy places such as the airport and train stations.
Wheelchair-accessible taxis in Syracuse
There are many taxi services in Syracuse, NY, that specialise in accessible transportation and have fully wheelchair-accessible vehicles, such as TLC Medical Transportation reachable at +1 (315) 925 4408, Safe Care Transportation at +1 (315) 491 4693, and Auburn Medical Transport available at +1 (315) 237 2814.
Syracuse taxi safety and complaints
Syracuse taxis are generally considered to be safe and reliable. It is recommended that visitors use trusted companies and book rides ahead of time to ensure that they get to their destination on time. In the event of a complaint, travellers should contact the company they booked with directly while making sure they keep all relevant information, such as the vehicle's make and plates and the driver's name, on hand.  For legal complaints, the Syracuse Police Department can be reached at +1 (315) 442 5200, whereas the country-wide number for emergencies is 911.