Victoria taxi service
Victoria is one of Canada's most stunning and enchanting cities. Located on the southern tip of Vancouver Island, it is the capital city of British Columbia. Nicknamed "the Garden City" for its abundance of lush green spaces, Victoria offers a perfect blend of old-world charm and modern amenities. Some of the top attractions in Victoria include the Royal BC Museum, Craigdarroch Castle, the Butchart Gardens, and even the chance to go whale-watching!
When visiting Victoria, many visitors choose to take advantage of the city's taxi services. Victoria taxis are readily available throughout the city and provide a fast and convenient way to get around town 24/7, with privacy. We recommended booking in advance with a reputable company if you wish to secure a reliable and stress-free transfer at a fixed price!
TRAINED DRIVERS
Hand picked & english speaking drivers
LOW PRICES
Same price as a regular Taxi from the line
FLIGHT MONITORING
Drivers are always on time
QUALITY SUPPORT
24/7 Email & Phone support
How much does a taxi cost?
Night time


(00:00 - 05:00)
Fisherman's Wharf Park to Craigdarroch Castle
Royal BC Museum to Trafalgar Park
Willows Beach to Holland Point Park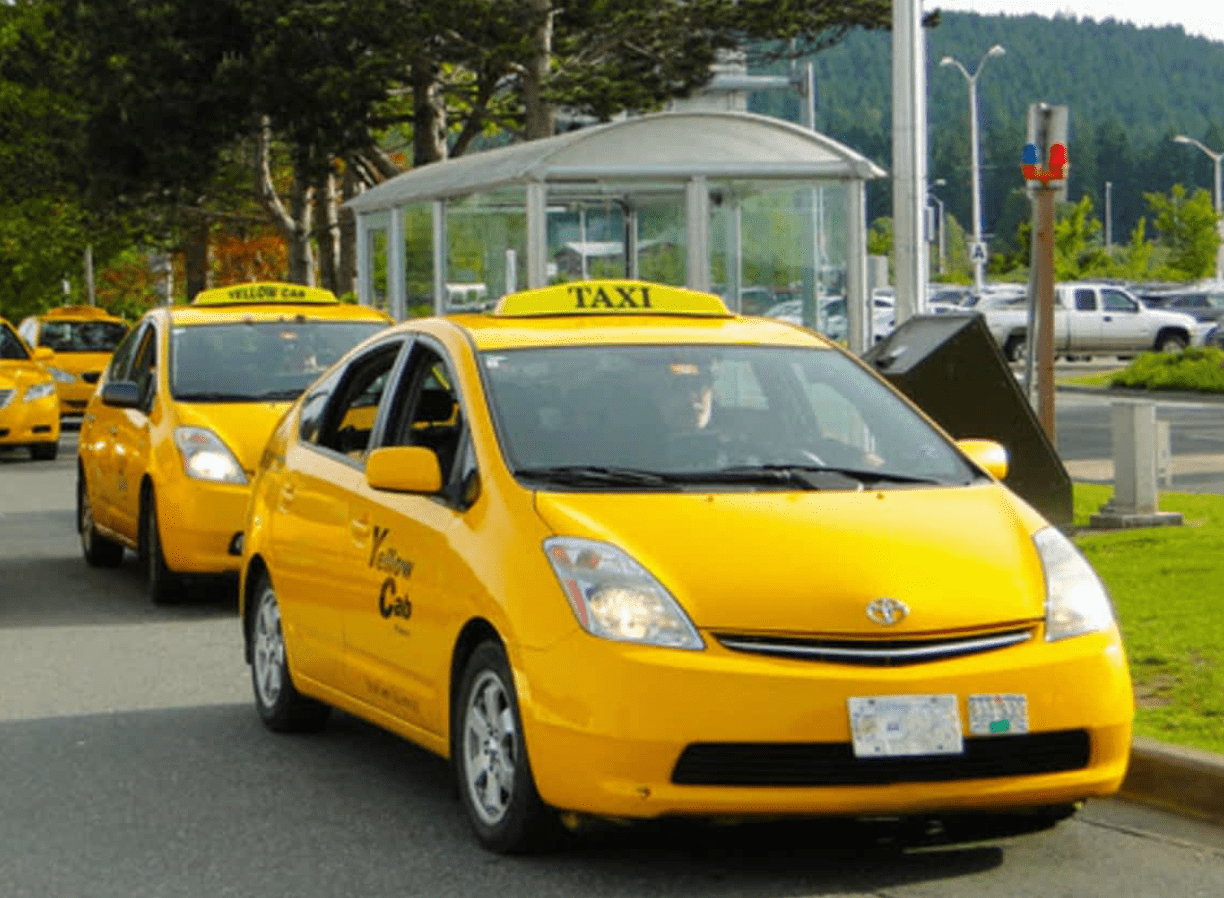 Victoria taxi prices
Getting a taxi in Victoria is an easy and quick way to get around. There are many cab companies operating in the city, and taxis are readily available in all main areas. Victoria taxis use taximeters to calculate their fares based on official rates. However, as additional charges can vary according to the operator, it's always best to inquire about the specifics with your chosen provider when booking. Alternatively, we recommend booking in advance with Welcome Pickups to secure a competitive, all-inclusive rate for a comfortable and professional pre-paid transfer. 
Day rates
Starting fare: €2.50 (CAD 3.60)
Fee per 1 km: €1.40 (CAD 2.09)
Fare per 1hr of waiting: €31 (CAD 45.05)
Night rates
Fares are higher by 50% during the hours of 22:00 and 06:00.
What our customers say about Welcome
How to get a taxi in Victoria
Taxis are an important part of the ground transportation system in Victoria, BC. It is a convenient and relatively inexpensive way to get around the city and its surrounding areas. Taxis are easy to find, with many companies operating throughout the town 24/7. You can also call for a radio taxi in Victoria, BC, by contacting an established company such as the following:
Bluebird Cabs: +1 (250) 382 2222
Uptown Taxi: +1 (250) 888 3000
Victoria Taxi: +1 (250) 383 7111
Yellow Cabs: +1 (250) 381 2222
In any case, if you know when and where you'll be needing a ride, you can also plan ahead and pre-book your private transfers in and around Victoria with Welcome Pickups to benefit from timely pickups and reliable door-to-door services.
Pre-book your Victoria taxi service
Why stress about your holiday when you can sit back and relax with Welcome's convenient Victoria taxi service? Our on-time pickups and personalised door-to-door transfers ensure a stress-free journey no matter where you're headed, with 24/7 customer support to back you up should you have any concerns. Favoured for airport transfers and in-city rides alike, Welcome Pickups offers competitive, all-inclusive pricing and the friendliest local professionals for your utmost peace of mind.
Victoria taxi tips
Make sure you check your chosen provider's rates and surcharges before booking.
In Victoria, Canada, it is customary to tip 10 to 20% of the total cab fare.
Taxis are not required to have baby seats available so if you need one, make sure you request one when booking.
Wheelchair-accessible taxis in Victoria
Most well-established taxi companies in Victoria, BC, have wheelchair-accessible vehicles in their taxi fleet so you shouldn't have any trouble booking one. For a fully accessible Victoria taxi, you can reach Bluebird Cabs at +1 (250) 382 2222, or Yellow Cabs at +1 (250) 381 2222.
Victoria taxi safety and complaints
In terms of safety, all taxis in Victoria are regulated by the British Columbia Passenger Transportation Board and must adhere to strict requirements. However, we recommend using trusted companies only; making sure that the driver's licence and registration are visible and that there is a functioning taximeter before entering any vehicle is highly advisable. Should you have a negative experience with a Victoria taxi, you can file a complaint to Consumer Protection BC via phone at +1 (888) 564 9963, or via email.