Travel safely with Welcome Pickups
Net Safety Score
We've introduced a metric indicating how safe travellers feel when using our services during the COVID-19 pandemic. After every ride, we ask each traveller to leave a review.
20 minute gap between transfers

Following each ride, our drivers have at least 20 minutes to thoroughly clean the surfaces of the car and ventilate the cabin.

Regular Car Sanitisation

Our drivers thoroughly sanitise and disinfect cars according to Welcome Safety Protocol

Contactless ride

When you book, you can request to have zero contact with the driver during the transfer with just one click. In this case, the driver won't help you with your luggage or shake hands.

Sanitiser in every car

We provide hand sanitisers and hand wipes for all our travellers. Our drivers have their own sanitiser, which they use before and after every ride
Top-Rated Taxi Service in West Palm Beach
Year-round sunny weather, wide stretches of beach, and all the modern amenities anyone would wish for make West Palm Beach the perfect Florida getaway. You can spend the morning catching a tan at the beach, then head to the Clematis Street and CityPlace districts to enjoy their world-class shopping, dining, bar and club options. The easiest way to get around this sprawling city is to take a quick and reliable West Palm Beach taxi. There are plenty of different West Palm Beach taxi services to choose from, which can be called on the phone, booked in advance or found at taxi ranks around the city.
TRAINED DRIVERS
Hand picked & english speaking drivers
LOW PRICES
Same price as a regular Taxi from the line
FLIGHT MONITORING
Drivers are always on time
QUALITY SUPPORT
24/7 Email & Phone support
How much does a taxi cost?
Night time


(00:00 - 05:00)
FROM PBI AIRPORT TO DOWNTOWN
FROM PALM HARBOR TO CLEMATIS STREER
FROM DOWNTOWN TO THE MUNICIPAL BEACH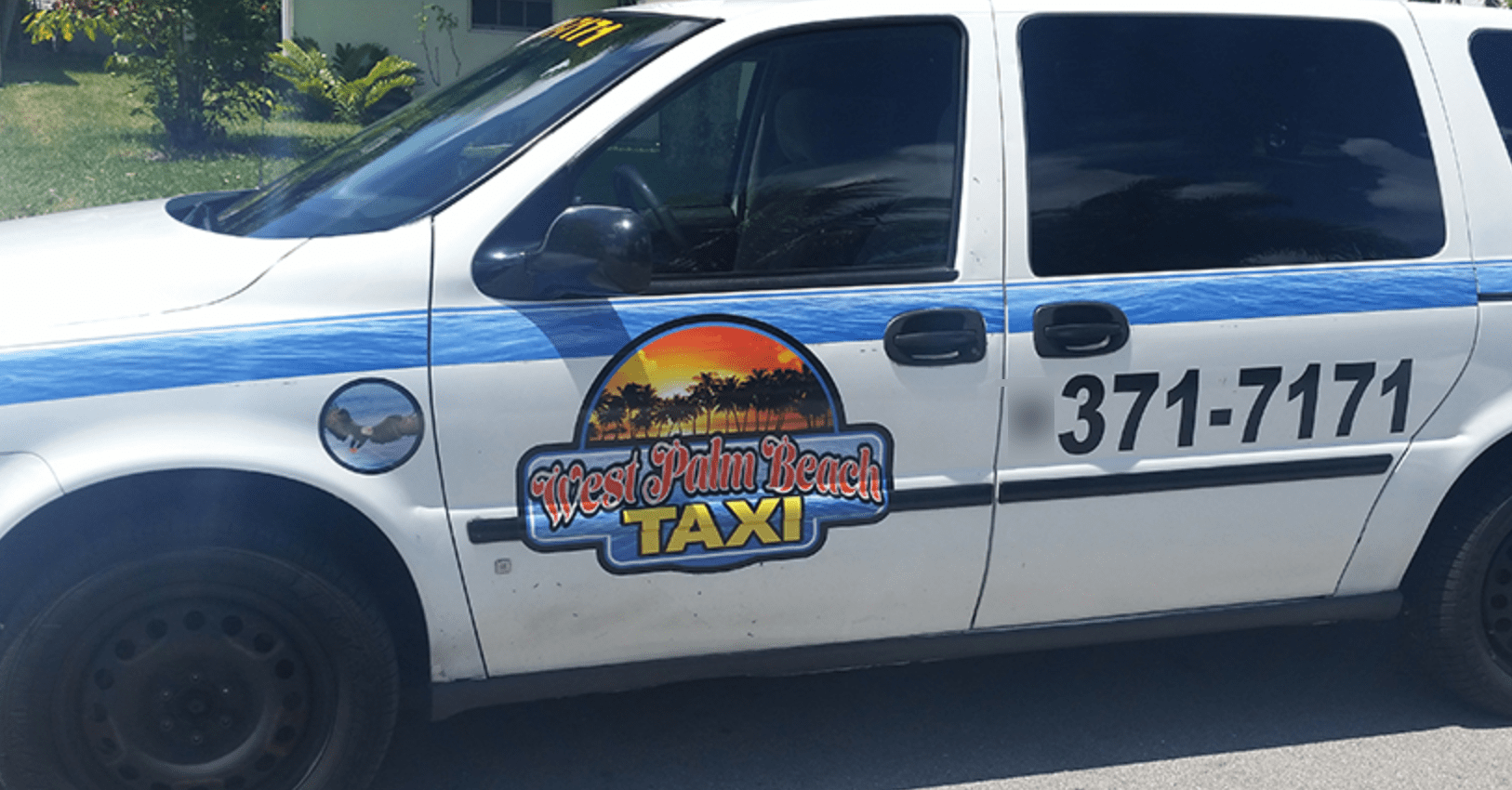 How much is a Taxi in West Palm Beach?
Taxis in West Palm Beach must use a taximeter to calculate the cost of each journey. However, there are many different West Palm Beach taxi companies available, and each is able to set its own taximeter rates. This means that the exact amount you will be charged will depend on the company you choose to travel with, but the average cost of a taxi service in West Palm Beach will be calculated as follows;
Base fare: $2.50 (€2.40)
Price per mile: $2.50 (€2.40)
What our customers say about Welcome
How to Get a West Palm Beach Taxi Service
As West Palm Beach is extremely spread out, it can be difficult to hail a cab in the street, unless you're in a very populated downtown area. The best way to get one of the West Palm Beach taxi services is to walk to a taxi rank or book your rides in advance. The taxi ranks are located at all major shopping malls, tourist attractions and the main beach access areas. 
Another easy way to get a taxi in West Palm Beach is to call one of the many phone dispatch taxi companies. The following are some of the most trusted West Palm Beach taxi companies available; 
West Palm Beach Taxi: +1 (561) 856 0837   
Super Yellow Cab: +1 (561) 900 4901   
East Coast Taxi: +1 (561) 633 0808   
AC Yellow Cab: +1 (561) 721 9555    
OnCabs West Palm Beach: +1 (561)  701 8384   
Benefits of Booking your Taxi in West Palm Beach with Welcome
As there are so many different West Palm Beach taxi companies operating throughout the city, there can be very varied levels of service, pricing and quality. If you're looking for a trusted company that will give you a 5-star ride every time, we suggest booking with Welcome Pickups. We offer guaranteed on-time pickups, fixed and competitive rates, 24/7 customer service and friendly local drivers that will make you feel right at home in West Palm Beach.
West Palm Beach Taxi Tips
Ensure your West Palm Beach taxi driver resets their meter and switches it on before beginning your ride.
You must wear a seatbelt at all times while inside a vehicle in West Palm Beach by law.
Luggage and large items that can fit in the trunk of the vehicle can be transported for free.
The cost of your taxi in West Palm Beach will include up to 4 passengers.
Wheelchair-accessible Taxi Service in West Palm Beach
Standard West Palm Beach taxi services don't offer wheelchair-compatible vehicles. If you're in need of a fully wheelchair-accessible taxi in West Palm Beach, you will need to contact a private company such as East Coast Taxi, and request a specialised vehicle. However, it's important to note that many of these specialist companies charge a loading and unloading fee of around $25 (€23.60).
West Palm Beach Taxi Safety and Complaints
All West Palm Beach taxi drivers must be regulated and licensed by Consumer Affairs. This means that all official taxis in West Palm Beach must have a specific vehicle number and a Consumer Affairs ID badge. Ensure your driver has these two things clearly visible before getting in any 'for hire' vehicles to avoid any issues. You can contact the relevant departments and check all the vehicle-for-hire information on the official government website.