Taxis in Xian
Xi'An, also spelt Xian, is a large city and the capital of Shaanxi Province in central China. It combines modern and traditional elements and is home to multiple historic and cultural landmarks so there's certainly quite a lot to do during your visit. To move around quickly and comfortably you can choose Xian taxis as your main transportation option, especially for longer routes outside the city centre. Taxis in Xian are available day and night and you can simply hail one from the street or walk to one of the many taxi ranks you'll find across the city. There is also a taxi hotline you can call or many apps you can use if you want to book your Xian taxi in advance. By booking your ride in advance you can secure a flat rate for your trip.
TRAINED DRIVERS
Hand picked & english speaking drivers
LOW PRICES
Same price as a regular Taxi from the line
FLIGHT MONITORING
Drivers are always on time
QUALITY SUPPORT
24/7 Email & Phone support
How much does a taxi cost?
Night time


(00:00 - 05:00)
Xian City Centre ➙ Fortifications of Xi'an
Xian City Centre ➙ Giant Wild Goose Pagoda
Xian City Centre ➙ Emperor Qinshihuang's Mausoleum Site Museum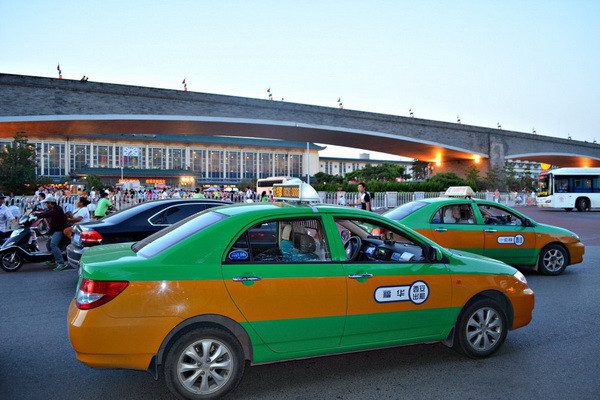 Xian Taxi Fares
Official taxis in Xian operate using a taximeter within city limits. For longer routes outside the city, it is common to bargain the price with the taxi driver. You can even get a better price if you agree on a round trip so that the driver doesn't return to the city with an empty taxi. The standard taxis are painted green with a yellow stripe but you will also find black taxis, which are more expensive.
Daytime (06:01 – 22:59)
Base fare / first 3 km – €1.20 (CNY 8.5)
Price per km after first 3 km – €0.28 (CNY 2)
Nighttime (23:00 – 06:00)
Base fare / first 3 km – €1.40 (CNY 10)
Price per km after first 3 km – €0.32 (CNY 2)
Xian taxis don't charge extra for standard-sized luggage. However, note that there are extra charges including €0.28 (CNY 2) for every 4 minutes of waiting or driving at a speed of less than 10 km per hour during rush hours, or for every 5 minutes during off-peak hours. There is also an additional 50% charge once the taxi runs farther than 12 kilometres for an empty return.
What our customers say about Welcome
How to Get a Taxi in Xian
Xian taxis are available 24/7 so you shouldn't have trouble finding one, regardless of where you are in the city. The standard official taxis are painted green with a yellow stripe and when they're available they have a lit sign on the dashboard. In that case, you can simply wave over and the driver will stop to pick you up. There are also multiple taxi ranks around the city, usually next to bus stations or other crowded places like train stations, tourist attractions or at Xian airport. Alternatively, you can also order a taxi by calling the local hotline at +86 0299 6716 but note that the service is available only in Chinese. In any case, you may wish to pre-book your transfer for a guaranteed pickup and competitive set-fares, with no hidden fees with Welcome Pickups to better budget for your trip and to secure an English-speaking driver.
Pre-book your Xian Taxi Service
Xian is a crowded city so it may be difficult to find a free taxi during peak hours, seeing as the locals are also on the move. To stay on schedule and have time to visit all the must-see attractions in your itinerary, you can pre-book your Xian taxi with Welcome Pickups to ensure you move around the city quickly and comfortably! With Welcome you know ahead of time what the cost of your ride will be, meaning you won't have to deal with transactions in a foreign currency, surcharges and other hidden fees. All Welcome drivers are friendly, licensed, English-speaking local professionals, so you can simply relax and enjoy the ride to your next exciting activity.
Xian Taxi Tips
It's rare to find a Xian taxi driver who speaks English fluently, so make sure to have your address written down in Chinese.
Before you start your ride, make sure that the driver resets the taximeter to the base fare.
Most Xian taxis don't accept card payments so always make sure to have some cash with you and avoid large notes.
Be careful of unlicensed taxi drivers who might try to approach you if they see you looking for a taxi; licensed drivers will have their registration number on the dashboard.
During peak hours from 07:30 to 08:30 and 17:30 to 19:00, it can be quite difficult to find a taxi, so take that into account if you're on a tight schedule.
Wheelchair Accessible Taxis in Xian
There is still room for improvement regarding accessibility in Xian, so moving around the city can be a bit challenging for wheelchair users. Fully wheelchair-accessible taxis aren't easy to find down the street or at the taxi ranks around the city so it's best to call the taxi hotline at +86 0299 6716 and ask if there is one available. Alternatively, you can try using the local CaoCao app, which includes some wheelchair-accessible taxis with a ramp in their fleet.
Xian Taxi Safety and Complaints
In general, official taxis and licensed drivers in Xian are safe. However, if you encounter any problems during your ride or you think you've been overcharged, make sure to ask the driver for a receipt and write down their license number and the license plate number. You can then contact the Xi'an Municipal Traffic and Transportation Bureau at +86 029 8678 7321 or the Xian Tourism Bureau at +86 029 8763 0166 to address any complaints and they will guide you further as to how to proceed.