Reliable taxi in Kauai
Kauai taxi services are a great way for travellers to explore and visit the best spots on this magical central Pacific island. Kauai, situated in the Hawaiian archipelago, is nicknamed "the Garden Isle" and is a beautiful island paradise with breathtaking natural beauty and endless opportunities for adventure.
If you're planning a trip to Kauai, you'll likely need reliable transportation to explore all the island has to offer at your own pace. Buses aren't very convenient for tourists as they do not accept luggage, nor serve most of the tourist spots. So using a Kauai taxi is your best bet as it will provide the most convenient and comfortable way to get around the island. Whether you're looking to soak up the sun on the beaches of Poipu, hike the trails of Waimea Canyon, or explore the charming towns of Hanalei and Kapaa, Kauai taxis can take you there. So sit back, relax, and let the taxis in Kauai handle all your transportation needs during your stay in this tropical paradise.
TRAINED DRIVERS
Hand picked & english speaking drivers
LOW PRICES
Same price as a regular Taxi from the line
FLIGHT MONITORING
Drivers are always on time
QUALITY SUPPORT
24/7 Email & Phone support
How much does a taxi cost?
Night time


(00:00 - 05:00)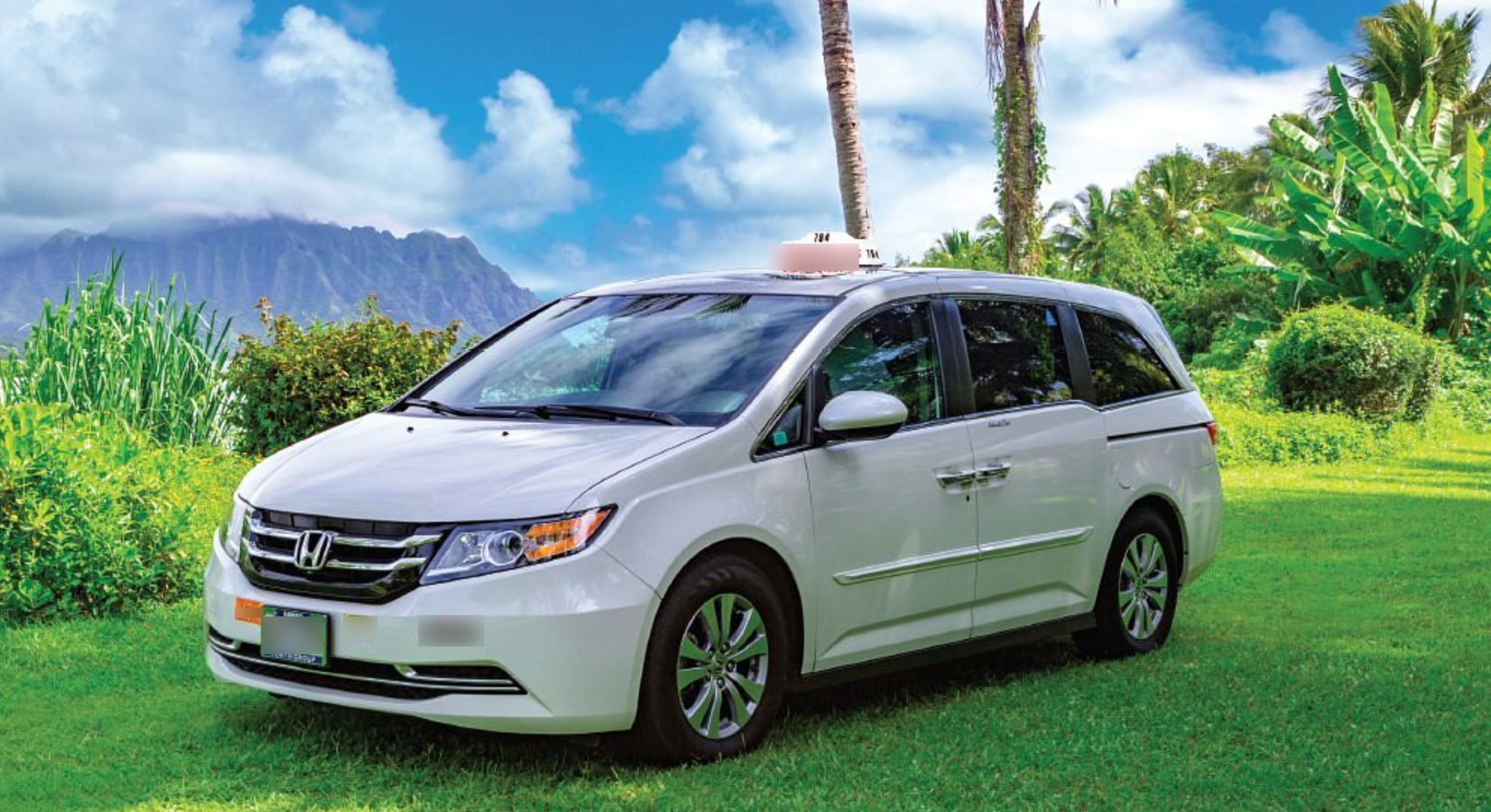 Kauai taxi prices
Kauai taxi fares are regulated by the county and are calculated based on time and distance travelled. The rates vary depending on the time of day and day of the week, with two different tariffs applied.
For Tariff 1 (non-peak hours): the initial fee is $3 (€2.80) for the first 1.6 km and $3 (€2.80) for each additional mile.
For Tariff 2 (peak hours): the initial fee remains the same, but the cost per additional mile is slightly higher, with the exact rate depending on your chosen provider.
Moreover, Kauai taxis charge a flat rate of $120 (€111) for the first two hours of service, with an additional charge of $15 (€14) for every 15 minutes beyond the initial two-hour minimum. All legal taxis in Kauai are required to have a meter displayed on the dashboard, in plain sight of the customer.
Taxis in Kauai also accept electronic payments, though additional charges may apply. To avoid any surprises or hidden fees and guarantee an on-time pick-up and door-to-door drop-off, why not pre-book a private transfer online with one of our trusted local drivers at a fixed price?
What our customers say about Welcome
How to get a taxi in Kauai
Kauai taxi services are available 24/7 and can be found at designated taxi stands around the island. Popular locations for taxi stands include the airport, major hotels, and some tourist destinations such as Poipu Beach Park, Hanalei Bay or Old Koloa Town. Bear in mind, that taxis in Kauai aren't as popular as on other Hawaiian islands, so it is highly recommended to pre-book your rides in advance.
Some of the better-rated local taxi providers you can call include:
Kauai Taxi Company – reachable at +1 (808) 246 9554,
Carlex Taxi – reachable at +1 (808) 755 8723, and
North Shore Cab Company – reachable at +1 (808) 639 7829.
Booking your Kauai taxi transfer in advance
Pre-booking a Kauai taxi service with Welcome Pickups is highly recommended to ensure you a hassle-free holiday. We offer a range of services, including airport transfers and sightseeing tours, to help you navigate the island with a local driver being your friend on the ground!
With 24/7 pickup and drop-off services, you benefit from personalised 5-star transfers every time, all whilst knowing you're dealing with a handpicked, highly trained driver and having secured a fixed, competitive price with no hidden costs.
Tips for your taxi in Kauai
Consider pre-booking your ride with an official taxi company. As taxis in Kauai aren't as common as on other Hawaiian islands.
Before you get in the taxi, make sure you know your destination and have the address written down or saved on your phone. This will help ensure that you arrive at the right location and avoid any confusion or delays.
To avoid any surprises or unexpected charges, confirm the fare with your driver before starting your trip. Ask for an estimate if necessary and make sure you're both on the same page about the cost.
While many taxis in Kauai accept credit cards and other forms of electronic payment, it's always a good idea to carry some cash for smaller transactions and tips. 
Tipping is not mandatory in Kauai, but it's generally appreciated for good service.
Wheelchair-accessible Kauai taxi
Wheelchair-accessible taxis in Kauai are available to accommodate passengers with mobility needs. Several Kauai taxi companies can provide fully wheelchair-accessible vehicles, such as A1 Lifts.
Make sure to pre-book your ride in advance and communicate any special requirements you may have to your driver in order to ensure the features of the vehicle meet your specific needs.
Safety and complaints for your taxi in Kauai
If your Kauai taxi journey did not go well and you would like to file a complaint, you must first contact the taxi company you used. If your complaint is left unanswered or you're not satisfied with the solution that was provided, then you may refer to the local police by calling +1 (808) 241 1711.
Please, always remember to ask for your receipt at the end of your taxi ride, as your driver's information is on the slip.