Tehran Taxi Service
Tehran is the capital of Iran and a city steeped in history and culture. The sheer number of museums, palaces, monuments and historical attractions that one can visit can be genuinely overwhelming. It is a cosmopolitan city known for its delicious cuisine with a huge choice of restaurants and traditional food markets (bazaars) and its 800 or so well-kept parks also dominate the urban city landscape.
Tehran is a large city divided into the northern and southern sectors. Getting around can be somewhat chaotic, especially during peak hours. Hence, a Tehran taxi is an ideal travel option to get away from the crowded public transport options and to experience the city in comfort.
TRAINED DRIVERS
Hand picked & english speaking drivers
LOW PRICES
Same price as a regular Taxi from the line
FLIGHT MONITORING
Drivers are always on time
QUALITY SUPPORT
24/7 Email & Phone support
How much does a taxi cost?
Night time


(00:00 - 05:00)
Tehran city centre to Azadi Tower
Tehran city centre to Golestan Palace
Tehran city centre to Grand Bazaar
Tehran city centre to National Museum of Iran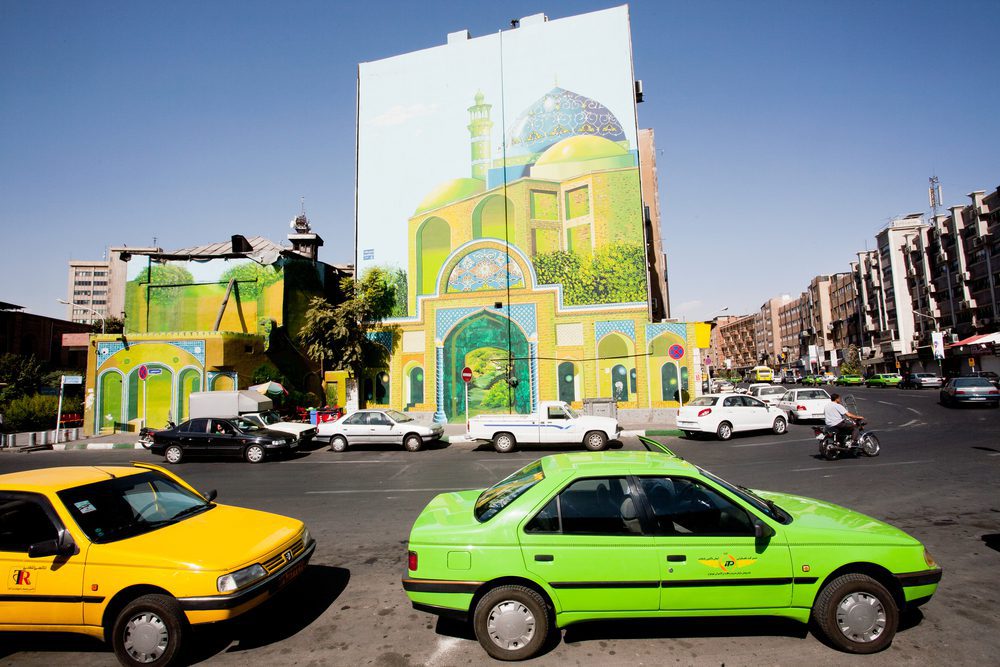 Tehran Taxi Prices
There are a number of options when it comes to taking a taxi in Tehran, the most common being a private or shared taxi. A private taxi means that you and your companions are the only passengers. In contrast, a shared taxi involves sharing the taxi with other passengers that are going in your direction of travel. The yellow and green coloured taxis are the only official and registered taxis and should be the only ones used to avoid surprises.
Tehran taxis do not have taximeters installed, therefore the fare for any destination must always be agreed upon with the driver before you get in the taxi. The cost can and should be negotiated with the driver as they usually quote quite high initially, and then reduce the cost during negotiation. Since taximeters are not used there are no standardised taxi rates but in order to get an idea of the average cost, a taxi fare in Tehran will cost between €0.60-€1.50 (IRR 25,000-60,000) depending on the distance to your destination. On average you shouldn't be paying more than €0.08 (IRR 10,000) per km for your transfer. Taxis accept local currency, the Iranian rial (IRR), US dollars and in many cases euros. Expect to pay more during rush hour and bad weather.
What our customers say about Welcome
How to get a taxi in Tehran
Tehran taxis are available in great abundance, however, it is recommended that you only use officially registered taxis which are yellow and green in colour. It is very easy to find a taxi in Tehran, if you are on the street simply hail a taxi by raising your hand when you see one nearby. Alternatively, another good option is to ask your hotel reception to call a taxi for you – who might also be able to negotiate the price on your behalf. Taxi ranks can be found all over the city, especially near large city squares or central bus and train stations. Some of the most popular Tehran taxi companies you can call for a pickup are:
Seirosafar: +98 21 5100 1833
Book Taxi Tehran: +98 93 7393 3964
Taxi Lux: +98 21 5100 1891
Pakro Sabze Qeshm: +98 21 5100 1884
Booking your Tehran taxi in advance
Booking your Tehran taxi in advance will enable you to travel with your mind at ease knowing that you have a taxi waiting for you when you arrive after your flight. Furthermore, by pre-booking your taxi you can avoid queues or potential delays in finding a taxi at the airport and you'll also be able to pay online and in advance. Welcome Pickups is a great and reliable option for booking your Tehran airport taxi, offering guaranteed fixed-rate fares and no hidden costs.
Tehran taxi tips
To avoid any problems with the final cost of your transfer make sure that you have agreed on a price with the driver before getting into the taxi.
Always negotiate the cost of your transfer with the driver; If you're not very confident with that, we'd recommend pre-booking your ride with a trusted company.
For safety reasons, never use an unmarked, unregistered taxi. Official taxis are yellow or green in colour.
Make sure that you specify that you require a 'private' transfer so that the driver will not stop and pick up passengers on the way to your destination.
Always have small change available to pay for your Tehran taxi, as many drivers might not have the exact change to give you back. Taxis accept Iranian rials, US dollars and many also accept euros.
Wheelchair accessible taxis in Tehran
Wheelchair accessibility is not widely available in Tehran, therefore it is essential that requests for such services are discussed and arranged in advance with a specialist taxi company or provider. Most drivers are happy for wheelchairs to be folded and placed in the boot of the taxi if that's an option for you, though that way passengers with reduced mobility will not have any specialised assistance.
Tehran taxi safety and complaints
On the whole, taxis in Tehran are a safe travel option when using an officially registered taxicab. These taxis are yellow or green in colour and have a taxi sign on the top of the vehicle. Travellers should avoid using any unmarked taxis or people who approach them and offer them a ride. If for any reason you'd like to make a complaint against an official, registered taxicab, you can contact the Tehran Taxi Management and Supervision Organization at +98 48 048.