Taxis in Volos
Since Volos is one of the biggest cities and ports in Greece, finding a taxi in Volos is easy and fast whilst being the most comfortable transfer option from point A to B. Furthermore, taxi services are well organised around your needs and offer affordable fares, making Volos taxis accessible to all travellers. If you are short on time or want to explore this historical city in comfort, taking a Volos taxi is a great option. 
Nonetheless, if you want to benefit from on-time pickups, 24/7 personalised door-to-door services and friendly, English-speaking local drivers, you can pre-book your transfers with Welcome Pickups.
TRAINED DRIVERS
Hand picked & english speaking drivers
LOW PRICES
Same price as a regular Taxi from the line
FLIGHT MONITORING
Drivers are always on time
QUALITY SUPPORT
24/7 Email & Phone support
How much does a taxi cost?
Night time


(00:00 - 05:00)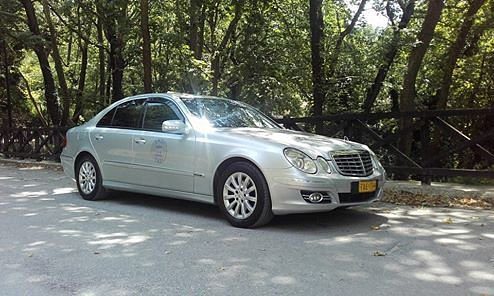 Volos Taxi Prices
Volos taxi prices are kept fairly low thanks to the high competition between the different taxi companies, whilst the fares are regulated throughout the city. The actual cost of your ride is calculated by a taximeter based on the time and distance travelled. In general, you can expect to pay around €8.00 for any trip within the city centre.
Taxis in Volos calculate their fares as follows:
Base Fare – €3.50
Additional price/km – €1.50
Waiting time per hour – €15.00
Between 00:00 and 05:00 a double tariff applies to all trips.
What our customers say about Welcome
How to get a taxi in Volos
Locating your Volos taxi couldn't be easier. You can easily call a radio taxi, wave a taxi down the street or find one at the available taxi ranks at Panepistimiou Square, Kimmata rank or Agioi Anargyroi rank. In any case, you shouldn't wait more than 10 minutes for your driver to arrive and get you to explore beautiful Volos with its historical monuments or perhaps visit some picturesque villages in Pelion. All you need to do is look for the silver taxis with their roof light on, hold out your hand and wait for the driver to pull over to the side of the road to let you in.
If it's getting dark or cold and you wish to get a taxi to your hotel in the city, you can call a Volos taxi to come and pick you up while you wait in comfort. Just give your location and wait a few minutes for a driver to arrive. Although many different companies offer this style of pickup service, the most well-known one is Volos Taxi Transfer which can be reached on +30 2421 027777.
Book your Volos Transfer in advance with Welcome
Being able to plan your expenses when travelling is an important factor if you wish to avoid frustration. In addition, many taxi companies calculate their fares based on the distance travelled and the traffic conditions or even have booking fees and surcharges that may increase your final fare unexpectedly.
To avoid hidden charges, and receive exceptional service every time with competitive set-rate fares and personalised rides from trained, English-speaking drivers, it is recommended to pre-book your taxi in Volos with Welcome Pickups.
Volos Taxi Tips
Taxis in Volos don't accept card payments. For your convenience, it's advised to hold some cash with you to pay for your ride. If not, you can ask your driver if they can get you to the nearest ATM so you can withdraw a satisfying amount to pay for your trip.
Bear in mind that a double tariff applies to all distances between 00:00 and 05:00.
Not many taxi drivers in Volos speak English, so it might be helpful to write your address down or have it ready to show on Google Maps.
Remember to ask for your receipt after completing your journey for you to be able to contact the company, just in case you forget something in the taxi or want to discuss your experience.
Taxis in Volos don't provide baby seats. However, there is enough space to fit your own at no extra cost.
Regardless of your luggage's weight, your items can be transported without a fare increase.
Wheelchair Accessible Taxis in Volos
Volos is among the most organised cities in Greece when it comes to accessible transfers. There are taxi companies that contribute to the community with spacious taxis and minivans with access ramps and extensive walkways to make wheelchair or mobility scooter transfers accessible. If you wish to book a fully wheelchair accessible taxi, you can contact Volos Taxi at +30 2421 027777.
Volos Taxi Safety and Complaints
Volos taxi transfers are among the most well organised in Greece and consequently the safest. However, the quality of the service may vary depending on the company and driver. If you feel unsafe or uncomfortable during your trip or think you might have been overcharged, you can hold on to your driver's name and registration number to call their company at your convenience to discuss your experience or even visit your nearest police station for rather serious cases.